At least 13 civilians, including an eight-year-old girl, were massacred in an ethnically charged attack in the easter Democratic Republic of Congo on Christmas Day.
The attack, understood to have targeted an Hutu village and perpetrated by an ethnic Nande militia, took place after another 22 civilians were killed in clashes on Saturday.
The weekend of violence stokes fears that the country's current political instability is fuelling localised conflicts while leaving its security forces incapable of keeping order. 
The Christmas Day massacre occurred in the eastern town of Nyanzale, and resulted in the deaths of the young girl, a man and 11 women, local activists said.
Innocent Gasigwa told Reuters men from a Nande militia entered the town armed with guns and machetes, in an apparent revenge attack for the deaths of Nande civilians last week.
On Thursday, at least 17 Nande civilians were killed by an ethnic Hutu militia in a nearby village.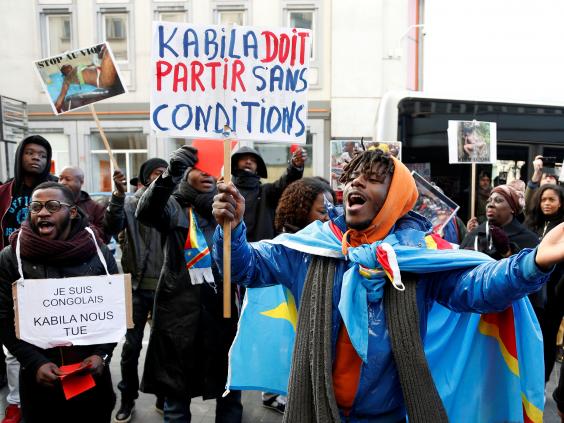 "This must be the response for last time," Gasigwa said.
Local army spokesman Major Guillaume Djike confirmed to the AFP news that all the victims of the Christmas Day attack were Hutu, but refused to say whether the two attacks were linked. He said six members of the Nande militia were killed, adding: "The army intervened to restore order."
Saturday's attack occurred some 300km (185 miles) north of Nyanzale, near the city of Beni which has been plagued by violence since October 2014.
Captain Mak Hazukay said 21 civilians and four militiamen died in this weekend's clashes, for which the authorities blamed the ADF, a Ugandan Islamist group.
Last week at least 40 people died in protests against President Joseph Kabila's refusal to step down at the end of his constitutional mandate last Tuesday. The government says he will remain in office until an election can be organised in 2018.
Local mediators from the Catholic church hope talks between Kabila's ruling coalition and the main opposition bloc will produce a deal by Friday for Kabila to step down after an election in late 2017.
Catholic priests across Congo on Sunday read out a message from the church's national head, Cardinal Laurent Monsengwo, saying: "The time is over when one tried to hold onto power with arms by killing one's people, these young people who only seek out their right to live with a little more dignity."
African and Western powers fear the violence could spark another conflict in a country where millions died between 1996 and 2003 in regional wars. The central African country has not achieved a peaceful transfer of power since independence in 1960.
Additional reporting by agencies