"Two days ago four men came, grabbed me and started raping me. Most women and girls in the camp have been assaulted or raped by gangs," begins Hodan Ahmedan, 23, sitting in her makeshift shelter where she has lived since she arrived from drought-ridden eastern Somaliland to a camp for internally displaced in Maxamed Mooge, Hargeisa.
Cases of sexual and gender-based violence (SGBV) are rife here. A lack of police presence, inadequate lighting, an absence of sanitary facilities and an increase in the number of female-only households has rendered this camp an ideal ground for SGBV. "The ground is really hard here so we can't dig to make lavatories.
This means we have to go outside and because there is no privacy in the open, we only go once it gets dark," explains Hodan "and by the time it is dark enough for us to go, it also becomes very dangerous as many gangs operate here. These are the circumstances in which I was raped."
"It happens to all of us, all the time," concludes Sahra Hussein, one of the oldest residents in the camp.
Somaliland, an arid and internationally unrecognised state in the Horn of Africa, is suffering from one of the worst droughts in years, aggravated by one of the strongest El Niño events on record, which has led to the displacement of tens of thousands of Somali rural pastoralists communities.
Triggered by weak winds and warm water in the Pacific Ocean, the El Niño climate cycle, is according to a new study published by the American Meteorological Society, being worsened by climate change.
The study claims that "anthropogenic warming contributed substantially to the very warm 2015/2016 El Niño" and as a consequence is intensifying the cyclical droughts in Somaliland to unprecedented levels.
​Hargeisa, the capital, has been the main the destination for most climate-forced refugees and according to the United Nations High Commissioner for Refugees (UNHCR), is now home to 85,000 internally displaced persons (IDPs). But life here is a far cry from the relief most had hoped for, the situation proving even worse for women refugees.
When women arrive in the capital they find themselves cast to the margins, in hostile environments with few employment opportunities. While men have found it possible to find jobs in the city, the multitude of dangers the drought has exposed women to – from sexual assaults, to illegal land grabbing, to lack of sanitary facilities – clearly demonstrates that it is the women who are bearing the brunt of the drought and its consequences.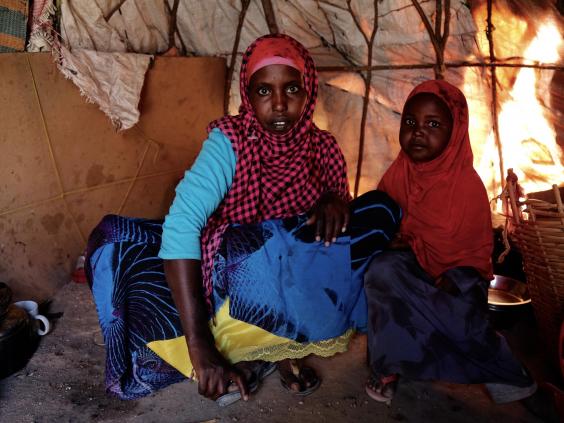 "I arrived here two months ago. The drought killed my animals. But the lack of water has affected us in many other ways. Just before coming here, I went into labour but I had no water and so I lost my baby. I became very weak and could not stop bleeding," explains Amina Abdul Hussein, mother of three, inside her makeshift shelter away from the sun's glare, in a camp for internally displaced in Maxameda.
Many women in the camp report they have suffered from miscarriages because of the drought and a recent study in Global Environmental Change found that reduced rainfall and high heat has resulted in low birth rates, stemming from the increased likelihood of miscarriages.
"In the very early stages of intra-uterine development, climate change has the potential to significantly impact birth outcomes," said Kathryn Grace, professor of geography at the University of Utah and lead author of the study.
"As soon as my husband saw me in this state [having miscarried a child], he left. I came to Hargeisa and ended up here," continues Amina. In order to survive, she, like the other women in the camp, picks up stones and sell them at market. They claim to make about 60,000 SOS (approximately £5.60) per ton but as Amina emphasises, "it is difficult work. I suffered many complications following my miscarriage and carrying heavy loads puts me in a lot of pain".
The money is used to pay rent and buy food. The women explain that the land they stay on is privately owned and recount frequent visits by violent landlords. "If we don't pay, they set our shelters on fire," explains Amina, "so many have here have been burnt". This camp, like most of the country, receives no humanitarian support from the international community or the government. Nima Berashe, 45, explains that although various agencies have come to ask questions and assess the situation, "they have never come back".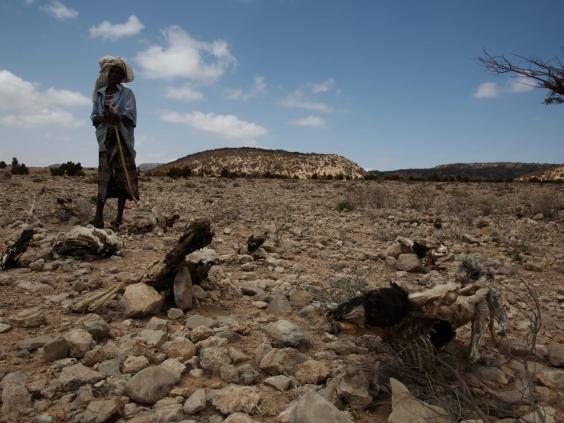 But women are not the only ones bearing the brunt of the drought. The elderly and their grandchildren, too weak to flee, have also been left to die in the rural areas of Somaliland.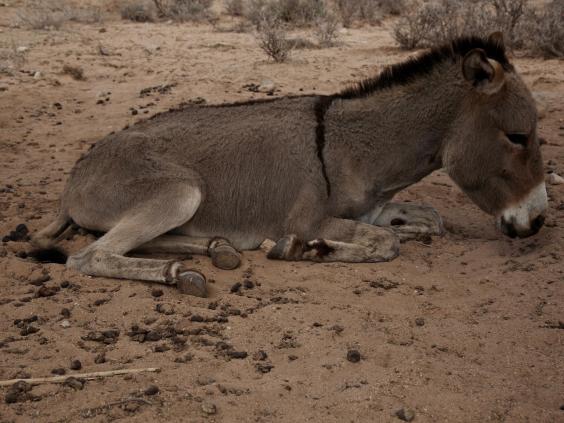 "He is the last of our animals," sighs Dacar Yusuf Galaydh, 75, as he stands over his donkey, which is lying close to starvation head sunk to the ground.
When one of his animals passes away, Dacar carries their limp bodies from his home out to a field. The harshest drought to have the racked the Horn of Africa in two decades has killed off all of his cattle, sheep and goats. "Even our donkeys have died, this is the last one," he claims.
World news in pictures
World news in pictures
1/29 21 March 2017

A man drinks water directly pumped from the Nile river in Juba, South Sudan, to be distributed to local residents for drinking consumption

Getty Images

2/29 21 March 2017

A Nepalese woman carries a metal container locally known as 'gagri' containing fresh water during the early morning one day before World Water Day in Bhakatpur, Nepal

EPA

3/29 21 March 2017

World Water Day is held annually on 22 March as a means of focusing attention on the importance of freshwater and advocating for the sustainable management of freshwater resources

EPA

4/29 21 March 2017

Filipino fishermen arrange a fishing net next to a sewage pipe at a fishing village in the town of Bacoor, Cavite province, Philippines

EPA

5/29 20 March 2017

High-rise buildings are partly covered by heavy fog at Hong Kong's Victoria Harbour

AP

6/29 20 March 2017

Libyan fishermen rescue migrants from a sinking dinghy off the Libyan coastal town of Zawiyah, east of the capital, as they attempted to cross from the Mediterranean to Europe

Getty Images

7/29 20 March 2017

Migrants wait to be rescued from a sinking dingey off the Libyan coastal town of Zawiyah, east of the capital

Getty Images

8/29 19 March 2017

Lebanese activists from the Civilian motionless, and from various parties wave national flags during a protest against new high taxes in front of the Lebanese government palace in Beirut , Lebanon

EPA

9/29 19 March 2017

People march to protest the regional Catalan government's push to break away from the rest of Spain, in Barcelona, Spain

AP

10/29 19 March 2017

An activist lays half-naked with fake blood in a cage during a protest for animal rights, against the suffering and murdering of animals and against animal testing in Athens, Greece

EPA

11/29 18 March 2017

Passengers wait at Orly airport southern terminal after a shooting incident near Paris, France

Reuters

12/29 16 March 2017

Wearing Coyote masks and business suits and waving signs against Canada Goose and their use of fur, PETA members gather outside the New York Stock Exchange

Getty Images

13/29 16 March 2017

View of the Tocqueville high school after a shooting has taken place injuring at least eight people, in Grasse, southern France

Reuters

14/29 16 March 2017

Suspects with their hands tied in plastic straps walk past residents during a raid by the Philippine Drug Enforcement Agency (PDEA) at an informal settlers' area inside a public cemetery in Manila

Getty Images

15/29 16 March 2017

A SpaceX Falcon 9 rocket launches from Kennedy Space Center, over Cocoa Beach and Cape Canaveral skyline in Florida

AP

16/29 16 March 2017

French Police officers secure the scene near the Paris offices of the International Monetary Fund (IMF) in Paris, after a letter bomb exploded in the premises

Getty Images

17/29 16 March 2017

A man poses as crying firebrand anti-Islam lawmaker Geert Wilders during a small demonstration outside parliament in The Hague, Netherlands

AP

18/29 15 March 2017

Acting Assistant Attorney General Mary McCord, speaks during a news conference at the Justice Department in Washington

AP

19/29 14 March 2017

A four-month-old Syrian baby receives treatment at a make-shift hospital following reported air strikes in the rebel-held district of Barzeh, on the north-eastern outskirts of the capital Damascus

Getty Images

20/29 14 March 2017

Miguel Angel Munoz faces a 25-year prison sentence for the alleged murder in 2015 of the US tourist Denise Pikka Thiem, who was hiking the Santiago pilgrim trail

Getty Images

21/29 14 March 2017

Malaysian censors have reportedly cut out a 'gay moment' in the Disney film 'Beauty and the Beast' before agreeing to its release in the Muslim-majority nation

Getty Images

22/29 14 March 2017

Tibetan spiritual leader the Dalai Lama sits on his ceremonial chair during a religious talk at the Tsuglakhang temple in Dharmsala, India

AP

23/29 14 March 2017

Members of the Iraqi forces prepare to fly a drone armed with grenades in the fight against Islamic State (IS) group jihadists in the northern Iraqi city of Mosul

Getty Images

24/29 14 March 2017

A member of the Iraqi forces carries two grenades carrying feathers, which are to be fired from a drone in the fight against Islamic State (IS) group jihadists in the northern Iraqi city of Mosul

Getty Images

25/29 13 March 2017

Members of the Iraqi forces advance towards the Old City in western Mosul, during an offensive to retake the city from Islamic State (IS) group fighters

Getty Images

26/29 13 March 2017

US President Donald J. Trump holds up a note and drawing depicting him that was created by the child of Greg Knox of Ohio, during a meeting on healthcare in the Roosevelt Room of the White House in Washington, DC

EPA

27/29 13 March 2017

Relatives hold up placards with pictures of victims as they gather in commemoration on the first anniversary of the March 13 terror attack at the former site of the bombing in central Ankara

Getty Images

28/29 12 March 2017

People celebrate Holi festival at a temple in Vrindavan, Uttar Pradesh, India

Rex

29/29 12 March 2017

A Sadhu or Hindu holy man with his face smeared with powdered colours looks on during Holi festival celebrations at Sri Laxmi Narayan Temple in Amritsar, India

EPA
"We've had droughts here in the past but I don't remember one as bad as this one. And look at my age!" says Dacar as he marches towards the dry community well. "We have no water left. Until recently we were still able to walk for a couple hours with our donkeys to fetch water but now there is no water anywhere and we don't even have donkeys to carry the water back," says Dacar, "we are facing an emergency."
As aid from the government and humanitarian agencies fails to arrive, those left in the village, he explains, are now relying on water extracted from the roots of old cacti.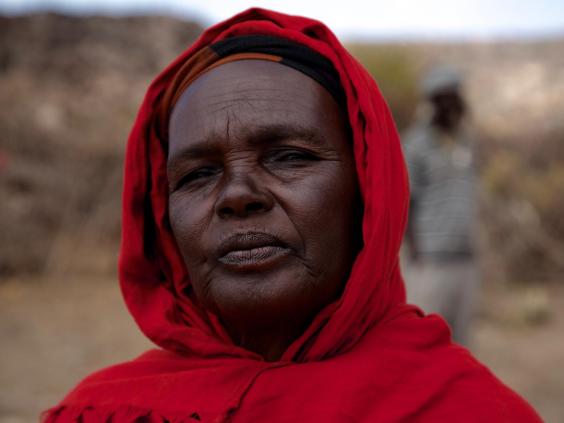 Hatto Hussain, 65, says she used to own 200 goats and cows and would live off the income generated by the sale of milk and meat. "I have one cow left, the rest have died. We have nothing."
Livestock production is the backbone of Somaliland's economy with around 60 per cent of the population practicing some form of pastoralism. With no income, the community's food supplies have dwindled to alarming levels.
"We have calculated that we have enough food for the next five days and that's only with one meal a day," Hatto says. Many of her grandchildren, she explains, are suffering from stomach cramps. They are lucky, she claims, none have suffered complications yet, but Dacar adds that with no water or food he expects a crisis in the coming days. "We urgently need water and food, or we will die."
As most Somalilanders have had their very way of life ripped away from them by the drought – and the lack of national and international support – it is the women and most vulnerable who are bearing the brunt.