A matter of months ago, Dr Marc Forget's job, at the front line of the fight against the deadliest Ebola epidemic, was best summed up by two words: "damage control."  "The priority then was just to increase bed capacity and to provide safe burials," he says. "We were just reacting to the magnitude of the disaster."
Now, one year to the day since the World Health Organisation (WHO) – belatedly – declared the Ebola outbreak in West Africa a public health emergency of international concern, Dr Forget's work with the aid charity Médecins Sans Frontières (MSF), is very different, but no less arduous.
Efforts to end the epidemic, which has killed more than 11,000 people, once and for all in Guinea, Sierra Leone and Liberia now centre on a meticulous process, akin to detective work, of tracing, contacting and monitoring every single person who could possibly have contracted the virus.
"Now we are in what I hope will be the final sprint," Dr Forget, MSF's emergency co-ordinator in Guinea, said from the charity's base in the capital Conakry. "But the strategy is complex. You have to go deep, deep into the details of who was in touch with who. If somebody had symptoms and he was on public transport, when was that? What kind of vehicle was it? Where are the suspected contacts now?"
In pictures: The village where Ebola started
In pictures: The village where Ebola started
1/5 Ebola outbreak

The village of Meliandou

2/5 Ebola outbreak

The burnt hollow tree where the first Ebola patient contracted the virus after playing with bats

3/5 Ebola outbreak

The burnt hollow tree where the first Ebola patient contracted the virus after playing with bats

4/5 Ebola outbreak

The arrow points at a stick, most probably left there by children

5/5 Ebola outbreak

Etienne Ouamouno sits holding baby Emile, who has been identified as the first traceable patient of the current Ebola outbreak

Unicef/YouTube
Despite last week's incredible vaccine trial results from Guinea, it is this process of tracing and monitoring that is likely to end the epidemic, Dr Bruce Aylward, the World Health Organisation's assistant director-general, said this week. The vaccine will help, but probably comes too late to be a game-changer. Spearheaded by the WHO, with the support of aid agencies like MSF and an army of thousands of local clinicians, officials and volunteers, people on contact lists are followed up twice a day for 21 days – the virus's incubation period. If they show symptoms and test positive, they are quarantined and treated, shutting down any further transmission.
Nearly 2,000 people are currently being actively monitored in Sierra Leone and Guinea.
The hard work is paying off. The WHO has reported only two new cases in the week ending 2 August, one in Guinea and one in Sierra Leone, the lowest total since March 2014. Liberia has had no new cases in nearly a month. In the last four weeks the caseload across all three countries has fallen from 30, to 25, to seven, to two.
While the tracing and monitoring strategy is working, it takes just one contact to slip the net for a brand new transmission chain to open up.
If a case emerges in a patient whom authorities hadn't identified as a contact, or whom they've lost touch with, it sends them back to square one. Dr Forget's team call such lost contacts perdu de vue – lost from sight – and they set alarm bells ringing.
"You just have to get one detail wrong and all of a sudden you're taken by surprise," Jose Hulsenbek, head of MSF's mission in Sierra Leone, said.
"Following up contacts is about talking to people again, and again and again... People don't necessarily remember who they have been in contact with unless you interview them again and again and then eventually they say, 'Oh yes, I did buy eggs from someone'."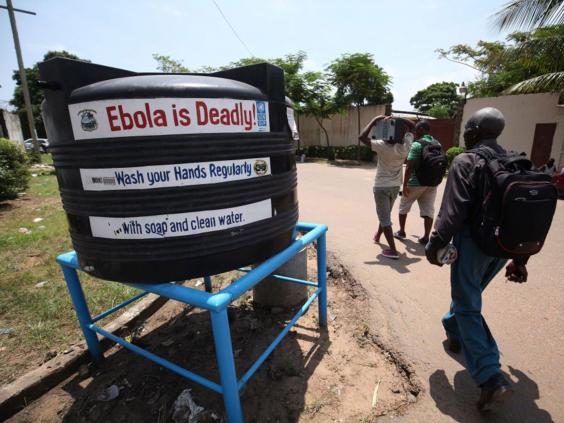 One of the two Ebola cases identified last week was a 28‑year-old woman in Conakry who had become just such a perdu de vue. She is thought to have travelled out of the city to a traditional healer, before returning and reporting to authorities – by which time the virus had taken hold. Investigations are continuing as to where she travelled, when her symptoms began – and with whom she might have been in contact. 
With the 21-day incubation period, there are often lulls of 10 to 12 days between waves of cases – so even though last week there were only two, everyone expects more to come.
Life is slowly returning to normal across the countries,  and while Ms Hulsenbek has given up predicting when the epidemic might end, for the sake of the people in the countries, she prays it is soon.
"People are tired," she said. "They want to get on with life, to get married, to make sure their children will be OK, to have their jobs back, to have normal interaction with people again. They don't want to hear about Ebola anymore."
Reuse content