An Egyptian court has sentenced eight men to three years in jail today after they appeared in an online video purportedly showing the country's first gay marriage ceremony.
The men were found guilty of spreading indecent images and inciting debauchery over a video that appeared to show them celebrating a gay marriage, which went viral in August.
Footage shows two men exchanging rings and embracing while friends cheer in the background. The video was filmed on board a boat in the Nile.
The men were first charged in September when a public prosecutor's statement said that the images were "humiliating, regrettable and would anger God".
The prosecutor also ordered the coroner to carry out physical examinations as part of the investigation.
Nicholas Piachaud, an Egypt researcher at Amnesty International, slammed the "shameful" sentence. He told The Independent: "It's discrimination dressed up as morality and these men are the latest victims of Egypt's war on difference."
Gay marriage is not legal in Egypt, a conservative Muslim country, and while homosexuality is not specifically outlawed, it is considered taboo. Arrests of gay men occasionally make headlines and the accused are typically charged with debauchery, immorality or blasphemy, drawing criticism from rights groups.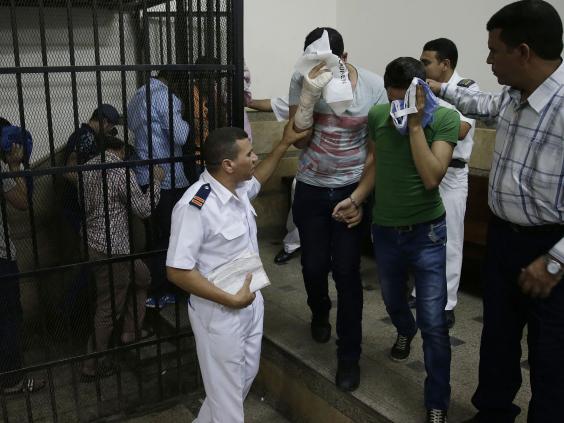 The sentence was met with uproar from the families of the defendants, who demonstrated outside the courthouse in downtown Cairo.
The defendants, who had denied the charges, stood silent in the court room cage as the verdict was read, one of them holding up a copy of the Koran.
The court also ordered three years of probation for the men after their three-year sentence has been served.
In April, four men were convicted and sentenced to eight years in prison for "debauchery" after allegedly holding parties that involved homosexual acts and where women's clothing and makeup were found.
The largest crackdown on homosexuals in Egypt took place in 2001, when police raided a floating disco called the Queen Boat. Fifty-two men were tried in the case that drew widespread criticism from human rights groups and Western governments.
Additional reporting by agencies
Reuse content