Egyptian officials say a suicide bomber has blown himself up as part of a coordinated terror attack on the ancient Temple of Karnak, a hugely popular tourist destination.
Police officials have said they foiled at attack and that at least two militants had been killed and a third wounded, while a car used by the attackers exploded.
According to Reuters, officials said four Egyptians were injured including at least one member of the security forces. There were not thought to be any injuries to tourists in the incident in the southern city of Luxor, which welcomes millions of visitors every year.
The temple is one of the most important historic ancient Egyptian attractions in the country, second only to the pyramids at Giza in numbers of tourist visits.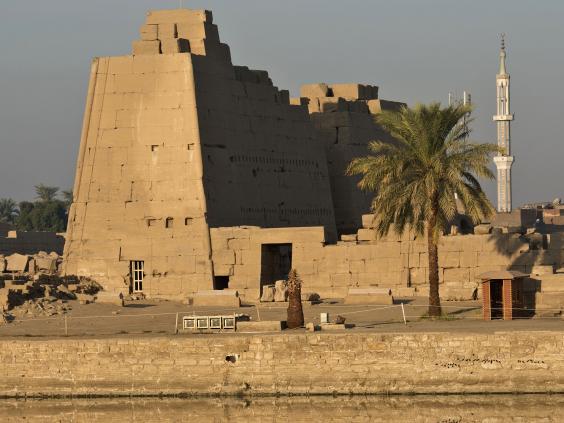 Officials, who spoke anonymously, said police had previously foiled two other suicide attack attempts on the temple.
The Associated Press reported that while there was no immediate claim of responsibility, the incident bore the hallmarks of Islamist militants who have been battling authorities in the Sinai for years. Groups have previously pledged allegiance to the Isis militant organisation, which has destroyed a number of ancient sites across Syria and Iraq in recent years.
The attack was the first to target world-famous attractions in Luxor since November 1997, when Islamic militants opened fire on tourists at the city's 3,400-year-old Hatshepsut Temple on the west bank of the Nile, killing 58.
Ancient monuments under Isis threat
Ancient monuments under Isis threat
1/8 Isis seizes Palmyra

The ancient oasis city of Palmyra

Getty

2/8 Isis seizes Palmyra

A partial view of the ancient ruins

Getty

3/8 Isis seizes Palmyra

The ancient Palmyra theater

Reuters

4/8 Isis seizes Palmyra

A view of the ancient Syrian city of Palmyra

Getty

5/8 Isis seizes Palmyra

The Temple of Bel

Reuters

6/8 Isis seizes Palmyra

Palmyra's famous graves

AP

7/8 Isis seizes Palmyra

The ancient castle

Getty

8/8 Isis seizes Palmyra

A sculpture depicting a rich family from the ancient Syrian oasis city of Palmyra, displayed at the city's museum

Getty
The Temple of Karnak is a vast, sprawling open-air museum, thought to be the second-largest ancient site in the world after Cambodia's Angkor Wat.
It is one of the highlights of Luxor, which largely survives on tourism and has some of Egypt's most famous ancient artefacts and pharaonic tombs, including that of King Tutankhamun.
The city has been hit hard by a downturn in foreign visitors during the years of unrest since Egypt's 2011 uprising.
More follows
Reuse content