A group of Mexican tourists mistakenly attacked by Egyptian security forces on Sunday were subjected to "an aerial attack with bombs launched from an airplane and helicopters," according to survivors, Mexico's Foreign Secretary has said.
Claudia Ruiz Massieu told a news conference in Mexico City that she had contacted Egypt's ambassador to Mexico, Yasser Shaban, demanding "an objective explanation that clarifies the facts".
The group of 22 tourists was travelling in the White Desert, a rolling plane of sandy dunes and wind-beaten stone when security forces opened fire on them, killing 12 people and wounding 10. Among the dead were at least two Mexican citizens, while six were among the wounded according to the Mexican Foreign Ministry.
The wounded tourists told Mexican ambassador Jorge Alvarez Fuentes at a hospital in Cairo that the group were travelling to the Bahariya oasis, around 230 miles South-west of Cairo. On their way to their hotel, they stopped by the side of the road eat a meal when multiple aircraft fired at them.
However, a statement from Egypt's Ministry of Tourism said that the group were near the Farafra oasis, another 50 miles south. The ministry said a full investigation is pending. The investigation will be headed by outgoing Prime Minister, Ibrahim Mahlab.  
Egypt's Interior Ministry branded the incident a "mistake" in a statement on their Facebook page, saying that a joint police-army unit "accidentally engaged four four-wheel-drive vehicles belonging to a Mexican tourist group" while conducting operations against militants in the Western Desert. The statement went on to add that the group did not have permission to be in the area. 
A Mexican reiki healer who had visited Egypt over a dozen times was reportedly among the dead. Rafael Bejarano was travelling with his mother, Marisela, 63, who was among the wounded. "I don't think they were mistaken [for militants]," Mr Bejarano's sister Gabriela told Mexican radio. "As far as I understand they were dining when they came under attack."
Egypt's Foreign Minister, Sameh Shoukry, telephoned his Mexican counterpart to offer his condolences, but said that "the SUVs used by the tourists are similar to those used by terrorist elements", which had caused security forces to open fire. 
Amir Ali, sales director at Memphis Tours, a company that offers tours to Bahariya and the White Desert, told The Independent that it is "impossible" to enter the area without permission. Tour companies organising trips to the area must obtain permission from the Egyptian military, the Interior Ministry and the police, as well as coordinate the details of the trip. He added that the ministry often sends a police escort with larger groups.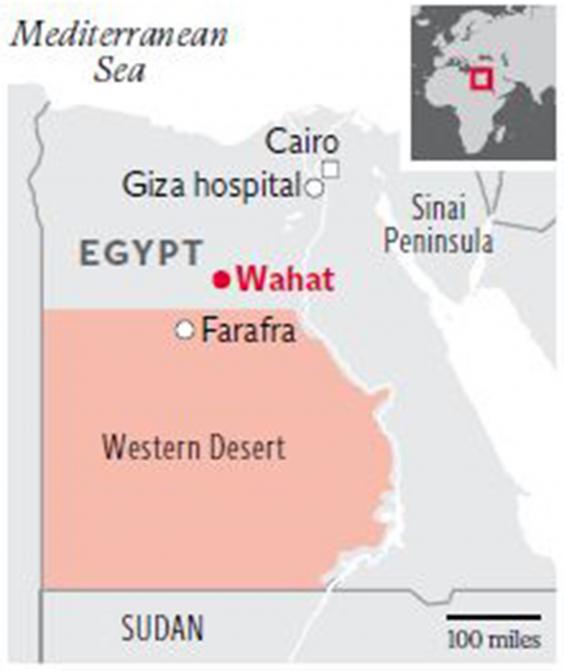 "It's not easy at all to get in there without the police knowing," he said. "you can feel the heavy presence driving there from Cairo. Even on regular roads, it's difficult to go through without seeing checkpoints."
Mr Ali said that the attack could have taken place because the group had unknowingly stopped in an area where they did not have permission to be off-road. Despite strict regulations put in place since Egypt's uprising in 2011, there are no signs warning visitors which areas are off-limits or restricted.  
Earlier on Sunday, militants linked to the jihadist group Islamic State announced their presence in the Western Desert area close to the Libyan border, with a statement posted online. Attacks on police and military targets across Egypt have increased since the overthrow of former Islamist President Mohammed Morsi in June 2013.
Reuse content