Human rights and freedoms in Egypt should not be viewed from a "Western perspective", the country's president has said in what campaigners have described as "deeply troubling" remarks.
Abdel-Fattah el-Sisi told a US delegation that "differences in domestic and regional conditions" in the north African nation made it difficult to apply the same rules regarding civil liberties.
Britain and France have recently criticised Egypt's government for alleged human rights abuses and attacking the freedom of the press. 
According to local media reports, President Sisi was keen to stress that Egypt was committed to "upholding the values of democracy" while in conversation with Michael McCaul, chairman of the US House Committee on Homeland Security.
The meeting involved talks on approaches to volatile nations in the Middle East before the discussion turned to the pressing issue of civil rights, according to Sisi's spokesman.
Meanwhile, McCaul expressed his belief in the importance of America's "strategic relationship" with Egypt and the future stability of the troubled nation.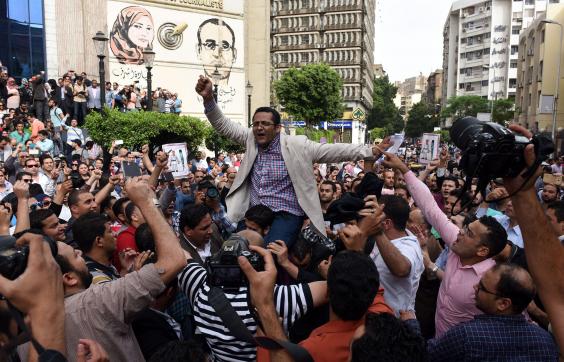 Nicholas Piachaud, an Egypt specialist at Amnesty International, told The Independent: "President Sisi's reported remarks are deeply troubling, and he should stop making excuses for the authorities' disturbing human rights crackdown.
"There's nothing remotely 'Western' about basic human rights like the right not to suffer torture or to be able to speak freely without fear of arrest and imprisonment.
"The very real security threats facing Egypt shouldn't become an excuse for the crushing of rights and freedoms in the country."
President Sisi's remarks are deeply troubling, and he should stop making excuses
Last week, 237 human rights protesters were arrested during a peaceful demonstration against the el-Sisi regime in Cairo. 
Officers also detained two journalists, Mahmoud al-Sakka and Amr Badr, who work for the opposition website Bawabet Yanayer, for "spreading false news and endangering national security."
The controversial arrests sparked further uprisings, during which Cairo police cordoned off the headquarters of the journalist's union in the city centre.
Human rights attacks around the world
Human rights attacks around the world
1/10 China

Escalating crackdown against human rights activists including mass arrests of lawyers and a series of sweeping laws in the name of 'national security'.

Getty Images

2/10 Egypt

The arrest of thousands, including peaceful critics, in a ruthless crackdown in the name of national security, the prolonged detention of hundreds without charge or trial and the sentencing of hundreds of others to death.

Getty Images

3/10 Gambia

Torture, enforced disappearances and the criminalisation of LGBTI people; and utter refusal to co-operate with the UN and regional human rights mechanisms on issues including freedom of expression, enforced disappearance and the death penalty.

Getty Images

4/10 Hungary

Sealing off its borders to thousands of refugees in dire need; and obstructing collective regional attempts to help them.

Getty Images

5/10 Israel

Maintaining its military blockade of Gaza and therefore collective punishment of the 1.8 million inhabitants there, as well as failing, like Palestine, to comply with a UN call to conduct credible investigations into war crimes committed during the 2014 Gaza conflict.

Getty Images

6/10 Kenya

Extrajudicial executions, enforced disappearances and discrimination against refugees in its counter-terrorism operations; and attempts to undermine the International Criminal Court and its ability to pursue justice.

Getty Images

7/10 Pakistan

The severe human rights failings of its response to the horrific Peshawar school massacre including its relentless use of the death penalty; and its policy on international NGOs giving authorities the power to monitor them and close them down if they are considered to be "against the interests" of the country.

Getty Images

8/10 Russia

Repressive use of vague national security and anti-extremism legislation and its concerted attempts to silence civil society in the country; its shameful refusal to acknowledge civilian killings in Syria and its callous moves to block Security Council action on Syria.

Getty Images

9/10 Saudi Arabia

Brutally cracking down on those who dared to advocate reform or criticise the authorities; and committing war crimes in the bombing campaign it has led in Yemen (pictured) while obstructing the establishment of a UN-led inquiry into violations by all sides in the conflict.

Getty Images

10/10 Syria

Killing thousands of civilians in direct and indiscriminate attacks with barrel bombs and other weaponry and through acts of torture in detention; and enforcing lengthy sieges of civilian areas, blocking international aid from reaching starving civilians.

Getty Images
In their annual report published in April, the UK's Foreign and Commonwealth Office said human rights in Egypt  had "deteriorated" in 2015 with more cases of torture, police brutality and forced disappearance.
The report continued: "Restrictions on civil society further limited the ability of NGOs to register, work and obtain funding, and a number of prominent human rights defenders were banned from travelling. Restrictions on freedom of expression also increased."