Increasingly pugnacious, Jacob Zuma wanted there to be no doubt. "I appoint the ministers here," he declared, attempting to address claims that the South African state has effectively been captured by Indian billionaires. Shortly after, the chamber of the National Assembly emptied. 
Mr Zuma, leader of a nation racked by drought and economic crisis, is fighting for his political future as millions of South Africans march to demand his resignation. Unseen at the National Assembly in Cape Town were members of the Gupta family, three brothers alleged to have had a hand in Mr Zuma's decisions for almost a decade. 
Mr Zuma, the leader of an African National Congress (ANC) subject to infighting, has survived two votes of "no confidence" in the past year. But now even his allies are distancing themselves. "He's not untouchable, he's the President," the ANC general secretary, Gwede Mantashe, told Reuters. "Why should we see this as a crisis instead of a positive? It will embolden people to come to the fore... so we can find the business people who are tampering within the ANC."
Those business people, it is alleged, are brothers Ajay, Atul and Rajesh "Tony" Gupta, who reportedly arrived in South Africa from Uttar Pradesh in 1993, at the end of apartheid, as South African was, again, a land of opportunity. Their company, the Sahara Group, has interests in mining, air travel and the media. They are said to have met Mr Zuma a decade ago. They are said to have remained close since. 
The scandal that threatens Mr Zuma's future began with the decision to sack the widely respected Finance Minister Nhlanhla Nene in December as South Africa's economy suffered. Whether the decision was taken by Mr Zuma, or the Gupta brothers, is at the heart of the crisis.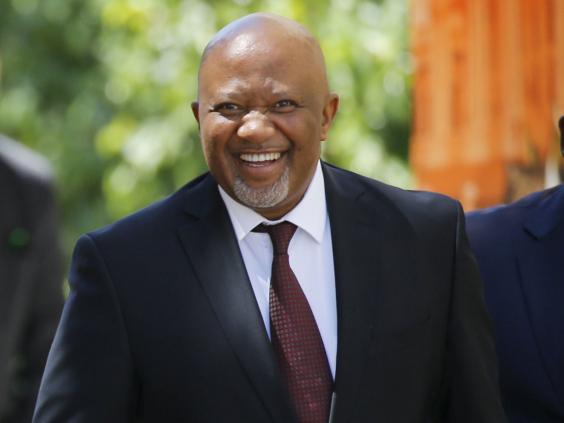 On Wednesday, Mr Nene's deputy, Mcebisi Jonas, broke his silence. "I have hesitated to speak out publicly on this matter until now, but I feel it is no longer possible to remain quiet," he said. "I was approached by non-governmental individuals in respect of the position of Minister of Finance. Members of the Gupta family offered me the position of minister of finance to replace then Minister Nene. I rejected this out of hand." 
The opposition has called for Mr Zuma to resign. The Guptas, rarely seen, are said to maintain a heavily guarded estate in Saxonwold an affluent Johannesburg suburb. It was there that the hitherto little-known former ANC member and MP, Vytjie Mentor, said that she was offered the key post of public enterprise minister, in 2010. She claimed that Mr Zuma was also at the mansion at the time and she rejected the offer. The Guptas denied this took place. 
Commenting on Mr Jonas' claims, a Gupta family spokesperson said they were merely "political point-scoring between rival factions within the ANC". Any suggestion that a member of the Gupta clan, or one of their representatives, offered "anyone a job in government is totally false".
Despite this, the protests continue. Mr Zuma denies any improper relationship with the Guptas, who were at the centre of a scandal in 2013 when it emerged that they were allowed to use a military base to land a private plane for a family wedding. 
Mr Zuma survived that scandal and others since. Last month he admitted that he had "unduly benefited" from millions of pounds of public money spent on "security upgrades" to his country home – including an amphitheatre, swimming pool and cattle enclosure. 
The turmoil is worsening a stricken economy. Markets opened on Wednesday with the currency at 16 rand to $1, a low not seen since December when Mr Nene was sacked. 
"The rotten forces are on the back foot," Barbara Hogan, a former cabinet minister said yesterday. "To those people who believe they still need to defend Zuma and have benefited from a close relationship with the Guptas, I appeal to them now to stand back."
Reuse content