Three years on, Immah Reid, a Kenyan gay rights activist, is still haunted by a young girl's text. The girl had been locked in her bedroom in a Nairobi suburb for three days. Her mother had sent in men to rape her, and her little sister was forced to listen to her screams. "I don't want you to come and get me because they will kill me," she wrote. "I just want you to know."
The girl, whom Ms Reid never heard from again, was a lesbian. In an all too common occurrence, her family believed that she could be "cured" through sex with a man in a practice known as "corrective rape". Some of the girls subjected to such an ordeal never get over it, and end up taking their own lives.
Such is the attitude towards homosexuality in Kenya that many never come out, sometimes turning to religion for answers, sometimes taking a husband and having children.
And yet it is also the country where a little over a month ago, the High Court ordered the government to allow the official registration of a gay rights non-governmental organisation, a landmark ruling that followed years of official stonewalling of pro-homosexual groups seeking legal recognition and status.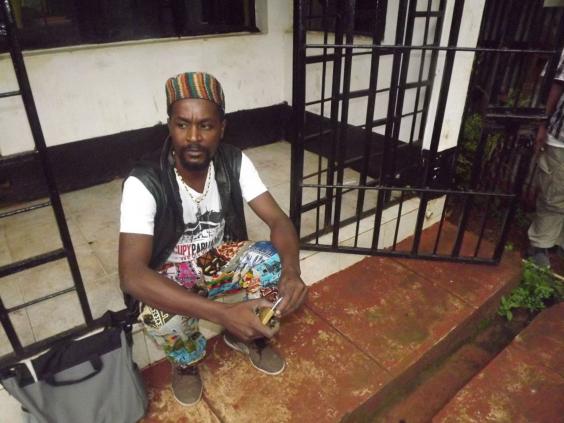 Eric Gitari, who heads the Nairobi-based National Gay and Lesbian Human Rights Commission, the group in question, said he was "thrilled" by the decision, which he described as "very strong". He added: "It is saying that religion and morality cannot be used as a limitation to the application of rights."
The government, however, is appealing the court's ruling, and Mr Gitari said he is preparing to "fight all the way to the Supreme Court".
While homosexual acts are illegal in Kenya – being gay is not – the law is only occasionally invoked. A case in Mombasa, where two men were charged with sodomy, is a rare example. Attitudes in Kenya, however, still lag the legislative process, and the April ruling drew swift condemnation, not only from the Anglican Church, which described it as "naïve and inconsiderate", but from the country's Deputy President, William Ruto, who told a church congregation that "we have no rooms for gays and those others".
Discrimination begins at an early age, usually at school where even homosexual feelings are punished with exclusion. Ms Reid was expelled in her teens for sending a love letter to another girl. "It's the most scary time of your life. Your parents are ashamed of you. Your school humiliates you," she said. Coming out means "the end of your education, support system. You have to be able to walk away from that life".
Inspirational quotes about LGBT rights
Inspirational quotes about LGBT rights
1/27 Caitlyn Jenner

"Why do people think it's OK to ask deeply personal questions when you're transgender?"

Reuters / Vanity Fair

2/27 Kanye West

"Look, I can be married to the most beautiful woman in the world, and I am. I can have the most beautiful little daughter in the world, and I have that. But I'm nothing if I can't be me. If I can't be true to myself, they don't mean anything," the rapper said about Jenner.

Getty Images

3/27 Stephen Fry

"Homosexuals are not interested in making other people homosexuals. Homophobes are interested in making other people homophobic."

Rex

4/27 Hillary Clinton

"Gay rights are human rights."

Getty Images

5/27 Anderson Cooper - Journalist and TV host

"The fact is, I'm gay, always have been, always will be, and I couldn't be any more happy, comfortable with myself, and proud."

Getty Images

6/27 Laverne Cox - Actress

'"We are not what other people say we are. We are who we know ourselves to be, and we are what we love."

7/27 PM David Cameron

"I am proud that we have made same-sex marriage happen. I am delighted that the love two people have for each other — and the commitment they want to make — can now be recognised as equal."

AFP/Getty Images

8/27 Kellie Maloney

"We don't have a choice. People think we wake up one morning, put a dress on and be a woman. I knew about it when I was very young but I was brought up in a male world and had responsibilities, I was frightened and I wanted to beat it. I didn't want to lose my friends. In the end I was so depressed and so desperate, I tried to commit suicide about three times."

Getty

9/27 Ellen DeGeneres - comedian and TV host

"To me beauty is about being comfortable in your own skin. It's about knowing and accepting who you are."

10/27 President Barack Obama

"Just to prohibit somebody who cares about another person, it just seems to me that's not what America's about. Usually, our constitutions expand liberties, they don't contract them."

AFP/Getty Images

11/27 Zac Efron - Actor

"To me, being gay was just another way that you can be."

Getty Images

12/27 Lance Bass - former NSYNC member

"The thing is, I'm not ashamed - that's the one thing I want to say. I don't think it's wrong, I;m not devastated going through this. I'm more liberated and happy."

Larry Busacca/Getty Images

13/27 Ed Miliband - former Labour leader

"Whether you're gay or straight, you should be able to signify your commitment, your love, with the term marriage."

Reuters

14/27 Kate Bornstein - Author

"Gender is not sane. It's not sane to call a rainbow black and white."

Getty Images

15/27 Adam Levine - Maroon 5's singer

"Maybe we should make straight marriage illegal. It doesn't seem to have a very high success rate."

GETTY IMAGES

16/27 Tom Daley - Olympic diver

"I felt so alone and trapped in who I was... for people to be so supportive about it has been amazing."

17/27 Kurt Cobain - Former musician

"I'm not gay, although I wish I were just to piss off the homophobes."

Getty Images

18/27 Jay-Z - Rapper

"You choose to love whoever you love. It's no different than discriminating against blacks."

PA

19/27 Brittney Griner - Basketball player

"I am a strong, black, lesbian woman. Every single time I say it, I feel so much better."

Rex Features

20/27 Daniel Radcliffe - Actor

"You don't have to be gay to be a supporter, you just have to be human."

Getty Images

21/27 Elle Page - Actress

"I am tired of hiding and I am tired of lying by omission... I suffered for years because I was scared to be out... I'm gay."

Getty Images

22/27 Michael Sam - NFL player

"I want to own my truth... No one else should tell my story but me."

Getty Images

23/27 Pink - singer

"I think the best day will be when we no longer talk about being gay or straight... It's not a gay wedding, it's just a wedding. It's not a gay marriage, it's just a marriage."

24/27 Jason Collins - former NFL player

"When I acknowledged my sexuality, I felt whole for the first time."

GETTY IMAGES

25/27 Ricky Martin - singer

"Acceptance has to come from within and this kind of truth gives me the power to conquer emotions I didn't even know existed."

26/27 Frank Ocean - Musician

"I believe that marriage isn't between a man and a woman; but between love and love."

Getty Images

27/27 Elton John

"So I am deeply saddened and shocked over the current legislation that is now in place against the LGBT community here in Russia. In my opinion, it is inhumane and it is isolating."

Getty Images
For a time, she tried to be like other girls, and even has an eight-year-old son, who lives with her mother, who has never broached the subject of her daughter's sexuality. "She is one of the most intelligent people I know. The fact that she doesn't speak about it means she must have a response so bitter it would break me," Ms Reid said.
Discussion about homosexuality is increasingly entering the public discourse, however, and activists say that attitudes are changing, albeit slowly. It is in the poorest and most conservative communities where gays and lesbians face the hardest time, often evicted from their homes and vulnerable to violent attacks.
"Visibility is a double-edged sword," said Anthony Oluoch, a gay activist in Nairobi. "When confronted by something they do not understand, the first reaction is fear. As much as we need visibility to see that we are part of this society, that also stirs emotions and violence."
Changing attitudes, activists admit, could take years in Kenya. Many just want to live and let live. Homosexuality "is something we want to decriminalise, but it's not about making it legal, it's about letting it be", said Mr Oluoch.
Reuse content