She has been described as one of the bravest women in Libya and not even death threats could stop her from voting in Wednesday's elections. But Salwa Bugaighis's public defiance may have alerted her enemies to her presence in Benghazi and led to her murder on Wednesday evening.
Ms Bugaighis was one of the most prominent human rights activists in Libya and her brutal killing at her own home caused profound shock, even in a society which is being increasingly exposed to bloody strife.
The lawyer was shot and stabbed on the day of the general election, an exercise in democracy she had played a part in establishing from the early, uncertain days of the revolution which led to the overthrow of Muammar Gaddafi.
A group of five masked men, carrying Kalashnikovs, burst into the house in the eastern city of Benghazi, shooting a guard at the gate. Ms Bugaighis was taken to hospital where she died from her injuries. Her husband, Essam al-Ghariani, is missing, believed abducted; her sister, Iman, also well known as a civic society campaigner, is trying to get in touch with his kidnappers.
Ms Bugaighis and Mr Ghariani, who had been out of the city, had returned to take part in the election. Her killers may have been alerted to her return by photographs she posted on Facebook of herself voting, and by a subsequent interview she gave to a TV channel, al-Naaba.
The ceaseless campaign Salwa Bugaighis carried out for women's rights led to her being condemned by jihadist groups, as well as by the Muslim Brotherhood and the Grand Mufti, Al-Sadiq al-Gharyani. She repeatedly stressed that she was a follower of Islam, but spoke out against the hijab, arguing there was nothing in the faith demanding that women should cover themselves entirely, and rarely even wore a headscarf herself.
Speaking to The Independent, Iman Bugaighis, an orthodontist by profession, said: "It has been a terrible, terrible shock. We have seen arguments and debate being stopped by the gun - this is what's happening to our society - but to lose a sister in such a way is hard, very hard.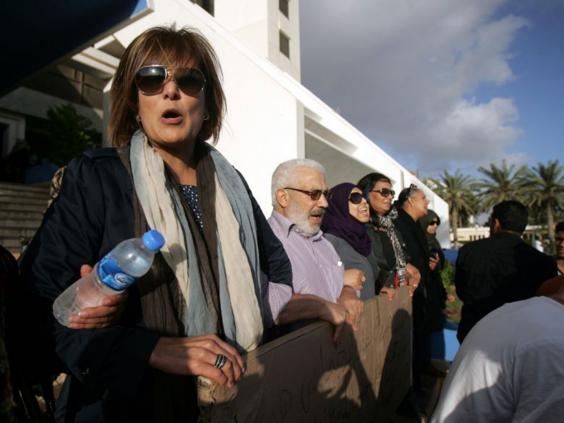 "Her husband has been taken, kidnapped by the killers, and we are fearful of what may happen to him. We are trying to find out if there is any way to get in touch with those holding him. We are hoping we can do something. They say it's about religion, but we are Muslims ourselves as you know. How have we reached this place where a difference of opinion about headscarves ends in someone being killed? There are people out there who have their own view of religion and they do not tolerate any other. I am afraid this place will end up just like Syria."
The US ambassador to Libya, Deborah Jones, described the assassination as "a cowardly, despicable, shameful act against a courageous woman and a true Libyan patriot: heartbreaking." The UN mission in Tripoli said in a statement: "Once again we witness a bloody attack, the latest in a series largely targeting civilians."
Benghazi has been the recent focus of the military operations by Major General Khalifa Haftar, an army commander, targeting Islamist groups. Three soldiers were also killed there on election day and warplanes bombed an arms depot. Today a car bomb exploded in the nearby city of al-Baida.
During her TV interview, shortly before the fatal attack, Salwa Bugaighis spoke of how she could see the fighting from the window of her home; she urged people to be careful when they went out to vote. A number of jihadist groups have urged a boycott of the election with slogans appearing on walls declaring: "Democracy is Blasphemy."
Ms Bugaighis's public challenge to the Islamists on this and other issues appears to drive them to fury, and she received a number of death threats. But she refused to be silenced and was determined, she said, to see that the hard-won freedoms of the revolution were not clawed back.
As a member of the National Transitional Council, the opposition umbrella group during the uprising, Ms Bugaighis led a fight against the small quota of 10 per cent for the number of women in parliament, calling for it to be raised to 30 per cent. The need was, she said, to change the "tribal mentality, the stereotype of women; we have to work hard to change the mentality of the society." On the day she died, 32 out of 200 seats in the new House of Representatives were reserved for women.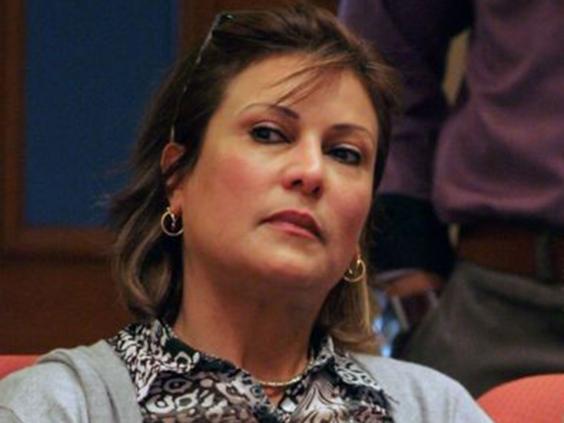 Ms Bugaighis was recently appointed as deputy head of the National Dialogue Preparatory Council, set up to help resolve the country's bitter divisions. Asked whether that was not too idealised a concept, she said: "Clinging on to our idealism is the only hope we have left for Libya. It is an easier option to be cynical, but then what was the point of the struggle?"
Under the Gaddafi regime, Ms Bugaighis had been among a group of lawyers who had taken the brave step of campaigning for political prisoners. She was helped by Iman and the two sisters joyously embraced the revolution in 2011. Articulate and passionate in their beliefs, they were natural attractions for the international media arriving at the time in Benghazi.
Although continuing to be a fervent supporter of the revolution, Ms Bugaighis listened with concern when, returning from the front lines, we told her that that the rebels themselves had committed atrocities; among these were the executions of black migrant workers, who had falsely been accused of being Gaddafi's mercenaries. These were matters which would be fully investigated and prosecuted once the country was liberated, she said.
But a Free Libya governed by just laws remained an aspiration. Eighteen months later she was expressing deep concern about what was unfolding: the lack of an adequate civic society, the rise of extreme Islamists, the emigration of disillusioned liberals. But, she was adamant: "There is no point in giving up now. There is far more good than bad in this country."
Reuse content