The former general who is leading an armed uprising in Libya says that he will not negotiate with his rivals and will instead rely on force to achieve his objectives.
"We see that confrontation is the solution," Khalifa Hifter said from his headquarters in the eastern city of Benghazi. "I do not think talks will work with them."
On Friday, Mr Hifter launched an offensive in Benghazi against Islamist militias that have been widely blamed for a string of killings. As least 70 people were killed and dozens injured in the most intense fighting since the revolt that deposed the dictator Muammar Gaddafi three years ago. The assault was followed two days later by an attack on the national parliament by militias loyal to Mr Hifter.
The fighting was a dramatic sign of the central government's inability to assert control over the country, which has broken up into virtual fiefdoms ruled by militias since the ousting of Gaddafi. The stunning offensive of recent days led by Mr Hifter – a former anti-Gaddafi activist who spent years in exile in Virginia – has prompted militias to choose sides, in what could be a prelude to large-scale clashes.
Mr Hifter and his backers have branded their campaign as a war on terrorism, although a complex web of tribal and local interests and shifting allegiances are also coming into play.
He said he did not recognise the authority of the Islamist-led parliament, known as the General National Congress. "The GNC has been rejected by the people, and its legitimacy has ended. The government is ineffective," he said.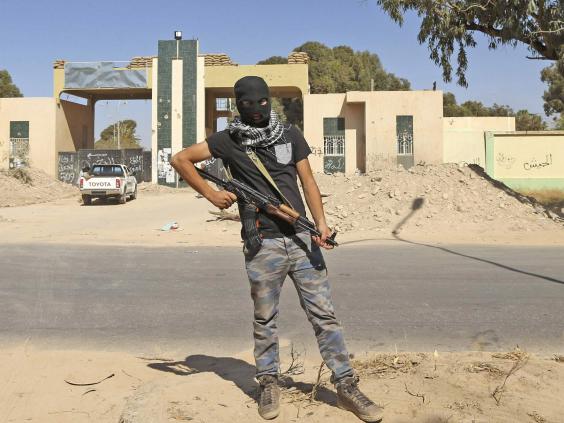 In an apparent effort to defuse the crisis, the country's High Election Commission set 25 June as the date for new parliamentary elections, the government news agency Lana reported on Tuesday.
The parliament met in secret on Tuesday at the waterfront Radisson, one of a handful of top-level hotels in Tripoli. Only 60 of the 200 legislators attended the session, according to Abdullah al-Gmata, one of the politicians who was at the meeting.
A proposal to postpone a vote on Prime Minister designate Ahmed Matiq's cabinet by 10 days was considered, but no action was taken.
Mr Hifter said he began planning his offensive about a month ago but that there had been discontent among former military officers for more than a year-and-a-half. "We planned it after we saw people being slaughtered in the streets," he said, referring to the slayings of police, judges, lawyers and others in Benghazi.
He said that he saw no quick end to the fighting. "Operation Dignity is multiple battles; it's not just one battle."
He said that his opponents are in residential areas and therefore he would no longer rely on heavy artillery or air power, as his forces had done in the initial Benghazi assault. "It's going to take some time," he said.
Mr Hifter said he has not received any support from abroad and nor was he in contact with the US government. Asked whether he was seeking a role in a future government, he said: "Now the only important thing on our minds is security for all our citizens." He added that his goal was to establish an effective national army and police force.
Mr Hifter's self-declared Libyan National Army is backed by many former military officers as well as militias tied to the cities of Benghazi, Tobruk and Ajdabiya in the east and Zintan in the west.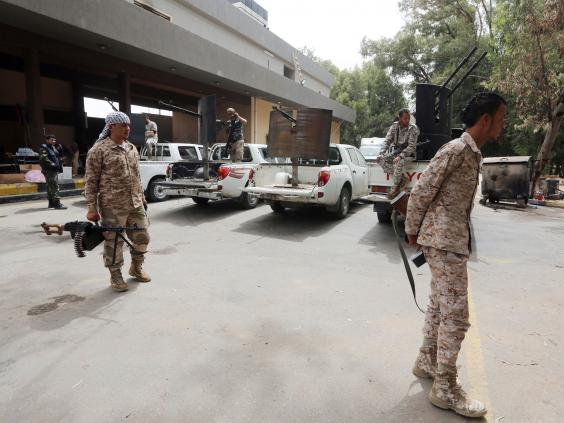 He has a long history with the Libyan military; as a young officer, he took part in the 1969 coup that brought Gaddafi to power. He later fought in Libya's war against Chad before being taken prisoner and turning against the Libyan leader.
On Tuesday, Mr Hifter continued to pick up allies, including a former senior military officer, Maj-Gen Suleiman Mahmoud, and former Prime Minister Ali Zeidan.
The Justice and Construction Party, which is affiliated with the Muslim Brotherhood, condemned Mr Hifter's use of force and called for dialogue "to prevent bloodshed". Powerful militias in Misrata that are aligned with Islamist parties have said they are prepared to go to the capital.
Ansar al-Sharia, one of the most extreme Islamist groups operating in Benghazi, charged in a statement on Monday night that the offensive was "in reality a war on Islam".
Mr Hifter denied that the fighting could turn into a civil war. "On the contrary, we have the people with us," he said.
© The Washington Post
Reuse content