A man has reportedly been 'sucked to his death' when an alleged bomb explosion made a hole in the side of a passenger jet.
Another two people were confirmed injured in the explosion on the Daallo Airlines flight heading from Mogadishu to Djibouti.
Despite losing cabin pressure caused by the hole above one of the wings, the pilot was able to use the undamaged flight controls to safely return the passengers to Mogadishu International Airport.
Somali authorities discovered the body of an old man 30km north of Mogadishu which they believe fell from the plane, CNN report.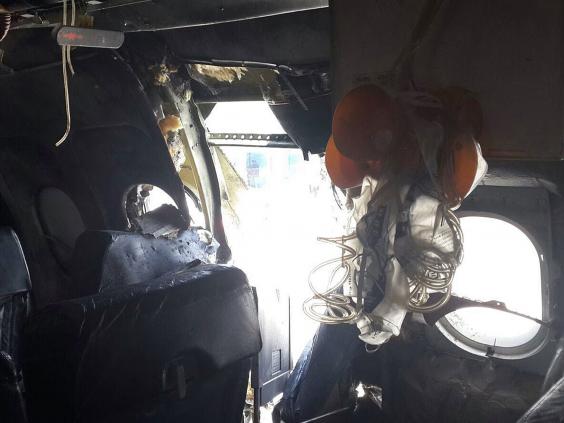 The plane's Serbian pilot, Vladimir Vodopivec, 64, told Belgrade newspaper Blic: "I think it was a bomb.
"Luckily, the flight controls were not damaged so I could return and land at the airport.
"Something like this has never happened in my flight career. We lost pressure in the cabin. Thank god it ended well."
The Somalian government has not confirmed suspicions that the explosion was caused by a bomb but are currently investigating the incident.
Top 10 safest planes in the world
Top 10 safest planes in the world
1/10 Airbus A380

Emirates is by far the largest user of the A380, which the is safest commercial aeroplane in the world. All information from www.airlineratings.com

2/10 Boeing 787

The aeroplane is relatively new and has been in service for around a year. It has not had any fatal accidents.

3/10 A340

The 240-360-passenger plane has only experienced two aviation accidents, known as hull losses, and had no fatalities.

4/10 Boeing 717

The Boeing 717 (formerly the McDonnell Douglas MD-95) has had no hull losses or fatalities.

5/10 Boeing 747-8

One of the fastest jet airliners in the world, this plane is one of the safest commercial aircrafts to date.

6/10 CRJ/700/800/900 series

These planes were introduced in 2001 and the plane has never had any fatalities or major accidents.

7/10 Boeing 737 Next Generation series

Since their introduction, the third generation of 373, has a hull loss with fatalities accident rate of 0.28-per-million-departures.

8/10 Boeing 777

It has been deemed one of the safest planes in the world and has been in service for 20 years. It has only experienced three hull losses with one fatal accident, in which two passengers were killed.

Geoffrey Thomas

9/10 Boeing 757

One of the first generation of digital airliners, the aircraft has been in passenger service for 30 years, during this time it has experienced five hull losses and five fatal accidents.

10/10 Airbus A320

This aircraft was first flown in 1987. Since that time it has experienced 18 hull losses with 11 fatal accidents.
As a result of the incident all flights in and out of the airport were briefly suspended on Tuesday.
Reuse content