The last act of the long farewell to Nelson Mandela will be the smallest of the many ceremonies, with around 400 gathering around the graveside. There will be a few dignitaries, Prince Charles and Bill Clinton among them, and members of government, but the rest would be those who may have been overshadowed by the international nature of events so far – his family, friends and tribe elders.
Madiba, as his countrymen call him, will be laid to rest at Qunu, a rural village where he spent much of his youth, whose population has been doubled by the media, officials, police and the military in the last few days.
Around 4,000 more people will arrive for the broader funeral ceremony. Workers were busy with final preparations, putting up marquees against a backdrop of rondavels (round mud huts). Another group was paving a road from the front of Mr Mandela's house to Mthata, the town with the nearest airport where a military aircraft bearing the former president's body and other official flights will land on Sunday.
There was, however, an element of lack of planning which has been a mark of the proceedings. There is a worry that Mthata airport, which handles two commercial flights a day, may not be able to cope with 100 due on Sunday.
"If the weather is OK we're likely to land at Mthatha. If the weather is bad, we will have to land at East London and then move by road," said Collins Chabane, a minister in the presidency. That would mean, with the slow pace of a cortège, a journey of up to four hours blocking a main route.
The memorial service to Mr Mandela, at a stadium in Soweto with 91 heads of state present, took place with one-third of the seats empty, partly because officials had asked people not to turn up because key roads would be blocked off and there was a lack of buses. Those inside then booed the President, Jacob Zuma, delaying his keynote address.
This embarrassment has been overtaken by the affair of the sign language interpreter translating, among others, Barack Obama into what turned out to be gibberish. Yesterday, in the latest twist in the tale, it was revealed the man, Thamsanqa Jantje, may have faced a murder charge in the past. The US Assistant Secretary of State for African Affairs demanded to know how such a person was allowed to get so close to world leaders.
There have also been complaints about the forthcoming burial, including from the Thembu King Buyelekhaya Dalindyebo, who has reportedly threatened to boycott the ceremony.
Mr Mandela's family has historic connections with Thembu royalty, and the king, according to custom, was due to play a key role in the rituals. According to differing accounts, he had been upset by the presence of President Zuma, who he loathes, and considered Mr Mandela's grandson playing a principal part in hosting the event as a breach of protocol.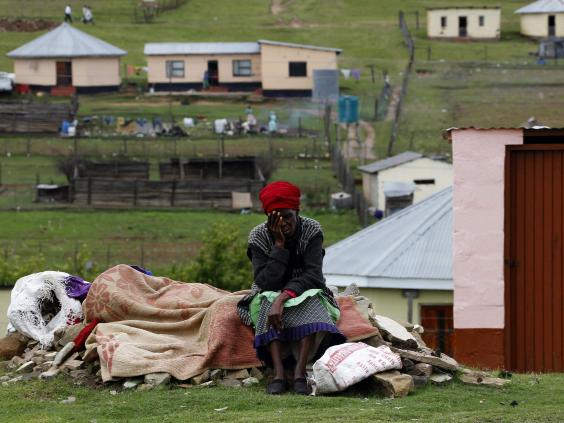 There were also complaints from humbler citizens. Some in Qunu said they felt excluded. "It is very painful not to be able to attend the funeral. We are people of this area, the place where he grew up. We were staying with him," said Simesihile Soyaye. Her grandmother, Noumvula, insisted: "It was his wish for us to be there. When he moved to Johannesburg, he told us that although he might have gone, we would get to see him even if he was dead." She pointed out a viewing platform that was "too far for old people like me to reach".
Others worried about the long-term welfare of the residents of Qunu. Even as the birthplace of the nation's founder, it had lacked resources in health and education and now, with Mr Mandela gone, there were fears it would be forgotten by the government.
A young Nelson Mandela watched his father die in front of him in a hut, probably of lung cancer, although the exact cause was not known because he had never had a chance to be diagnosed by a doctor.
Joshua Mzingelwa, leader of the Morians Episcopal Apostolic Church, pointed out that, decades on, Qunu only had a small, one-room clinic. Moses Gqwarhu, a trader, pointed out that Mr Mandela had to leave Qunu to get his education. "After his father died, he was adopted by a great chief [Jongintaba Dalindyebo, acting regent of the Thembu] and he was the one who sent him to college. Would he have become a great leader if he had remained in Qunu? Even now, very few from here ever go to college; we cannot see Qunu providing another leader of this country."
Other villagers said this was not the time to raise such issues. "We must just remember how lucky we were to have Madiba," an elderly man stressed. "How many places have such an honour?"
On Sunday afternoon the military escort will hand over Nelson Mandela to his family and tribe, the national flag covering the coffin will be  replaced with a traditional Xhosa blanket, and Madiba will be back among his own people.
Reuse content