Nigeria's President has been condemned after dismissing criticism from his wife by saying she "belongs to my kitchen". 
President Muhammadu Buhari was responding after his wife, Aisha Buhari, said she might not support him at the next election unless he replaced senior members of his government.
Speaking at a press conference during a visit to Germany, the President said: "I don't know which party my wife belongs to, but she belongs to my kitchen and my living room and the other rooms."
He also suggested he had "superior knowledge" over her and his other critics "because in the end I have succeeded" in politics. 
The 73-year-old President made the comments while standing next to German Chancellor Angela Merkel. She was reported to have glared at him before laughing briefly.
Mr Buhari's statement has been widely condemned, with commentators and social media users slamming the "joke". 
Daniel Bekele, director of Human Rights Watch's Africa division, said the remarks were "sexist and offensive".
"A strong response is urgently needed from Africa and beyond to condemn President Buhari's statement objectifying women. He should urgently apologise for his words and act in a manner that demonstrates his apology is genuine," he wrote. 
But Nigeria's presidential spokesman, Garba Shehu, said the President's comments should not be taken seriously.
"Politics sometimes should be spiced with humour. Those of us around him know there is never a dull moment with him," he tweeted.
"Mr President respects the place of women in our society. He believes in the abilities of women."
Ms Buhari had earlier told the BBC her husband needed to shake up his government and remove ministers who did not share the vision of his All Progressives Congress (APC) party.
"The president does not know 45 out of 50 of the people he appointed and I don't know them either, despite being his wife of 27 years," she said.
"If things continue like this ... I will not go out and campaign again and ask any woman to vote like I did before. I will never do it again."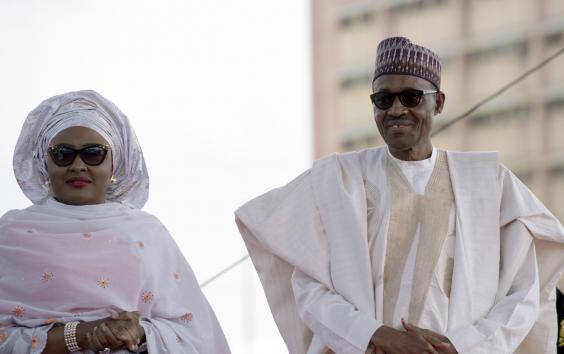 Mr Buhari was elected last year after several attempts. A former military ruler, he was swept to power promising to fight Islamic extremism and tackle corruption. 
He has since been praised for maintaining order but has had to deal with a number of crises, including widespread corruption, Nigeria's first recession in over a decade and the bloody seven-year war against Islamist militant group Boko Haram. 
Mr Buhari claimed success earlier this week when 21 girls kidnapped by the terrorist group were freed after negotiations with the government. Officials said they expected the other 190 girls in captivity to be released in the coming weeks.
Reuse content