Nigerians fleeing a wave of killings by the Islamist group Boko Haram have already lost loved ones, livelihoods and most of their possessions. Now they seem likely to lose their vote.
A presidential election is to be held next month and the law says people must go home to take part.
The electoral commission says it is trying to distribute voter ID cards to the 1.5 million people (according to an Oxfam estimate) displaced by the insurgents, who are fighting for an Islamic state in Nigeria. But for many, the idea of going back to vote in their home constituencies is too harrowing to contemplate.
President Goodluck Jonathan faces the former military ruler Muhammadu Buhari in the election on 14 February, and there are grave doubts whether voting can take place in swathes of the north-east overrun by rebels. As these areas are mostly opposition strongholds, Mr Buhari stands to lose out more than his rival.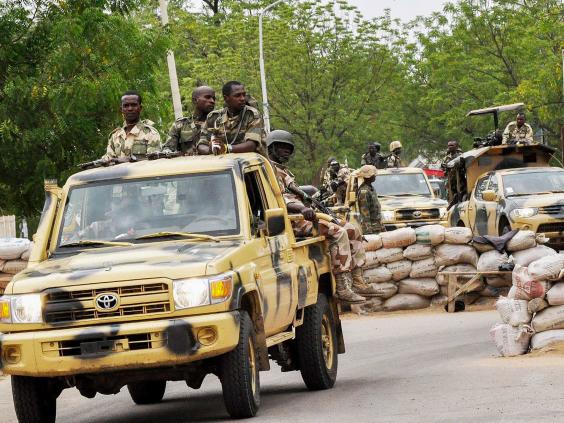 The first time Boko Haram attacked Daniel Dunya's village, dozens of armed men stole the cattle and kidnapped several women. The second time they burned down churches and many houses. By the time they came back, abducting girls and killing the men, he was ready to leave.
"Most of my documents have been lost, including my voter's card, because I was running away," Mr Dunya said at the Makholi refugee camp in Adamawa state.
His home lies near the town of Gwoza, in mountains controlled by Boko Haram near the Cameroon border. The militants have declared an Islamic state in the region.
"As a Christian, they will kill me if I go back to my local government area. Boko Haram are still running around there," he said. He remains optimistic that somehow he will be able to vote. "I'd vote for someone who will bring back peace," he says.
The independent electoral commission (Inec) hopes it can find a way round the law, which parliament ruled out modifying at the end of last year. Giving out ID cards in refugee camps was itself a departure from the normal rules.
In pictures: Nigeria kidnapped schoolgirls
In pictures: Nigeria kidnapped schoolgirls
1/19 Nigeria

A total of 276 girls were abducted from the northeastern town of Chibok, in Borno state, which has a sizeable Christian community. Some 223 are still missing

2/19 Nigeria

One of the kidnapped girls looks into a camera

3/19 Nigeria

One of the missing girls talking to the camera

4/19 Nigeria

The missing Nigerian schoolgirls, wearing the full-length hijab and praying in an undisclosed rural location. Boko Haram alleging they had converted them to Islam

5/19 Nigeria

Girls wearing the full-length hijab holding a flag reading "There is no god, but Allah" and "Mohammed is Allah's prophet"

6/19 Nigeria

A man claiming to be the leader of Nigerian Islamist extremist group Boko Haram Abubakar Shekau

7/19 Nigeria

Abubakar Shekau speaks on the video

8/19 Nigeria

Girls, wearing the full-length hijab and praying are filmed by an unidentified man (R) in an undisclosed rural location

9/19 Nigeria

People carry signs as they attend a protest demanding the release of abducted secondary school girls in the remote village of Chibok in Lagos

10/19 UK

A protester demonstrates against the kidnapping of school girls in Nigeria, outside the Nigerian Embassy in London

11/19 UK

Chief International Correspondent Christiane Amanpour and Prime Minister David Cameron appearing on the BBC1 current affairs programme

12/19 USA

People participate in a "Bring Back Our Girls" campaign demonstration and candlelight vigil in Los Angeles

13/19 USA

Girls holding heart shaped banners in a "Bring Back Our Girls" campaign demonstration and candlelight vigil in Los Angeles

14/19 South Africa

South Africans protest in solidarity against the abduction of hundreds of schoolgirls in Nigeria by the Muslim extremist group Boko Haram and what protesters said was the failure of the Nigerian government and international community to rescue them, during a march to the Nigerian Consulate in Johannesburg

15/19 USA

Karilyn Coates (10) joins others in a candlelight vigil for the more than 300 girls abducted by Boko Haram in Nigeria, at All Souls Unitarian Church in Colorado Springs

16/19 Nigeria

Mothers of the missing Chibok school girls abducted by Boko Haram Islamists gather to receive informations from officials. Nigeria's president said that Boko Haram's mass abduction of more than 200 schoolgirls would mark a turning point in the battle against the Islamists, as world powers joined the search to rescue the hostages

17/19 Nigeria

Former Nigerian Education Minister and Vice-President of the World Bank's Africa division (3rd L) Obiageli Ezekwesilieze speaks as she leads a march of Nigeria women and mothers of the kidnapped girls of Chibok, calling for their freedom in Abuja

18/19 Bring Back Our Girls

Kelly Hoppen tweeted: 'Please make sure you do this, we must stand together and not forget them'

19/19 Bring Back Our Girls

E.L. Rock Star tweeted: 'Join The Movement'
Nearly half of registered voters nationwide have yet to receive new voter cards, the commission said on Tuesday, raising questions about the country's readiness for the vote. On Monday, Inec set up tents at Modibbo Adama University of Technology in Yola to hand out cards for voters in Madagali, an area controlled by the insurgents. For another insurgent-controlled area, Michika, five schools were designated for card handouts.
At a table piled up with voter cards bound together, volunteers sorted them and read out names to those waiting. But Inec has yet to figure out what to do on polling day. "I don't know how they will vote yet. We are waiting to hear," an electoral commissioner said.
Hajaratu Tumba, a farmer, looks puzzled when asked about the election. She hadn't given it much thought, she said. "When they attacked my village, they killed the men and told the women they are going to convert us. I ran and ran and ran. I stayed in the bush for three days with no food or water," she said. "I came here with nothing. Just myself."
Ghana's President, John Mahama, said yesterday that West African leaders are considering creating a military force to fight Boko Haram and will hold a regional summit next week to discuss the idea. The Economic Community of West African States will seek the support of the African Union for the plans, said Mr Mahama.
Reuters
Reuse content