An explosion on a plane leaving Mogadishu on Tuesday was caused by bomb, officials have said.
The detonation occurred as the Airbus 321, carrying 74 people, was at around 11,000 feet and still ascending.
The pilot of the Daallo Airlines flight, Captain Vlatko Vodopivec, managed to stay in control of the aircraft and make an emergency landing back in Mogadishu airport.  
One person, named as Abdullahi Abdisalam Borle, died in attack. He is suspected to have been a suicide bomber.
Two other passengers were treated for minor injuries.  
Six people, including airport and Daallo staff, have been arrested in connection with the blast following examinations of airport CCTV, according to VOA News.  
Ali Jama Jangali, Somalia's transport minister, said: "Experts who were investigating the cause of the blast in the plane concluded that a bomb was the cause,"
"The bomb aimed to kill all onboard the plane. Al-Shabaab was behind it."
Al-Shabaab is an al-Qaeda affiliated Islamist terror group which is engaged in a guerilla war against the Somali government.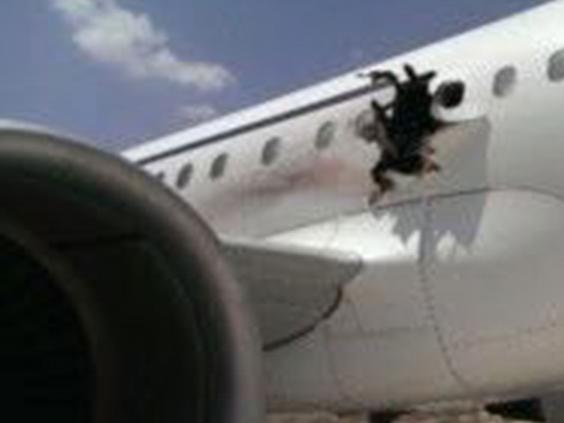 Abdullahi Abdisalam Borle was named as the deceased by an anonymous Somali aviation official. It is thought that he may have been sucked from the plane following the explosion.
"The reason the investigation is focusing on him now is because of the suspicion that he might have detonated the bomb, but it's too early to say if the bomb was planted in a laptop or not," the official said.
Captain Vodopivec commented: "It was my first bomb; I hope it will be the last. It would have been much worse if we were higher."
Daalo Airlines have said in a statement that the incident is being investigated by the Somali Civil Aviation Authority and technicians from Greece.  
Airport security at Mogadishu is being tightened following the attack. 
Reuse content