Pro-government militias in South Sudan are being offered women to rape in lieu of wages as sexual violence is used as "an instrument of terror", a UN report has found.
More than 1,300 rapes were recorded in just one of the country's 10 states in a five-month period last year and all sides in its bloody civil war are accused of responsibility.
"Credible sources indicate groups allied to the government are being allowed to rape women in lieu of wages but opposition groups and criminal gangs have also been preying on women and girls," the UN's human rights office said.
Its report contains graphic accounts of civilians suspected of supporting the opposition, including children and the disabled, being killed by being burned alive, suffocated in containers, shot, hanged from trees or cut to pieces. 
One woman described how she was stripped naked and raped by five soldiers in front of her children by the side of a road, then raped by more men in the bushes only to return and find her children missing.
Another victim was tied to a tree after her husband was killed and had to watch her 15-year-old daughter being raped by 10 soldiers. 
Others said they were attacked after leaving the protection of UN camps to search for food, while some were abducted as sex slaves or "wives" for soldiers living in government barracks.
In pictures: Victims of the conflict in South Sudan
In pictures: Victims of the conflict in South Sudan
1/20 South Sudan

The international Red Cross said that the road from Bor to the nearby Awerial area 'is lined with thousands of people' waiting for boats so they could cross the Nile River and that the gathering of displaced 'is the largest single identified concentration of displaced people in the country so far'

2/20 South Sudan

People unload the few belongings at Minkammen, that they were able to bring with them to the camps

3/20 South Sudan

Hundreds of civilians fleeing violence in Bor region arrive at dawn to one of the many small ports that run alongside the camps in Awerial region, having crossed over the Nile River by night

4/20 South Sudan

Thousands of exhausted civilians are crowding into the fishing village of Minkammen, a once-tiny riverbank settlement of a few thatch huts 25 kilometres (20 miles) southwest of Bor

5/20 South Sudan

Many people had spent days hiding out in the bush outside Bor as gunmen battled for control of the town, which has exchanged hands three times in the conflict, and remains in rebel control

6/20 South Sudan

People on a boat that arrives at the camps in Minkammen

7/20 South Sudan

A man who arrived a number of days earlier helps a young newly arrived displaced boy from a river barge, some of the thousands who fled the recent fighting between government and rebel forces in Bor by boat across the White Nile, in the town of Awerial

8/20 South Sudan

Displaced people who fled from recent fighting in Bor queue outside a clinic run by Medecins Sans Frontieres (Doctors Without Borders) set up in a school building in the town of Awerial

9/20 South Sudan

Mothers and their babies who fled from recent fighting in Bor, many of whom are suffering from dehydration and diarrhea due to the lack of any sanitation, queue outside a clinic

10/20 South Sudan

Local residents tend to their livestock in the town of Awerial which has received a sudden influx of thousands of displaced people who fled the recent fighting between government and rebel forces in Bor by boat across the White Nile

11/20 South Sudan

A young boy pulls his suitcase of belongings as he walks to find a place to rest after getting off a river barge from Bor

12/20 South Sudan

A displaced family camp under a tree providing partial shade from the midday sun

13/20 South Sudan

The UN warns that the people caught up in the conflict in Bor, the capital of Jonglei state, are in dire need of food, water, sanitary facilities and medical supplies

14/20 South Sudan

Almost 200,000 people have fled their homes and there are reports of mass killings along ethnic lines

15/20 South Sudan

A boy carries a fish, caught from the nearby Nile river, in a cardboard box on his head back to his relatives to eat

16/20 South Sudan

A mother and her baby, one of the few to have a mosquito net, wake up in the morning after sleeping in the open

17/20 South Sudan

People queue for medical care at a clinic run by Medecins Sans Frontieres (Doctors Without Borders) set up in a school building in the town of Awerial

18/20 South Sudan

A girl returns from gathering firewood while others extract water from a well

19/20 South Sudan

A displaced woman arrives with what belongings she had time to gather by river barge from Bor

20/20 South Sudan

A boy carries his belongings through mud after arriving by river barge from Bor
Investigators said the assaults have been characterised by "extreme brutality", with even a sign of resistance or struggle, or looking a rapist directly in the eye, resulting in women being killed.
"If you looked young or good looking, about ten men would rape the woman; the older women were raped by about seven to nine men," one witness said.
The prevalence of rape "suggests its use in the conflict has become an acceptable practice by SPLA (government) soldiers and affiliated armed militias," the report says.
"Women and girls were considered a commodity and were taken along with civilian property as the soldiers moved through the villages." 
Some were forced to marry their attackers, while those who fell pregnant often became victims of stigmatisation and domestic violence in their communities.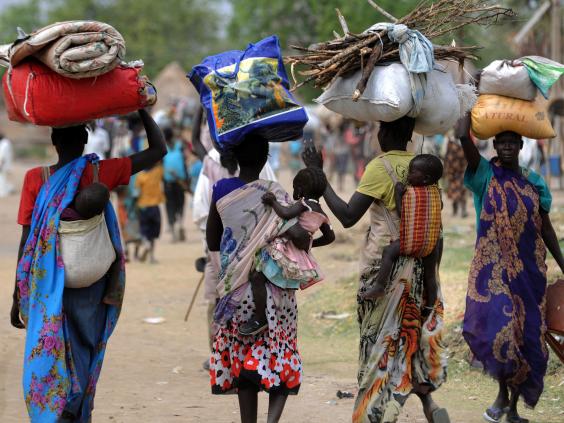 And the horror has not been confined to women – the UN has received reports of 702 children affected by incidents of sexual violence since the start of the conflict in 2013, with some victims of gang rape as young as nine years old.
"The scale and types of sexual violence - primarily by government SPLA forces and affiliated militia – are described in searing, devastating detail, as is the almost casual, yet calculated, attitude of those slaughtering civilians and destroying property and livelihoods," said the UN High Commissioner for Human Rights, Zeid Ra'ad Al Hussein. 
"However, the quantity of rapes and gang-rapes described in the report must only be a snapshot of the real total. 
"This is one of the most horrendous human rights situations in the world, with massive use of rape as an instrument of terror and weapon of war - yet it has been more or less off the international radar."
Conflict between rebels and the regime has continued unabated in the wake of the world's newest country's declaration of independence in 2011.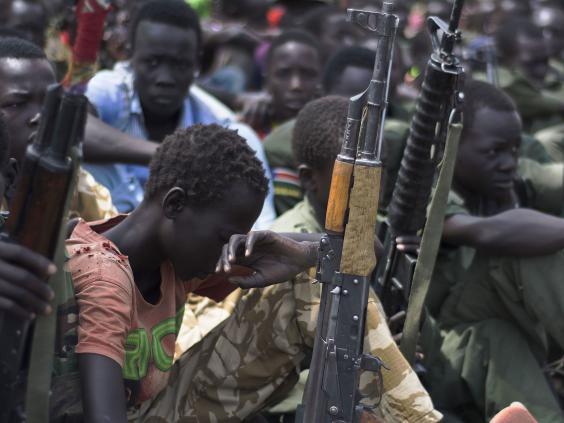 The government's Sudan People's Liberation Army (SPLA), backed by mostly Dinka loyalist militias, is battling the mainly Nuer opposition group the SPLM-IO and its allies.
Although all sides have committed atrocities that may amount to crimes against humanity, government forces bore the greatest responsibility in 2015 as opposition forces were weakened, the report said. 
It lists attacks against civilians, rape and other crimes of sexual violence, arbitrary arrest and detention, abduction and deprivation of liberty, disappearances and attacks on UN bases by all parties.
Government forces are accused of implementing a "scorched earth policy" and deliberately targeting civilians for killing, rape and pillage in strategic areas, destroying more than 10,000 homes while burning crops and looting food stocks.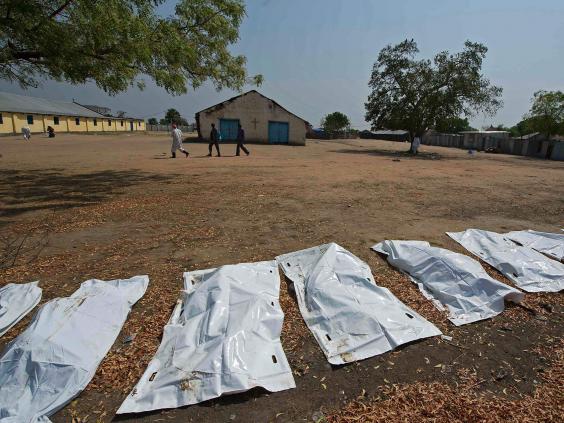 Some of the most serious abuses took place in 2014 in Bentiu and Rubkona in Unity State, when pro-government militias massacred hundreds of civilians as they attempted to shelter from the fighting in churches, mosques and hospitals.
Both regime and opposition forces have used child soldiers, whose numbers were put at 617 but are believed to be far greater. Meanwhile, journalists and activists attempting to expose the atrocities have been murdered and detained.
The report called on the Transitional Government of National Unity, which was promised in an August peace agreement but has not materialised, to take effective action to stop the catalogue of abuses.
South Sudan's war began in December 2013, throwing the world's newest country into chaos, killing tens of thousands, displacing more than 2 million, and plunging at least 40,000 into famine.
Reuse content