A millionaire care home owner accused of arranging the murder of his wife during their honeymoon told a court today that he is bisexual and had visited male prostitutes, but was not involved in the killing.
In a lengthy statement, Shrien Dewani told the opening day of his trial in Cape Town that although both he and his new wife Anni were "headstrong" and frequently argued, they were in love and were planning a future together.
The body of Anni Dewani, a 28-year-old engineer from Sweden, was found with a gunshot wound to the neck after the taxi that she and her husband were using to return from dinner on 13 November 2010 was "carjacked" by two men in Gugulethu, a township outside the South African city.
Mr Dewani, 34, told Western Cape Crown Court that his "whole world came crashing down" when he was told that his wife had been shot dead. He formally entered not guilty pleas to five charges, including murder and lying about the circumstances of Anni's death.
Prosecutors allege that the Briton conspired with the owner of the taxi, Zola Tongo, and two other men, Mziwamadoda Qwabe and Xolile Mngeni, to arrange the carjacking as cover for Anni's murder just days after their £200,000 wedding in Mumbai. All three South Africans have been convicted in connection with the killing and at least one - Mr Tongo - is expected to give testimony in the case against Mr Dewani.
Lawyers for Mr Dewani, from Bristol, used their opening statement to tackle what is expected to be one of the main planks of the prosecution case against him - that he felt trapped by convention and wanted to escape his marriage - by acknowledging his sexuality.
The statement read out to court by his barrister, Francois Van Zyl, said: "I consider myself to be bisexual. My sexual interactions with males were mostly physical experiences or email chats with people I met online or in clubs; including prostitutes.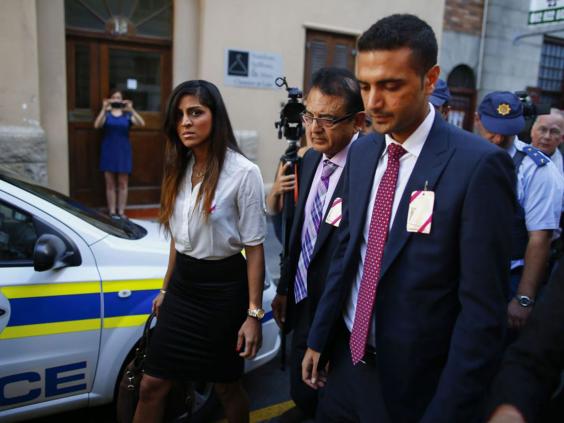 "My sexual interactions with females were usually during the course of a relationship which consisted of other activities and emotional attachment."
Mr Dewani named Leopold Leisser, a German male prostitute whose statement about his contacts with the care home owner has been passed to the South African authorities via Scotland Yard. Mr Leisser, who went by the sobriquet The German Master, has claimed Mr Dewani told him his family would disown him if he left his marriage.
The defendant said that because of abnormally low hormone levels he had been warned his chances of having children were slim and Anni, whom he began dating in May 2009, had accepted this. He also underwent hormone therapy which by the time the pair married had improved his fertility, the court heard.
Despite their tempestuous relationship, during which they split up once and later came close to calling off their wedding, Mr Dewani said he and his wife had been committed to each other. The statement added: "We agreed that whilst at times we really frustrated each other, we were in love and we wanted a future together."
As well as spending £200,000 on their lavish wedding, Mr Dewani said he was renovating his Bristol home and planning a flat in London to share with his bride. He also hired a private jet to fly her to Paris to propose in June 2010.
The trial is the second in South Africa to attract international attention following last month's conviction of Oscar Pistorius, and doubts about its viability had existed for many months.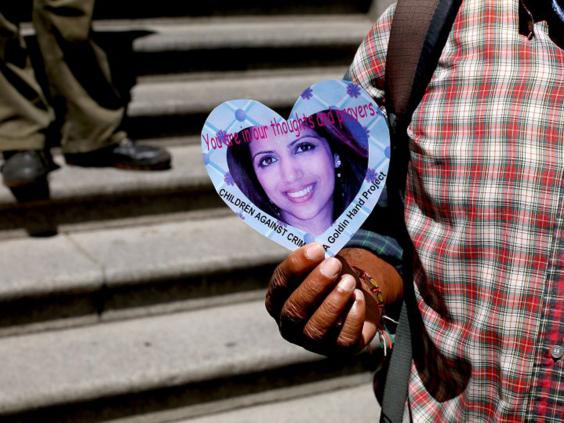 Mr Dewani, who conceded that his wife had accused him of being "too controlling" in their relationship, suffered post-traumatic stress disorder after the shooting and fought extradition for four years all the way to the Supreme Court in London. He has been an in-patient at a psychiatric hospital in Cape Town since arriving in South Africa.
Sitting close to members of his dead wife's family, the Briton appeared composed in the dock, only breaking down when a police video was shown to the court of Anni's bloodied body in the back of the hijacked taxi.
The court heard that the pair had met Mr Tongo by chance when they arrived at Cape Town airport, and had been in negotiations with Mr Dewani to arrange a surprise helicopter ride for him and his wife on the night of the fatal robbery.
Mr Dewani, who claimed the large sum of money he was carrying had been to pay for the helicopter trip, said "flashbacks, nightmares and anxiety attacks" had affected his ability to recall the precise details of the incident but explained his terror as a pistol was held to his head by one of the killers.
The Briton said: "He placed the gun against my left ear and said words to the effect that I should not lie to him or he would shoot me. I heard a clicking noise from the gun which scared me even more. I have never been close to a real gun before."
The court heard that Mr Dewani claimed to have been forced out of the car through a window before the attackers drove off with his wife. Prosecutors allege that multiple phone calls and text messages between Mr Dewani and Mr Tongo prior to the incident are evidence the pair were arranging a contract killing.
The case, which is expected to last until December, continues.
Reuse content