A news reporter for one of South Africa's biggest broadcasters was mugged at gunpoint moments before he was about to go live on the channel's evening news bulletin.
SABC contributing editor, Vuyo Mvoko, was standing outside Milpark Hospital in Johannesburg on Wednesday evening, ready to provide a report on the hospitalisation of the Zambian President, when he and his crew were approached by what appeared to be three thieves.
In the footage, the men can be heard saying "Give me, give me, give me the phone", seemingly unaware that the whole incident was being caught on camera.
They allegedly made off with a laptop and three of the crew members' phones.
Mvoko can be heard on the microphone telling the studio, "We are being mugged, we are being mugged."
According to Mvoko, he had his phone in his hand after speaking to the executive producer when the men approached. After refusing to give one of the men his phone, he said that the man called over his accomplice who threatened Mvoko with a gun.
Speaking to SABC News, Mvoko said that after repeated threats, crew members urged him to hand the phone over. The thieves quickly ran off down a nearby road.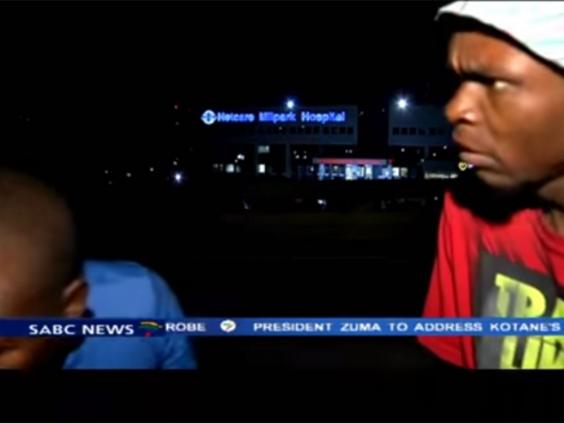 Mvoko added: "It was drama, but all in a day's work."
The police said efforts were made to try and track down the pair after the incident but these proved unsuccessful.
An investigation into the theft has now been opened, with police vowing to catch the men and bring them to justice.
Reuse content