A second military commander appears to have claimed power in the African state of Burkina Fasa as the country welcomes its third leader in 24 hours.
Lieutenant Colonel Isaac Zida claims to have assumed power, despite army chief General Honore Traore's similar announcement yesterday, and called on the international community to recognise his transitional leadership.
Africa's Mail&Guardian reported Zida has already declared Traore's rival claim "obsolete" in a televised speech.
Burkina Faso's former leader President Blaise Compaore stood down on 15 October after protests erupted on the streets of the capital, Ouagadougou, following an announcement of his intention to further extent his 27 years in power.
Laeila Adjovi, from BBC Afrique, claimed the west African country appeared to be "holding its breath" until the leader of the transition is resolved. Many shops have remained shut and the airports and borders are still closed.
In the speech Zida, who is supported by a group of young army officers, said he had assumed responsibility to ensure a "smooth democratic transition".
Appealing to the country's young population, 60 per cent of which is under 25, Zia promised to "never" betray their "aspirations for democratic change".
"I assume from today the responsibilities of head of this transition and head of state," Zida said, dressed in military fatigues, in the studio of BF1 television.
"I salute the memory of the martyrs of this uprising and bow to the sacrifices made by our people."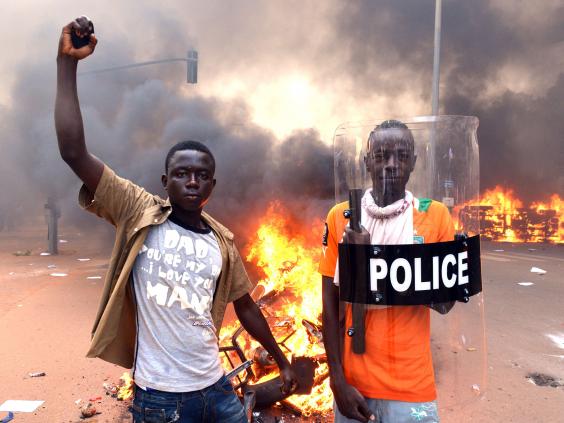 Heavy gunfire had been reported near the presidential palace before Zida made his statement, but a military source said this was a localised incident.
With fears running high of potential clashes between rival branches of the army, Zida met for talks with Traore and other top military commanders later on Saturday at the main military camp in Ouagadougou.
On Thursday AFP reported three confirmed deaths, while opposition leaders claimed scores had been killed in protests that saw government and parliament buildings set on fire. Following Compaore's resignation the mood was jubilant, with many on the streets dancing to celebrate.
The unfolding crisis is being closely watched by the United States and former colonial power France, which were close military allies of Compaore. Under his rule, Burkina Faso became a key ally in Western operations against al-Qaeda-linked groups in West Africa, but a coup d'etat would freeze US military cooperation.
The events will also be carefully followed by other governments in West and Central Africa, where long-serving leaders are reaching the end of their constitutional terms in several countries, including Benin, Congo Republic and Democratic Republic of Congo.
Burkino Faso has a population of nearly 17 million, with a fertility rate of six children to every woman - the highest on earth. Much of the workforce is unemployed, with rural education still limited and an estimated 73 per cent of girls facing female genital mutilation, according to a 2005 World Health Organisation report.
Reuse content