Eight Egyptian museum employees face trial for damaging the iconic Tutankhamun mask in a botched attempt to glue his beard back on, local media has reported.
The accused are reported to face charges of negligence and violating professional standards after a year-long investigation into the damage.
Investigators had been probing how the famous blue and gold braided beard came to be detached and then hastily glued back on.
The Tutankhamun mask is one of Egypt's biggest tourist attractions.
According to one report in the Daily News Egypt, the mask was initially damaged when it was moved to repair an electrical fault to the display lights on its base.
The accused are then said to have tried and failed several times to reattach the beard with glue to cover up the damage.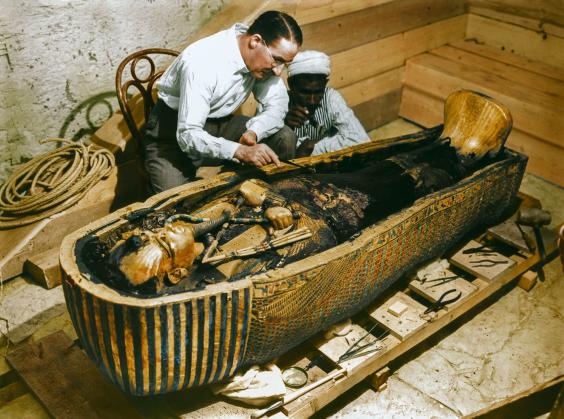 They then damaged the mask further by using a knife to remove visible traces of glue, the report claims.
It quotes an Egyptian prosecutor saying: "Ignoring all scientific methods of restoration, the suspects tried to conceal their crime by using sharp metal tools to remove parts of the glue that became visible, thus damaging the 3,000-year-old piece without a moment of conscience."
Those due to face trial include a former director of the Egyptian Museum in Cairo and a former director of restoration, according to reports.
The beard was successfully reattached and the damage restored by professionals in Germany last October, with the mask going back on public display in December. 
Reuse content