Every evening, Charles Lwanga reports for duty at the local police station. He and 15 of his fellow "crime preventers", armed with wooden batons and with their faces partially masked, set off with four policemen on patrol in a nearby village, looking out for gamblers, drinkers and general troublemakers.
With tensions building ahead of Thursday's presidential election, the recruitment of 1.6 million civilian vigilantes has alarmed President Yoweri Museveni's critics, who argue that their purpose is not to fight crime, but to shore up the Ugandan leader's 30-year regime as he looks to secure another five-year term. 
The arrest of the leading opposition candidate, Kizza Besigye, as he campaigned in the capital, Kampala, reinforced fears of a troubled election, already marred by allegations of intimidation, a state-led crackdown on the media and potential rigging.
After three decades in power, this is a pivotal election for Mr Museveni, 71. With only the older generation still clearly recalling the despotic tyrannies of Milton Obote and Idi Amin in the 1960s and 1970s, the argument that his continued stewardship is needed to prevent Uganda from sliding back into perpetual conflict is losing its potency.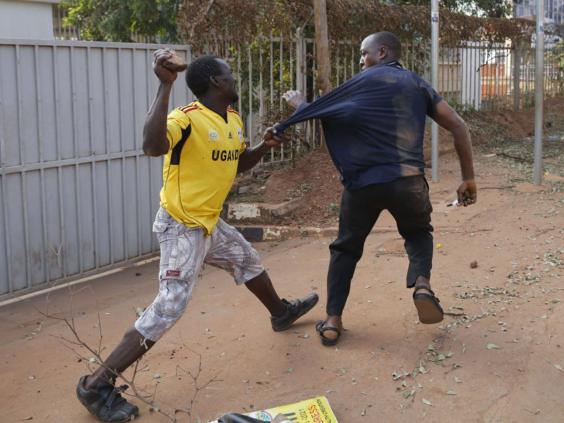 "The president is seeing a lot of opposition, and so he's making sure people are threatened," said Alex Lapila, a 53-year-old farmer outside Kampala. "Thirty years has been enough." 
Although recent opinion polls place Mr Museveni well ahead of his main rivals – the fourth-time presidential contender Kizza Besigye and the former prime minister Amama Mbabazi – at least two polls suggest he would barely scrape the 51 per cent of the votes that he will need to win outright. If he fails, he will face an unprecedented second round run-off against one of his two opponents. The emergence of Mr Mbabazi as an alternative opposition candidate, pitting the president against two credible contenders, has raised the stakes in this race, but it is Mr Besigye who draws the loudest support.
One way or another, Mr Museveni is expected to win, and Uganda's wily leader is accused of using every tool at his disposal – from intimidation to buying votes – to ward off defeat at this week's polls. 
"What is different about this election is that the biggest majority of voters will be youth. They want change," says Zahara Nampere, a lecturer at Kampala's Makerere University. "They have never seen Uganda without Museveni so they don't remember the chaos."
What the Ugandan police call just another community policing scheme could play a determining role in whether the country's elections pass off peacefully or not, analysts warn. 
For Mr Lwanga, 37, his stint in the "crime preventers" has provided a sense of purpose. He is not paid, but the police have vaguely promised goats and chickens as recompense, and he is holding out for a police job after the elections. 
 He bridles at suggestions from civil rights groups that he and his fellow vigilantes are pushing a political agenda. "Our job is just to keep law and order, and prevent any fighting," he says. "We will keep Uganda safe until the election is done." 
 Officials in Kampala insist the patrols are a type of community policing as seen in the West. "We borrowed [the idea] from the UK. It's what you call Neighbourhood Watch," said Patrick Onyango, a police spokesman. "We cannot be everywhere… Crime has come down."
But both the timing and the numbers (30 "preventers" in every one of Uganda's 56,000 villages) have raised eyebrows. A particular concern is the vigilantes' ill-defined role: are they limited to stopping crime, or will they play a part in manning polling stations and quashing dissent if there are post-election protests?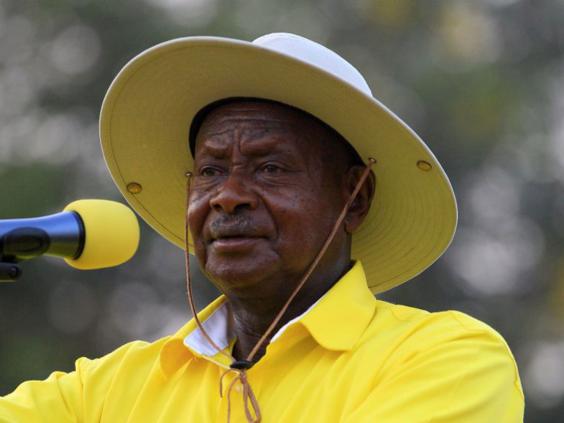 "This is [happening] in a highly sensitive climate," says Kristian Schmidt, the European Union's ambassador to Uganda. "Can these young people be controlled? They are given the impression they can do A, B or C, but it's unclear where their powers stop." 
A report last month by several human rights groups, including the US-based Human Rights Watch, detailed alleged abuses by the crime preventers, among them extortion and torture. Others would go door to door asking people about their political allegiances and warning them against voting for the opposition. "Undisciplined and unaccountable recruits" risk becoming the "eyes and muscle of the ruling part in every village", HRW's Africa researcher Maria Burnett warned. 
It has by all accounts been a difficult campaign for the opposition. Mr Besigye's arrest came after police tried to stop his rally in the capital. 
"Museveni has declared all public places in Kampala central a 'no-go area' for [the] opposition," Mr Besigye's spokesman Semujju Nganda told the Daily Monitor newspaper, saying they had hoped to hold a rally in a central football stadium. "Police blocked us. This has left us with no choice but to address voters on the streets and roads." 
Even before this, he had been repeatedly placed under house arrest, held up on the way to rallies, had rallies dispersed with tear gas, and had "stinger" tyre cutters thrown in front of his convoy.
Mr Mbabazi has also had a tough campaign, and has accused the authorities of kidnapping his Go Forward campaign's head of security two months ago, a charge the police deny. 
"I've had people [of mine] killed. They arrest our supporters every day using one pretext or another. I've been tear gassed, once even shot at with live bullets," Mr Mbabazi told The Independent. "It's unlikely any police officer would shoot at me without sanction from the top."
A former confidant of the president, Mr Mbabazi is seen by some as the biggest threat to Mr Museveni. Although he has failed to gain the support his candidacy once promised, as a regime insider who claims knowledge of how previous elections have been rigged he could prove an embarrassment to the government.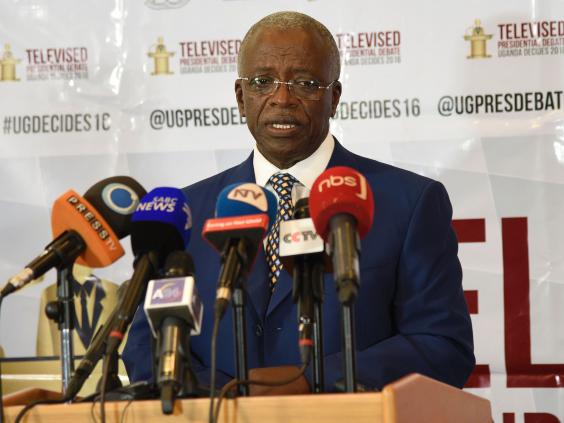 "The only challenge for the incumbent is that of the man who understands the system – and Museveni doesn't know what he is going to do," said Edward Muhumuza, a Ugandan journalist, referring to a potential challenge to the election result. "They know how to handle Besigye." 
After the 2011 polls Mr Besigye, accusing the state of rigging elections, mobilised mass protests – demonstrations that were met with lethal force and quickly dispersed.
There is every indication that the government would do the same again. Justine Lumumba, the secretary-general of the ruling NRM party, warned citizens earlier this month that the state would "kill your children" in the event of protest.
But protest seems likely, given the scrutiny of the electoral process and with the Electoral Commission tainted by past allegations of vote rigging. Mr Besigye has openly hinted he will defy a Museveni win, raising the prospect of clashes between opposition supporters, some of whom have formed into their own militia-style groups, and those who support the president, possibly the crime preventers. 
"Crime preventers are in my view agencies of violence. The groups being mobilised by the opposition … are also agencies of violence," says Nicholas Opiyo, head of the Kampala-based rights group Chapter Four, warning that unless they are disbanded, the country could be "engulfed" by violence after the elections. 
Others are not so sure. Bernard Tabaire of the African Centre for Media Excellence suggested the huge numbers of crime preventers that have been recruited make it more difficult for the opposition to amass support. Crucially, the president is believed to retain almost  total control of the armed forces, having placed his own son, Brigadier Muhoozi Kainerugaba, in charge of the country's special forces.  
World news in pictures
World news in pictures
1/30 29 September 2016

People are treated for their injuries outside after a NJ Transit train crashed in to the platform at Hoboken Terminal in New Jersey. Dozens are reported injured from the rush hour accident in the terminal that handles up to 50,000 passengers a day

Getty Images

2/30 29 September 2016

A rescue worker is seen next to an overturned car at the site of a landslide caused by heavy rains brought by Typhoon Megi, in Sucun Village, Lishui, Zhejiang province, China

REUTERS

3/30 29 September 2016

About 23 giant pandas born in 2016 are seen on a display at the Chengdu Research Base of Giant Panda Breeding in Chengdu, Sichuan province, China

REUTERS

4/30 29 September 2016

A man takes a photograph of a portrait of former Israeli President Shimon Peres, as he lies in state at the Knesset plaza, the Israeli parliament, in Jerusalem

REUTERS

5/30 28 September 2016

Rescuers evacuate residents through floodwaters brought by typhoon Megi in Ningde, eastern China's Fujian province. Typhoon Megi smashed into the Chinese mainland, killing one person, after leaving a trail of destruction and four people dead in Taiwan

AFP/Getty Images

6/30 28 September 2016

A CalFire firefighter surveys a hot spot in the Santa Cruz Mountains near Loma Prieta, California. The Loma Fire has charred more than 2000 acres and burned multiple structures in the area

AFP/Getty Images

7/30 28 September 2016

A civil police officer carries a girl to a safe place during the demolition of over 300 settlements of the Bukit Duri neighbourhood located on the Ciliwung river banks, in order to improve the riverside infrastructure planned by the government in Jakarta. Authorities ordered the slum residents to vacate their settlements built on riverbanks and for the residents to relocate to new flats, as the government is trying to clear the flood-prone area, where more than 900 homes were demolished a year earlier

AFP/Getty Images

8/30 27 September 2016

A woman eats and struggles with her umbrella against powerful gusts of wind generated by typhoon Megi across the the island in Taipei, Taiwan. Schools and offices have been closed on Taiwan and people in dangerous areas have been evacuated as a large typhoon with 162 kilometers- (100 miles-) per-hour winds approaches the island

AP

9/30 27 September 2016

Alstom employees stage a protest in front of its headquarters in St Ouen, north of Paris, asking not to close a plant in Belfort, eastern France, which employs 400 people. Alstom's situation is considered by many French politicians as symbolic of France's difficulty of keeping a strong industry at home

AP

10/30 26 September 2016

A man poses as he gathers with others at Bogota's Bolivar main square, to celebrate the historic peace agreement between the Colombian government and the Revolutionary Armed Forces of Colombia (FARC). Colombia will turn the page on a half-century conflict that has stained its modern history with blood when the FARC rebels and the government sign a peace deal. President Juan Manuel Santos and the leader of the FARC, Rodrigo Londono, better known by his nom de guerre, Timoleon "Timochenko" Jimenez, are set to sign the accord at 2200 GMT in a ceremony in the colorful colonial city of Cartagena on the Caribbean coast

AFP/Getty Images

11/30 26 September 2016

Tourists pose in front of the illuminated Eiffel Tower during an event to mark the Breast Cancer Awareness month in October in Paris

AFP/Getty Images

12/30 26 September 2016

A nail house is seen in the middle of an area covered by a dust screen in Hangzhou, Zhejiang province, China

REUTERS

13/30 26 September 2016

Students at the Durban University of Technology march as countrywide protests demanding free tertiary education continue, in Durban, South Africa

REUTERS

14/30 26 September 2016

Palestinian women throw sweets at the militants from the al-Nasser Brigades, an armed wing of the Popular Resistance Committees (PRC), while marching on their vehicles during a rally to commemorate the 16th anniversary of their group in Gaza

AP

15/30 26 September 2016

A supporter of Awami Ittihad Party (AIP), a pro-India party, is detained by Indian police during a protest demanding to hold a plebiscite, in Srinagar

REUTERS

16/30 25 September 2016

A dog wipes out during the Surf City Surf Dog competition in Huntington Beach, California

REUTERS

17/30 25 September 2016

Indian folk dancers from the Panghat Group of Performing Arts perform during a dress rehearsal for an event to mark the forthcoming Hindu festival 'Navaratri', or the Festival of Nine Nights, in Ahmedabad

AFP/Getty Images

18/30 25 September 2016

An artisan hangs decorative pieces at a pandal, or a temporary platform, for the upcoming Hindu festival of Durga Puja, in Kolkata, India

REUTERS

19/30 25 September 2016

Runners take the start of the 43rd Berlin Marathon in Berlin

AFP/Getty Images

20/30 25 September 2016

The Five-hundred-metre Aperture Spherical Radio Telescope (FAST) is seen on its first day of operation in Pingtang, in southwestern China's Guizhou province. The world's largest radio telescope began operating in southwestern China, a project which Beijing says will help humanity search for alien life

AFP/Getty Images

21/30 25 September 2016

Australian knight Philip Leitch (R) has a floral basket on his helmet smashed by an opponent at the St Ives Medieval Fair in Sydney, one of the largest of its kind in Australia

REUTERS

22/30 25 September 2016

A security guard working at the Cascade Mall places flowers at a makeshift memorial in Burlington, to the five victims killed in a shooting at the mall. The 20-year-old man suspected of killing the five people with a rifle at a Macy's makeup counter had a string of run-ins with the law in recent years, including charges he assaulted his stepfather

AP

23/30 25 September 2016

A man works in a rice field where rice crop is planted in a shape which looks like a map of China, ahead of China's National Day, in Shanghai, China

REUTERS

24/30 25 September 2016

Law enforcement officials inspect a boat overturned on a jetty, off Miami Beach. Authorities said that Miami Marlins starting pitcher Jose Fernandez was one of three people killed in the boat crash the day before. Fernandez was 24

AP

25/30 24 September 2016

Syrians await to receive treatment at a make-shift hospital following air strikes on rebel-held eastern areas of Aleppo. Heavy Syrian and Russian air strikes on rebel-held eastern areas of Aleppo city killed at least 25 civilians, the Britain-based Syrian Observatory for Human Rights said, overwhelming doctors and rescue workers

AFP/Getty Images

26/30 24 September 2016

A fire broke out on a tanker belonging to the Mexican state oil company PEMEX, causing no injuries, according to a company official, in the Gulf of Mexico off the coast of Boca del Rio in Veracruz state, Mexico

AFP/Getty Images

27/30 24 September 2016

Participants attend a competition of the 2016 XTRAIL Expedition at Kanas National Geological Park in Altay, China's Xinjiang Uygur Autonomous Region

REUTERS

28/30 23 September 2016

Protesters march in the streets during another night of protests over the police shooting of Keith Scott in Charlotte, North Carolina

REUTERS

29/30 23 September 2016

Campaigners pose on a 'United To Stop Trump' cardboard wall in front of the Brandenburg Gate to urge Americans living abroad to register and vote in Berlin, Germany

REUTERS

30/30 23 September 2016

A man rests on his cart after unloading plastic jugs near a shop at a main market in Colombo, Sri Lanka

REUTERS
"Museveni still has the loyalty of security services and they will do whatever it takes to crush protests," Mr Tabaire said. "The opposition  doesn't have what it takes to sustain any civil disobedience."
Meanwhile, Mr Lwanga, the crime preventer, said he was preparing for the worst. "We shall fight," he says. "It has been discussed. They told us if people start misbehaving, you have to join ranks and give the police manpower. So long as it is not killing … I'm prepared."
Ugandan election: The contenders
Yoweri Museveni
Uganda's 71-year-old President has held power for 30 years, and shows no intention of relinquishing control soon. He swept into power in 1986 after a five-year guerrilla war, famously writing the same year that leaders who overstay their welcome are at the root of Africa's problems. In 2001, he declared his intention to step down at the next elections, only to change the constitution when the time came in 2006, to let him run for a third term. In an attempt to appeal to the youth vote, he has released his own rap before this month's polls. 
Kizza Besigye
Running for the fourth time against Mr Museveni, Mr Besigye, 59, fought with the President in the bush war against Milton Obote between 1981 and 1986, when he was also his personal physician. He broke with the regime shortly before the 2001 elections, and after his arrest in connection with treason in June of that year, fled into exile for four years. He has repeatedly accused the state of rigging election results, and said recently that he had been arrested 43 times since the 2011 polls.
Amama Mbabazi
Sacked by Mr Museveni as Prime Minister in 2014, Mr Mbabazi, 67, is running as an independent. He is seen as less radical than Mr Besigye, promoting many of the same policies as the current President. Some opposition voters view him as tainted by his close ties to the regime, and a vote for him is widely seen as a vote taken from Mr Museveni. He has said he wants to be a transitional president only, before handing power to a new generation of leaders. 
Reuse content