Every evening, Charles Lwanga reports for duty at the local police station. He and 15 of his fellow "crime preventers", armed with wooden batons and with their faces partially masked, set off with four policemen on patrol in a nearby village, looking out for gamblers, drinkers and general troublemakers.
With tensions building ahead of Thursday's presidential election, the recruitment of 1.6 million civilian vigilantes has alarmed President Yoweri Museveni's critics, who argue that their purpose is not to fight crime, but to shore up the Ugandan leader's 30-year regime as he looks to secure another five-year term. 
The arrest of the leading opposition candidate, Kizza Besigye, as he campaigned in the capital, Kampala, reinforced fears of a troubled election, already marred by allegations of intimidation, a state-led crackdown on the media and potential rigging.
After three decades in power, this is a pivotal election for Mr Museveni, 71. With only the older generation still clearly recalling the despotic tyrannies of Milton Obote and Idi Amin in the 1960s and 1970s, the argument that his continued stewardship is needed to prevent Uganda from sliding back into perpetual conflict is losing its potency.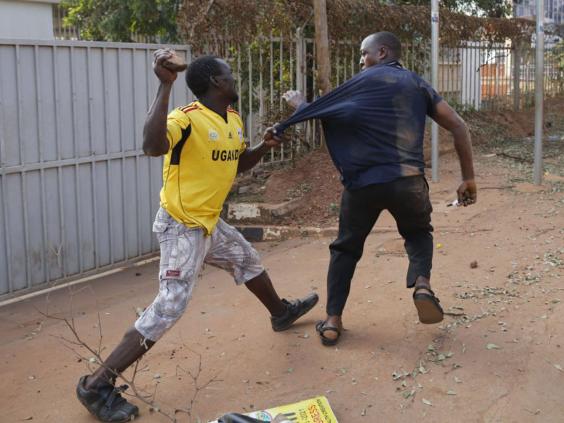 "The president is seeing a lot of opposition, and so he's making sure people are threatened," said Alex Lapila, a 53-year-old farmer outside Kampala. "Thirty years has been enough." 
Although recent opinion polls place Mr Museveni well ahead of his main rivals – the fourth-time presidential contender Kizza Besigye and the former prime minister Amama Mbabazi – at least two polls suggest he would barely scrape the 51 per cent of the votes that he will need to win outright. If he fails, he will face an unprecedented second round run-off against one of his two opponents. The emergence of Mr Mbabazi as an alternative opposition candidate, pitting the president against two credible contenders, has raised the stakes in this race, but it is Mr Besigye who draws the loudest support.
One way or another, Mr Museveni is expected to win, and Uganda's wily leader is accused of using every tool at his disposal – from intimidation to buying votes – to ward off defeat at this week's polls. 
"What is different about this election is that the biggest majority of voters will be youth. They want change," says Zahara Nampere, a lecturer at Kampala's Makerere University. "They have never seen Uganda without Museveni so they don't remember the chaos."
What the Ugandan police call just another community policing scheme could play a determining role in whether the country's elections pass off peacefully or not, analysts warn. 
For Mr Lwanga, 37, his stint in the "crime preventers" has provided a sense of purpose. He is not paid, but the police have vaguely promised goats and chickens as recompense, and he is holding out for a police job after the elections. 
 He bridles at suggestions from civil rights groups that he and his fellow vigilantes are pushing a political agenda. "Our job is just to keep law and order, and prevent any fighting," he says. "We will keep Uganda safe until the election is done." 
 Officials in Kampala insist the patrols are a type of community policing as seen in the West. "We borrowed [the idea] from the UK. It's what you call Neighbourhood Watch," said Patrick Onyango, a police spokesman. "We cannot be everywhere… Crime has come down."
But both the timing and the numbers (30 "preventers" in every one of Uganda's 56,000 villages) have raised eyebrows. A particular concern is the vigilantes' ill-defined role: are they limited to stopping crime, or will they play a part in manning polling stations and quashing dissent if there are post-election protests?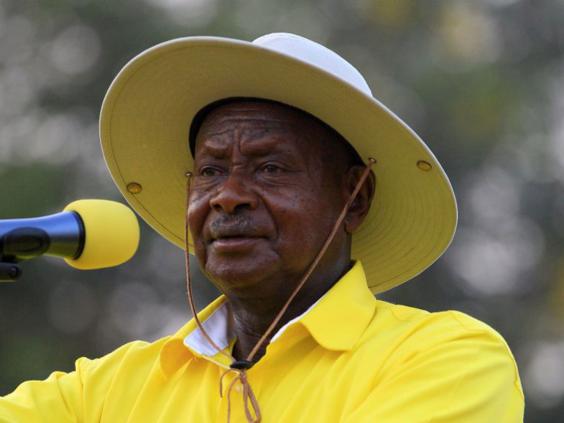 "This is [happening] in a highly sensitive climate," says Kristian Schmidt, the European Union's ambassador to Uganda. "Can these young people be controlled? They are given the impression they can do A, B or C, but it's unclear where their powers stop." 
A report last month by several human rights groups, including the US-based Human Rights Watch, detailed alleged abuses by the crime preventers, among them extortion and torture. Others would go door to door asking people about their political allegiances and warning them against voting for the opposition. "Undisciplined and unaccountable recruits" risk becoming the "eyes and muscle of the ruling part in every village", HRW's Africa researcher Maria Burnett warned. 
It has by all accounts been a difficult campaign for the opposition. Mr Besigye's arrest came after police tried to stop his rally in the capital. 
"Museveni has declared all public places in Kampala central a 'no-go area' for [the] opposition," Mr Besigye's spokesman Semujju Nganda told the Daily Monitor newspaper, saying they had hoped to hold a rally in a central football stadium. "Police blocked us. This has left us with no choice but to address voters on the streets and roads." 
Even before this, he had been repeatedly placed under house arrest, held up on the way to rallies, had rallies dispersed with tear gas, and had "stinger" tyre cutters thrown in front of his convoy.
Mr Mbabazi has also had a tough campaign, and has accused the authorities of kidnapping his Go Forward campaign's head of security two months ago, a charge the police deny. 
"I've had people [of mine] killed. They arrest our supporters every day using one pretext or another. I've been tear gassed, once even shot at with live bullets," Mr Mbabazi told The Independent. "It's unlikely any police officer would shoot at me without sanction from the top."
A former confidant of the president, Mr Mbabazi is seen by some as the biggest threat to Mr Museveni. Although he has failed to gain the support his candidacy once promised, as a regime insider who claims knowledge of how previous elections have been rigged he could prove an embarrassment to the government.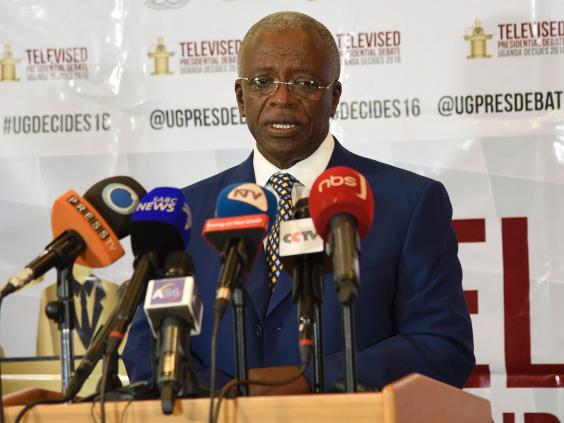 "The only challenge for the incumbent is that of the man who understands the system – and Museveni doesn't know what he is going to do," said Edward Muhumuza, a Ugandan journalist, referring to a potential challenge to the election result. "They know how to handle Besigye." 
After the 2011 polls Mr Besigye, accusing the state of rigging elections, mobilised mass protests – demonstrations that were met with lethal force and quickly dispersed.
There is every indication that the government would do the same again. Justine Lumumba, the secretary-general of the ruling NRM party, warned citizens earlier this month that the state would "kill your children" in the event of protest.
But protest seems likely, given the scrutiny of the electoral process and with the Electoral Commission tainted by past allegations of vote rigging. Mr Besigye has openly hinted he will defy a Museveni win, raising the prospect of clashes between opposition supporters, some of whom have formed into their own militia-style groups, and those who support the president, possibly the crime preventers. 
"Crime preventers are in my view agencies of violence. The groups being mobilised by the opposition … are also agencies of violence," says Nicholas Opiyo, head of the Kampala-based rights group Chapter Four, warning that unless they are disbanded, the country could be "engulfed" by violence after the elections. 
Others are not so sure. Bernard Tabaire of the African Centre for Media Excellence suggested the huge numbers of crime preventers that have been recruited make it more difficult for the opposition to amass support. Crucially, the president is believed to retain almost  total control of the armed forces, having placed his own son, Brigadier Muhoozi Kainerugaba, in charge of the country's special forces.  
World news in pictures
World news in pictures
1/30 31 August 2016

Students wave the Malaysian flag during the 59th National Day celebrations at the Independence Square in Kuala Lumpur, Malaysia

AP

2/30 31 August 2016

Mount Sinabung spews volcanic ash into the air during an eruption in Karo, North Sumatra, Indonesia

REUTERS

3/30 31 August 2016

A man pedals his cycle rickshaw during monsoon rains in New Delhi, India

REUTERS

4/30 31 August 2016

Crowds of people throw tomatoes at each other, during the annual "Tomatina", tomato fight fiesta, in the village of Bunol, 50 kilometers outside Valencia, Spain. The streets of an eastern Spanish town are awash with red pulp as thousands of people pelt each other with tomatoes in the annual "Tomatina" battle that has become a major tourist attraction. At the annual fiesta in Bunol, trucks dumped 160 tons of tomatoes for some 20,000 participants, many from abroad, to throw during the hour-long morning festivities

AP

5/30 31 August 2016

A man steers a wooden boat through dead fish in a breeding pond at the Maninjau Lake in Agam regency, West Sumatra province, Indonesia. Thousands of fish at the fish farm of the Maninjau Lake died suddenly due to lack of oxygen caused by a sudden change in water conditions

REUTERS

6/30 30 August 2016

Iranians spending time in Urmia Lake near Urmia, North-western Iran. Hopes for survival of Urmia salt lake have been revived after more rains boosted a government program aimed at preserving the almost dried up water body

AP

7/30 30 August 2016

Somali security forces patrol the scene of a suicide car bomb blast in Mogadishu. At least 10 people were killed when jihadists exploded a suicide car bomb outside a popular hotel close to the presidential palace in Somalia's capital Mogadishu. The Al-Qaeda aligned Shabaab jihadists claimed responsibility for the attack on the SYL hotel which was previously attacked in both February 2016 and January 2015

AFP/Getty Images

8/30 30 August 2016

Turkish soldiers carry a giant Turkish flag during a ceremony to mark 94th anniversary of Turkeys Victory Day in Ankara

AFP/Getty Images

9/30 30 August 2016

Safari keeper Guy Pear gets a kiss from a five-day-old reticulated giraffe, at an enclosure at the Safari Zoo in Ramat Gan, near Tel Aviv, Israel

REUTERS

10/30 29 August 2016

A child holds a placard reading "Open the border" during a demonstration in support to refugees and migrants in front of Athens municipality building

AFP/Getty Images

11/30 29 August 2016

Police fire tear gas grenades at supporters of suspendend president Dilma Rousseff holding a demonstration during her impeachment trial in Sao Paulo, Brazil

AFP/Getty Images

12/30 29 August 2016

A rescue boat of the Spanish NGO Proactiva approaches an overcrowded wooden vessel with migrants from Eritrea, off the Libyan coast in Mediterranean Sea

REUTERS

13/30 29 August 2016

Indian troopers use shields to protect themselves during a clash with Kashmiri protesters in Srinagar. Authorities lifted a curfew in Indian-administered Kashmir after 52 days of lock down amid deadly violence, but street clashes broke out again between protesters and security forces

AFP/Getty Images

14/30 29 August 2016

A farmer checks hot peppers laid out on a road to dry under the sun before selling them to factories producing pepper products in Kilis province, Turkey

REUTERS

15/30 29 August 2016

Heavy rain clouds move over the central business district in Bangkok

AFP/Getty Images

16/30 28 August 2016

Dead wild reindeer are seen on Hardangervidda in Norway, after lightning struck the central mountain plateau and killed more than 300 of them

REUTERS

17/30 17 August 2016

Indonesian students play traditional drums called "Dol" from Bengkulu province as they participate in the Indonesian Independence day ceremony in Jakarta

AFP/Getty Images

18/30 17 August 2016

A woman attempts to cover a tear gas canister fired by police at a crowd in Srinagar protesting against the recent killings in Kashmir

REUTERS

19/30 17 August 2016

Participants struggle to reach the prizes on the top of greasy slippery poles in Jakarta, as part of Indonesia's celebrations to mark its 71st independent day anniversary

AFP/Getty Images

20/30 16 August 2016

An air tanker drops fire retardant on the Blue Cut wildfire in Lytle Creek, California. The fire is currently 9,000 plus acres, with 700 personnel on scene. Fifty-seven engines, 8 crews, 8 air tankers, 2 Very Large Air Tankers (VLATS), with additional firefighters and equipment on order

AFP/Getty Images

21/30 16 August 2016

Free Syrian army fighters stand atop of a hill as the moon is seen in the background in the south of Nawa city, in Deraa Governorate, Syria

REUTERS

22/30 16 August 2016

A Palestinian youth is being evacuated after he was wounded during clashes with Israeli soldiers conducting searches in the Palestinian al-Fawwar refugee camp, south of the West Bank city of Hebron

AFP/Getty Images

23/30 16 August 2016

AFP/Getty Images

24/30 16 August 2016

Mine workers sing as they wait for the commemoration to get under way near Marikana in Rustenburg, South Africa. On 16 August 2012 police shot and killed 34 Lonmin striking miners, apparently while trying to disperse them and end their strike. Ten people, including two police officers and two Lonmin security guards, were killed in the preceding week

AP

25/30 16 August 2016

People look at a crater caused by a Saudi-led coalition air strike at the yard of a hospital operated by Medecins Sans Frontieres in the Abs district of Hajja province, Yemen

REUTERS

26/30 15 August 2016

People cool off at a swimming pool in Daying county, China

REUTERS

27/30 15 August 2016

Turkish soldiers from a military guard of honor carry coffins during a mass burial ceremony for Turkish Cypriots who went missing in 1974 and whose remains have been found by the Committee on missing people in Cyprus (CMP), at a cemetery in the village of Tashkent (Vouno) in the self-declared Turkish Republic of Northern Cyprus. More than 30 Turkish Cypriots, who had disappeared in Tochni near the coastal southern city of Limassol in August 1974 and were found in 2014 in a mass grave in the village, were buried during the ceremony

AFP/Getty Images

28/30 15 August 2016

Indian paramilitary soldiers hug each other as they react to the news of killing of two suspected rebels in a gun-battle in the Nowhatta neighborhood of Srinagar, Indian controlled Kashmir. Suspected separatist rebels and government troops were engaged in two gun battles in Indian-controlled Kashmir despite a complete security lockdown in the disputed region as India celebrated its independence from British rule

AP

29/30 14 August 2016

A spectator poses ahead of the Women's Marathon during the athletics event at the Rio 2016 Olympic Games at Sambodromo in Rio de Janeiro

AFP/Getty Images

30/30 14 August 2016

Family members of Sylville Smith gather where he was shot and killed by police in Milwaukee. Police say a black man whose killing touched off arson and rock-throwing, was shot by a black officer after turning toward him with a gun in his hand

AP
"Museveni still has the loyalty of security services and they will do whatever it takes to crush protests," Mr Tabaire said. "The opposition  doesn't have what it takes to sustain any civil disobedience."
Meanwhile, Mr Lwanga, the crime preventer, said he was preparing for the worst. "We shall fight," he says. "It has been discussed. They told us if people start misbehaving, you have to join ranks and give the police manpower. So long as it is not killing … I'm prepared."
Ugandan election: The contenders
Yoweri Museveni
Uganda's 71-year-old President has held power for 30 years, and shows no intention of relinquishing control soon. He swept into power in 1986 after a five-year guerrilla war, famously writing the same year that leaders who overstay their welcome are at the root of Africa's problems. In 2001, he declared his intention to step down at the next elections, only to change the constitution when the time came in 2006, to let him run for a third term. In an attempt to appeal to the youth vote, he has released his own rap before this month's polls. 
Kizza Besigye
Running for the fourth time against Mr Museveni, Mr Besigye, 59, fought with the President in the bush war against Milton Obote between 1981 and 1986, when he was also his personal physician. He broke with the regime shortly before the 2001 elections, and after his arrest in connection with treason in June of that year, fled into exile for four years. He has repeatedly accused the state of rigging election results, and said recently that he had been arrested 43 times since the 2011 polls.
Amama Mbabazi
Sacked by Mr Museveni as Prime Minister in 2014, Mr Mbabazi, 67, is running as an independent. He is seen as less radical than Mr Besigye, promoting many of the same policies as the current President. Some opposition voters view him as tainted by his close ties to the regime, and a vote for him is widely seen as a vote taken from Mr Museveni. He has said he wants to be a transitional president only, before handing power to a new generation of leaders. 
Reuse content