The family of a woman who was beaten to death by a crowd at a Nigerian marketplace after being accused of being a suicide bomber have said she was mentally ill, as police hunt those responsible for her death.
The woman, identified in reports as Thabita Haruna, 33, was beaten to death before her body was set alight by a crowd at Muda Lawal, the biggest marketplace in Bauchi city in the northeast of the country, on Sunday.
At the time, local police said it was unlikely the victim was a suicide bomber because she did not have any explosives when she was attacked.
Police Deputy Superintendent Mohammad Haruna described her as the victim of "mob action carried out by an irate crowd."
The rise of Boko Haram
The rise of Boko Haram
1/19 Boko Haram

The leader of the Islamist extremist group Boko Haram Abubakar Shekau delivers a message. Boko Haram has claimed responsibility for the mass killings in the north-east Nigerian town of Baga in a video where he warned the massacre "was just the tip of the iceberg". As many as 2,000 civilians were killed and 3,700 homes and business were destroyed in the 3 January 2015 attack on the town near Nigeria's border with Cameroon

AFP

2/19 Boko Haram

People displaced as a result of Boko Haram attacks in the northeast region of Nigeria, are seen near their tents at a faith-based camp for internally displaced people (IDP) in Yola, Adamawa State. Boko Haram says it is building an Islamic state that will revive the glory days of northern Nigeria's medieval Muslim empires, but for those in its territory life is a litany of killings, kidnappings, hunger and economic collapse

3/19 Boko Haram

Nitsch Eberhard Robert, a German citizen abducted and held hostage by suspected Boko Haram militants, is seen as he arrives at the Yaounde Nsimalen International airport after his release in Yaounde, Cameroon on 21 January 2015

4/19 Boko Haram

Officials of the Nigerian National Emergency Management Agency (NEMA) visit victims of a bomb blast in Gombe at the Specialist Hospital in Gombe. According to local reports at least six people were killed and 11 wounded after a bomb blast in a marketplace in Nigeria's northeastern state of Gombe on 16 January 2015. Islamist militant group Boko Haram has been blamed for a string of recent attacks in the North East of Nigeria

5/19 Boko Haram

People gather at the site of a bomb explosion in a area know to be targeted by the militant group Boko Haram in Kano on 28 November 2014

6/19 Boko Haram

People gather to look at a burnt vehicle following a bomb explosion that rocked the busiest roundabout near the crowded Market in Maiduguri, Borno State on 1 July 2014. A truck exploded in a huge fireball killing at least 15 people in the northeast Nigerian city of Maiduguri, the city repeatedly hit by Boko Haram Islamists

7/19 Boko Haram

President Goodluck Jonathan visits Nigerian Army soldiers fighting Boko Haram

Getty Images

8/19 Boko Haram

Displaced people from Baga listen to Goodluck Jonathan after the Boko Haram killings

AFP/Getty

9/19 Boko Haram

Nigeria's President Goodluck Jonathan speaking to troops during a visit to Maiduguri, the capital of Borno State; most of the region has been overrun by Boko Haram

AFP/Getty

10/19 Boko Haram

Members of the Nigerian military patrolling in Maiduguri, North East Nigeria, close to the scene of attacks by Boko Haram

EPA

11/19 Boko Haram

Boko Haram's leader, Abubakar Shekau, appears in a video in which he warns Cameroon it faces the same fate as Nigeria

AFP

12/19 Boko Haram

South Africans protest in solidarity against the abduction of hundreds of schoolgirls in Nigeria by the Muslim extremist group Boko Haram and what protesters said was the failure of the Nigerian government and international community to rescue them, during a march to the Nigerian Consulate in Johannesburg

13/19 Boko Haram

Boko Haram militants have seized the town in north-eastern Nigeria that nearly 300 schoolgirls were kidnapped from in April 2014

AFP

14/19 Boko Haram

A soldier stands guard in front of burnt buses after an attack in Abuja. Twin blasts at a bus station packed with morning commuters on the outskirts of Nigeria's capital killed dozens of people, in what appeared to be the latest attack by Boko Haram Islamists, April 2014

15/19 Boko Haram

The aftermath of the attack, when Boko Haram fighters in trucks painted in military colours killed 51 people in Konduga in February 2014

AFP/Getty Images

16/19 Boko Haram

The leader of Boko Haram, Abubakar Shekau (with papers) in a video grab taken in July 2014

AFP/Getty

17/19 Boko Haram

Ruins of burnt out houses in the north-eastern settlement of Baga, pictured after Boko Haram attacks in 2013

AP

18/19 Boko Haram

A Boko Haram attack in Nigeria, 2013

AFP/Getty Images

19/19 Boko Haram

Abubakar Shekau, Boko Haram's leader

AP
Bauchi state police have now told AFP it was believed the woman was "mentally sick" and "had nothing to do with suicide bombing."
Police have not yet made any arrests as they continue to investigate the incident, the BBC has reported.
Initial reports suggested the victim was a teenage girl, who aroused suspicion after refusing to be searched when she and another teenage girl arrived at the gate of the market.
She was found to have two bottles strapped to her body after the crowd assaulted her. She was then beaten to death before her body was burnt.
Relatives of the victim have now told the BBC that the 33-year-old was a market trader until she became mentally ill in 2007.
Nigeria has seen a spate of suicide bombings in recent months, carried out by Boko Haram, the militant group trying to set up an Islamist state in its heartland of northeast Nigeria.
Girls as young as ten have been used to carry explosives into public areas, which are then detonated.
It has not been clear from previous attacks whether the explosives are detonated remotely or at the site of the attack.
A multi-national military force has assembled on border towns in the region to stop the attacks spilling over onto Nigeria's neighbours.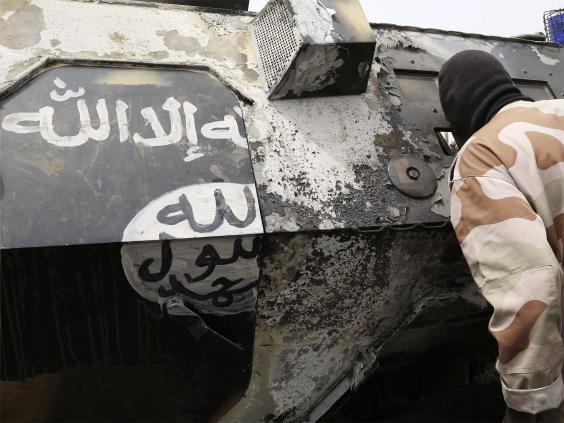 On Wednesday, two soldiers were killed and a third wounded after a bomb was planted and detonated remotely by Boko Haram militants near the southeastern Niger town of Diffa, military sources told Reuters.
It was the first time Niger's army had reported being attacked with such a device since launching its campaign with Chad, Cameroon and Nigeria this year against the militant group.
Around 10,000 people died in Nigeria last year from violence related to Boko Haram, according to the US Council on Foreign Relations. Meanwhile, 1.5 million people have been displaced from their homes.
Nigeria last month suspended its elections to allow the multinational force the opportunity to secure land under the control of the terrorist group.
Additional reporting by AP and Reuters
Reuse content