A man was reportedly left unconscious for more than two hours after being knocked out by a woman whose bottom he had pinched.
CCTV footage taken in the town of Inezgane in Morocco shows the woman wearing yellow robes and standing next to a motorcycle when the man approaches.
The balding attacker then moves close to the victim and appears to grope her bottom.
Without missing a beat, the woman spins around and delivers a single punch to the back of the unidentified man's head, sending him careering into a stack of rugs in a nearby shop.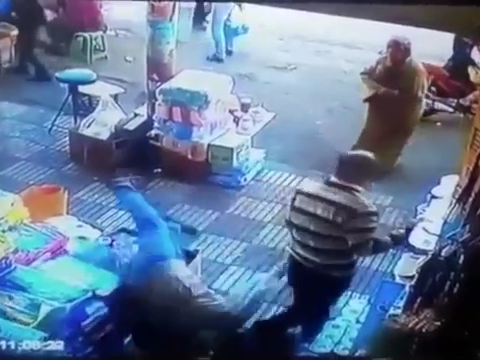 The punch was so powerful that the victim was sent head-over-heels, leaving him stricken on the floor. As bystanders tentatively approach him, the groper's legs are seen twitching but he appears unable to get back to his feet.
The man's injuries were reportedly so severe that he did not regain consciousness for a full two hours. It is not clear if he sought medical help but Alyaoum 24 suggested that the damage was mainly caused by the man's head striking the floor of the shop as he fell, not from the punch itself.
The actresses fighting against sexism in Hollywood
The actresses fighting against sexism in Hollywood
1/12 Anne Hathaway

The 32-year-old actress said she has already experiences job rejections because of her age. "Now I'm in my early thirties and I'm like, 'Why did that 24-year-old get that part? I was that 24-year-old once. I can't be upset about it, it's the way things are," she told Glamour.

EPA

2/12 Helen Mirren

On news that Maggie Gyllenhaal had been turned down for being 'too old', aged 37, to play a 55-year-old man's partner: "It's f***ing outrageous. It's ridiculous. Honestly, it's so annoying. And 'twas ever thus. We all watched James Bond as he got more and more geriatric, and his girlfriends got younger and younger. It's so annoying."

Getty

3/12 Maggie Gyllenhaal

Gyllenhaal revealed she was told by a Hollywood producer that she was too old, aged 37, to play the love interest of a 55-year-old man. "It was astonishing to me. It made me feel bad, and then it made feel angry, and then it made me laugh," she said at the time.

Getty Images

4/12 Meryl Streep

Meryl Streep has helped fund an all-female screenwriters group called The Writer's Lab to encourage more women to pen Hollywood scripts. She previously told Vogue in 2011: "Once women pass childbearing age they could only be seen as grotesque on some level."

Getty

5/12 Emma Thompson

The actress said she thought Hollywood is "still completely s***" when it comes to treating women equally to men. ""When I was younger, I really did think we were on our way to a better world. And when I look at it now, it is in a worse state than I have known it, particularly for women, and I find that very disturbing and sad."

EPA

6/12 Elizabeth Banks

Banks said she was driven from acting to directing due to the lack of roles for older women in Hollywood. ""[Industry sexism] drove me to direct for sure. I definitely was feeling that I was unfulfilled and a little bit bored by the things that were coming across my desk. I mean look at Gwyneth Paltrow who has her Oscar [for Shakespeare in Love] and played fifth banana to Iron Man," she told Deadline.

PA

7/12 Viola Davis

"I had never seen a 49-year-old, dark-skinned woman who is not a size 2 be a sexualised role in TV or film. I'm a sexual woman, but nothing in my career has ever identified me as a sexualised woman. I was the prototype of the 'mommified' role," she told The Hollywood Reporter.

Getty

8/12 Liv Tyler

The Lord of the Rings actress said she only get cast in roles where she is treated as a "second class citizen" at the age of 38. "When you're in your teens or twenties, there is an abundance of ingenue parts which are exciting to play. But at [my age], you're usually the wife or the girlfriend - a sort of second-class citizen. There are more interesting roles for women when they get a bit older," she told More magazine.

Getty Images

9/12 Cate Blanchett

The actress famously called out sexism on the red carpet at the 2014 Screen Actors Guild Awards. When a camera operator scanned her up and down, she said: "Do you do this to the guys?" In her Oscar acceptance speech for Blue Jasmine, she reminded the film industry that movies with leading women can still be successful. "And thank you to... those of us in the industry who are still foolishly clinging to the idea that female films, with women at the centre, are niche experiences. They are not -- audiences want to see them and, in fact, they earn money. The world is round, people."

Gareth Cattermole/Getty

10/12 Ellen Page

Asked if she had ever encountered sexism in Hollywood, Page told The Guardian: 'Oh my God, yeah! It's constant! It's how you're treated, it's how you're looked at, how you're expected to look in a photoshoot, it's how you're expected to shut up and not have an opinion, it's how you... If you're a girl and you don't fit the very specific vision of what a girl should be, which is always from a man's perspective, then you're a little bit at a loss."

Getty Images

11/12 Zoe Saldana

The actress says she refuses roles where she has to play the generic girlfriend, wife or sexy bombshell. "It's very hard being a woman in a man's world, and I recognised it was a man's world even when I was a kid. It's an inequality and injustice that drove me crazy, and which I always spoke out against — and I've always been outspoken," she told Manhattan magazine.

Getty

12/12 Charlize Theron

The actress spoke to ELLE about negotiating equal pay for the Snow White and the Huntsman sequel: "This is a good time for us to bring this to a place of fairness, and girls need to know that being a feminist is a good thing. It doesn't mean that you hate men. It means equal rights. If you're doing the same job, you should be compensated and treated in the same way."

Andreas Rentz/Getty Images
The incident follows a similar attack in the markets of Inezgane, in which two female hairdressers were subjected to taunts and harassment from street vendors.
In a case that sparked national outcry and led to thousands of people signing a successful petition for their release, police responding to that incident arrested the women for "violating public decency".
Reuse content