The world's oldest person has died, just 26 days after her 116th birthday, making 115-year-old Susannah Mushatt Jones the current oldest living person.
Jeralean Talley died at her home in Inkster, a Detroit suburb, on Wednesday night.
According to the Gerontology Research Group (GRG), which validates the ages of the world's longest-living people, Talley was born on 23 May 1899, and was the oldest person in the world until her death.
Christonna Campbell, a family spokeswoman, said Talley was a "beautiful woman", adding: "We enjoyed her words of wisdom."
Talley's death came a surprise to many of those at the GRG, as Talley lived a fairly active lifestyle. Robert Young, director of the group's Supercentenarian Research and Database Division, said she was walking around as of a few weeks ago.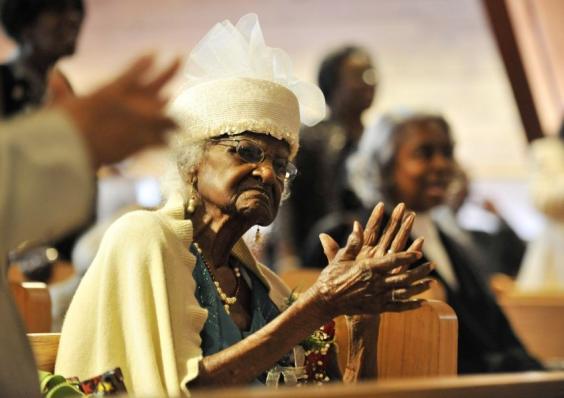 Taking Talley's place is Susannah Mushatt Jones, who was born in Alabama on 6 July 1899.
She moved to New York in 1923, to escape a life of hard physical work in the fields of her home state.
During her time in New York, she took care of the children of wealthy families, for a modest wage of $7 a week.
She used part of her salary to establish a fund called The Calhoun Club, that helped African-American students pay for unversity.
She was an active figure in her neighbourhood for almost 30 years, serving on the tenant patrol team.
Unlike some other super-centenarians, she doesn't claim to have a secret to her longevity - although the fact she has never smoked or drunk may have something to do with it.
She has been known on one occasion to put her longevity down to not being married for long, however. She was only married for five years, between 1928 and 1933, and never had children.
Certainly, her tastes in food don't fit in with modern standards of healthy living. Every morning, she has four strips of bacon for breakfast, followed by scrambled eggs and grits.
However, she takes a fairly minimalist approach to medicine. She only takes high blood pressure medication and a simple multivitamin, and has in the past refused pacemaker and cataract surgery, leaving her blind.
Susannah Mushatt Jones becomes the verified oldest living person at 115 years old. pic.twitter.com/ih2ocIvMLG

— joshpincus (@joshpincus) June 18, 2015
Despite her age, she manages to get by with only seeing a doctor three to four times a year.
She has received tributes to her long life from the US House of Representatives and Alabama House of Representatives, and has been alive to witness a number of important historical events.
She was 19 years old when World War One ended, and 46 on VE Day. When man first landed on the moon in 1969, she was already an old lady, at 70 years old.
Although her age is truly impressive, she has some way to go to break the record of longest lifespan - that belongs to Frenchwoman Jeanne Calment, who died in 1997 at the age of 122.
She was noted for meeting Vincent Van Gogh when she was a young girl, when he came into her father's fabric shop to buy canvas. She described him, in the blunt manner that supercentenarians can get away with, as "dirty, badly dressed and disagreeable."
Reuse content