Fifty years ago to the day since the beginning of the Watts riot, a comparison of photos suggests little has changed in the relationship between black communities in the US and police.
The Watts riots began on the 11th August 1965 following an argument over the arrest of a black drink driver.
Following failed negotiation with black community leaders, a state of emergency was announced and the Californian national guard called brought in attempting to control the public.
Images of the latest scenes on the streets of Ferguson as protesters clashed with police and a state of emergency was announced - on the anniversary of the shooting of Micheal Brown - are hauntingly evocative of those from Watts in the 1960s.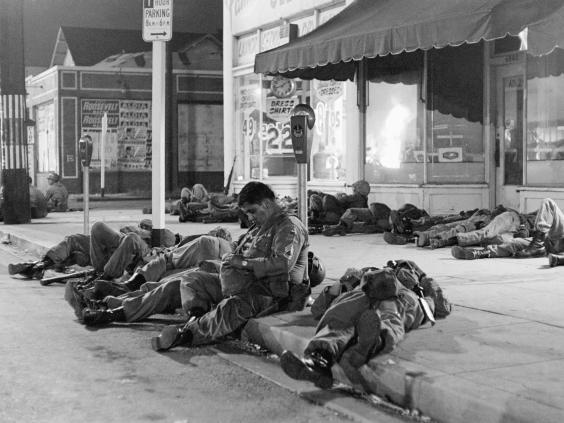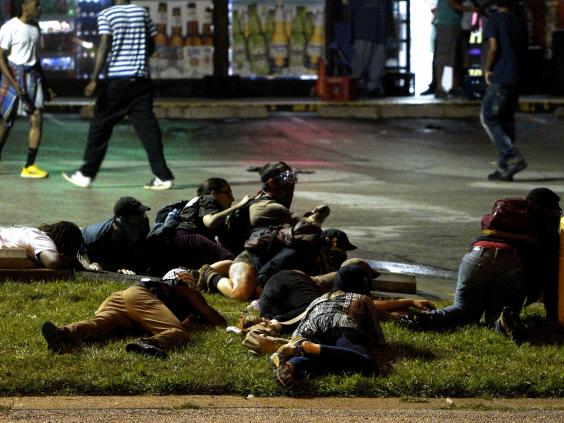 National Guard officers sleep on the streets outside a convenience store in Watt's, Los Angeles following an all-night riot. In 2015 we see young people ducking for cover from gunfire outside a convenience store in Ferguson. ( Image credits: Corbis and Reuters)
---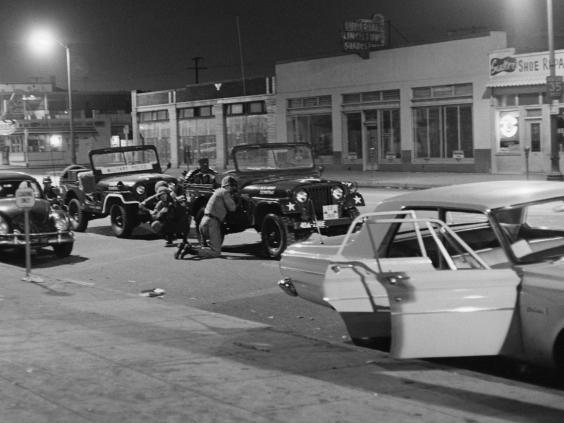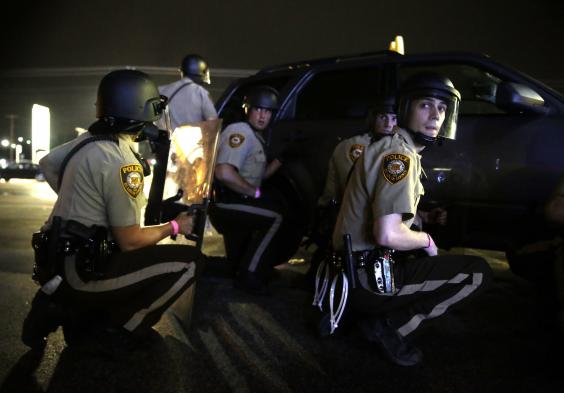 National Guardsmen take refuge from sniper fire behind their vehicles in Watts Aug 15 1966, after rioters left the streets and took to the rooftops with weapons. Moments later guardsmen said they had shot and killed the sniper with return fire. Fifty years later, officers duck behind cars in the streets of Ferguson.
---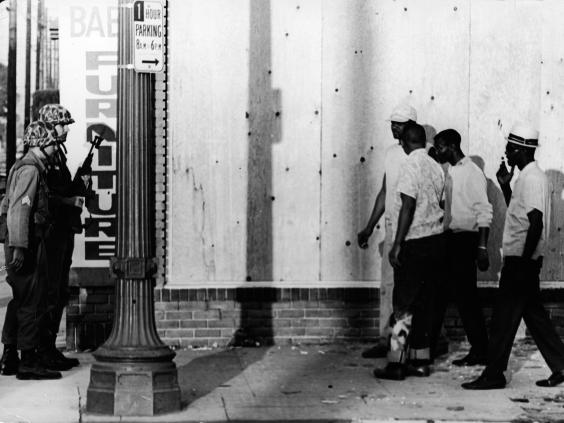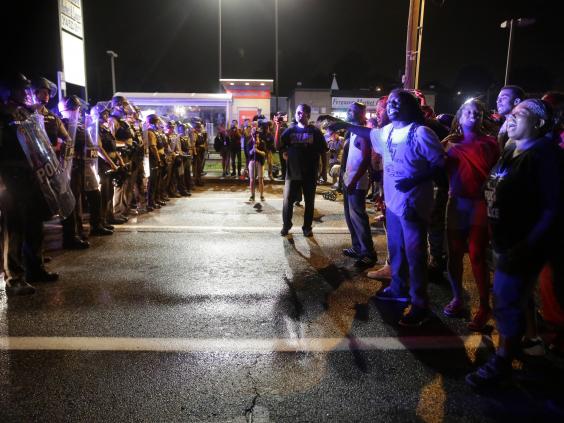 A group of Black men are confronted by state troopers with bayonets at a street corner in the Watts neighborhood, Los Angeles, California, 1960s. In 2015, clashes between police and protesters in Ferguson.
---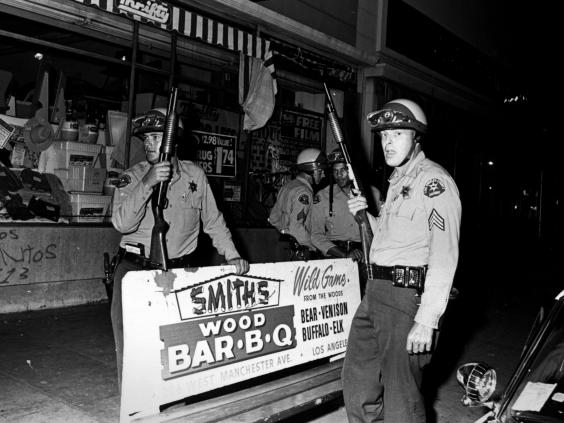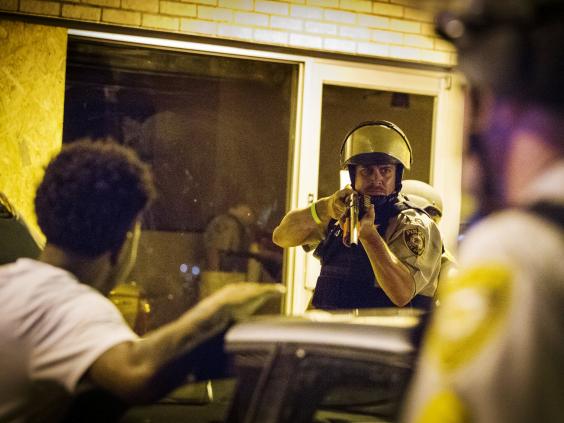 Armed police patrolling the streets of Los Angeles during the Watts race riots, 11th-15th August 1965. A St Louis County officer points a gun at black youths during the second day of Ferguson protests on 10th August 2015.
---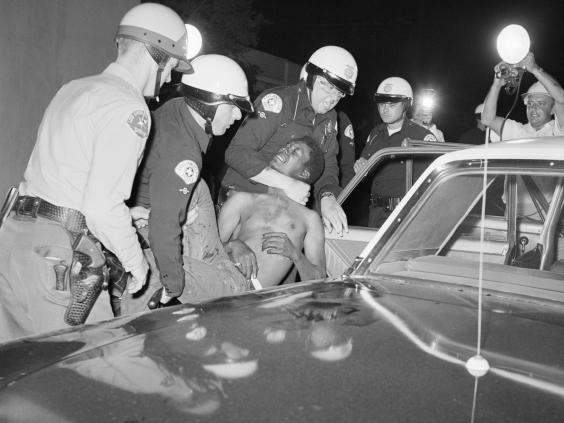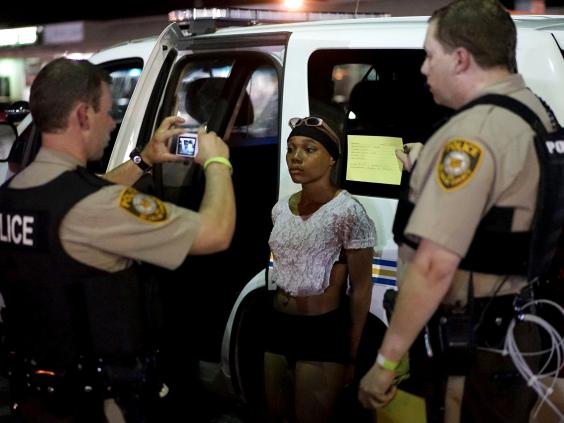 Policemen force a rioter into a police car on 12th August 1965. Armed Police officers take a mugshot of a young black woman at the side of police car during the latest Ferguson protests. There have been a number of arrests in the past few days.
---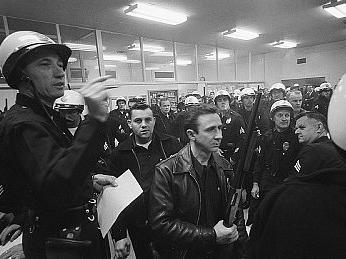 Police officers receive instructions and weapons before leaving for posts in the Watts area during the rioting. In 2015, riot police line up in preparation for protesters following the anniversary of the fatal shooting of unarmed black teenager Micheal Brown.
(Corbis, Getty, Reuters)
Reuse content