Would you spend a night in jail if you didn't have to?
What about two months?
Seven ordinary people did exactly that on A&E's new documentary series "60 Days In," which premieres on Thursday night. The show follows the participants' experiences as undercover inmates at an Indiana jail.
The volunteers — none of whom had criminal records — were booked on fake charges and assumed false identities during their stays at Clark County Jail in Jeffersonville.
Provided with a small stipend to compensate for not working, they lived among the jail's 500-inmate population without corrections officers or other inmates knowing their secret.
The show is the brainchild of Clark County Sheriff Jamey Noel, who said that he needed outsiders to give him an honest look at life behind bars.
"The only way to truly understand what was going on in the jail was to implement innocent participants into the system to provide first-hand unbiased intelligence," Noel said in a statement provided by A&E. "These brave volunteers helped us identify critical issues within our system that undercover officers would not have been able to find."
Aside from pointing out systematic problems, the participants provided Noel with key details about the social dynamics that govern daily life for inmates, he told Business Insider.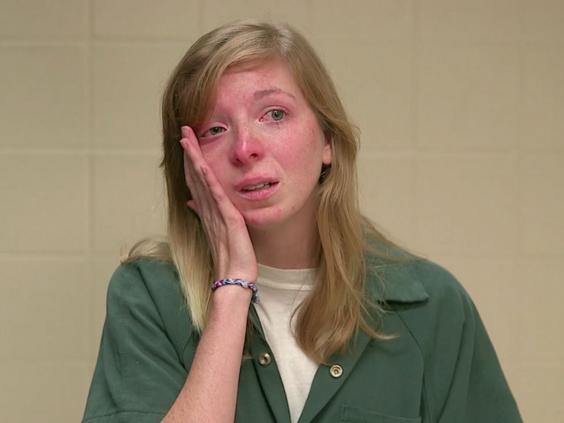 For example, some of the undercover inmates informed him of a strict hierarchy that dictated when inmates could use the bathroom. New inmates were expected to hand over food or items bought in the prison commissary in exchange for bathroom privileges, according to Noel.
"Even folks in corrections for 20-plus years had never heard of that," he said.
In one disturbing scene in an episode, two participants witness a bloody fight between inmates ignited by a mealtime dispute.
"The fight had an obvious cause and effect," a participant and former Marine, Zac, said on camera. "Ricky was supposed to give his hash browns to Cody. He didn't give his hash browns to Cody. He got beat up for it."
Another participant, a housewife named Barbara, told Business Insider that new inmates were especially vulnerable.
World news in pictures
World news in pictures
1/30 29 September 2016

People are treated for their injuries outside after a NJ Transit train crashed in to the platform at Hoboken Terminal in New Jersey. Dozens are reported injured from the rush hour accident in the terminal that handles up to 50,000 passengers a day

Getty Images

2/30 29 September 2016

A rescue worker is seen next to an overturned car at the site of a landslide caused by heavy rains brought by Typhoon Megi, in Sucun Village, Lishui, Zhejiang province, China

REUTERS

3/30 29 September 2016

About 23 giant pandas born in 2016 are seen on a display at the Chengdu Research Base of Giant Panda Breeding in Chengdu, Sichuan province, China

REUTERS

4/30 29 September 2016

A man takes a photograph of a portrait of former Israeli President Shimon Peres, as he lies in state at the Knesset plaza, the Israeli parliament, in Jerusalem

REUTERS

5/30 28 September 2016

Rescuers evacuate residents through floodwaters brought by typhoon Megi in Ningde, eastern China's Fujian province. Typhoon Megi smashed into the Chinese mainland, killing one person, after leaving a trail of destruction and four people dead in Taiwan

AFP/Getty Images

6/30 28 September 2016

A CalFire firefighter surveys a hot spot in the Santa Cruz Mountains near Loma Prieta, California. The Loma Fire has charred more than 2000 acres and burned multiple structures in the area

AFP/Getty Images

7/30 28 September 2016

A civil police officer carries a girl to a safe place during the demolition of over 300 settlements of the Bukit Duri neighbourhood located on the Ciliwung river banks, in order to improve the riverside infrastructure planned by the government in Jakarta. Authorities ordered the slum residents to vacate their settlements built on riverbanks and for the residents to relocate to new flats, as the government is trying to clear the flood-prone area, where more than 900 homes were demolished a year earlier

AFP/Getty Images

8/30 27 September 2016

A woman eats and struggles with her umbrella against powerful gusts of wind generated by typhoon Megi across the the island in Taipei, Taiwan. Schools and offices have been closed on Taiwan and people in dangerous areas have been evacuated as a large typhoon with 162 kilometers- (100 miles-) per-hour winds approaches the island

AP

9/30 27 September 2016

Alstom employees stage a protest in front of its headquarters in St Ouen, north of Paris, asking not to close a plant in Belfort, eastern France, which employs 400 people. Alstom's situation is considered by many French politicians as symbolic of France's difficulty of keeping a strong industry at home

AP

10/30 26 September 2016

A man poses as he gathers with others at Bogota's Bolivar main square, to celebrate the historic peace agreement between the Colombian government and the Revolutionary Armed Forces of Colombia (FARC). Colombia will turn the page on a half-century conflict that has stained its modern history with blood when the FARC rebels and the government sign a peace deal. President Juan Manuel Santos and the leader of the FARC, Rodrigo Londono, better known by his nom de guerre, Timoleon "Timochenko" Jimenez, are set to sign the accord at 2200 GMT in a ceremony in the colorful colonial city of Cartagena on the Caribbean coast

AFP/Getty Images

11/30 26 September 2016

Tourists pose in front of the illuminated Eiffel Tower during an event to mark the Breast Cancer Awareness month in October in Paris

AFP/Getty Images

12/30 26 September 2016

A nail house is seen in the middle of an area covered by a dust screen in Hangzhou, Zhejiang province, China

REUTERS

13/30 26 September 2016

Students at the Durban University of Technology march as countrywide protests demanding free tertiary education continue, in Durban, South Africa

REUTERS

14/30 26 September 2016

Palestinian women throw sweets at the militants from the al-Nasser Brigades, an armed wing of the Popular Resistance Committees (PRC), while marching on their vehicles during a rally to commemorate the 16th anniversary of their group in Gaza

AP

15/30 26 September 2016

A supporter of Awami Ittihad Party (AIP), a pro-India party, is detained by Indian police during a protest demanding to hold a plebiscite, in Srinagar

REUTERS

16/30 25 September 2016

A dog wipes out during the Surf City Surf Dog competition in Huntington Beach, California

REUTERS

17/30 25 September 2016

Indian folk dancers from the Panghat Group of Performing Arts perform during a dress rehearsal for an event to mark the forthcoming Hindu festival 'Navaratri', or the Festival of Nine Nights, in Ahmedabad

AFP/Getty Images

18/30 25 September 2016

An artisan hangs decorative pieces at a pandal, or a temporary platform, for the upcoming Hindu festival of Durga Puja, in Kolkata, India

REUTERS

19/30 25 September 2016

Runners take the start of the 43rd Berlin Marathon in Berlin

AFP/Getty Images

20/30 25 September 2016

The Five-hundred-metre Aperture Spherical Radio Telescope (FAST) is seen on its first day of operation in Pingtang, in southwestern China's Guizhou province. The world's largest radio telescope began operating in southwestern China, a project which Beijing says will help humanity search for alien life

AFP/Getty Images

21/30 25 September 2016

Australian knight Philip Leitch (R) has a floral basket on his helmet smashed by an opponent at the St Ives Medieval Fair in Sydney, one of the largest of its kind in Australia

REUTERS

22/30 25 September 2016

A security guard working at the Cascade Mall places flowers at a makeshift memorial in Burlington, to the five victims killed in a shooting at the mall. The 20-year-old man suspected of killing the five people with a rifle at a Macy's makeup counter had a string of run-ins with the law in recent years, including charges he assaulted his stepfather

AP

23/30 25 September 2016

A man works in a rice field where rice crop is planted in a shape which looks like a map of China, ahead of China's National Day, in Shanghai, China

REUTERS

24/30 25 September 2016

Law enforcement officials inspect a boat overturned on a jetty, off Miami Beach. Authorities said that Miami Marlins starting pitcher Jose Fernandez was one of three people killed in the boat crash the day before. Fernandez was 24

AP

25/30 24 September 2016

Syrians await to receive treatment at a make-shift hospital following air strikes on rebel-held eastern areas of Aleppo. Heavy Syrian and Russian air strikes on rebel-held eastern areas of Aleppo city killed at least 25 civilians, the Britain-based Syrian Observatory for Human Rights said, overwhelming doctors and rescue workers

AFP/Getty Images

26/30 24 September 2016

A fire broke out on a tanker belonging to the Mexican state oil company PEMEX, causing no injuries, according to a company official, in the Gulf of Mexico off the coast of Boca del Rio in Veracruz state, Mexico

AFP/Getty Images

27/30 24 September 2016

Participants attend a competition of the 2016 XTRAIL Expedition at Kanas National Geological Park in Altay, China's Xinjiang Uygur Autonomous Region

REUTERS

28/30 23 September 2016

Protesters march in the streets during another night of protests over the police shooting of Keith Scott in Charlotte, North Carolina

REUTERS

29/30 23 September 2016

Campaigners pose on a 'United To Stop Trump' cardboard wall in front of the Brandenburg Gate to urge Americans living abroad to register and vote in Berlin, Germany

REUTERS

30/30 23 September 2016

A man rests on his cart after unloading plastic jugs near a shop at a main market in Colombo, Sri Lanka

REUTERS
"When you go into jail and you're an inmate, and it's your first time, the other inmates automatically take advantage of you. They can sense it," she said. "I had things stolen from me. There were issues with taking a shower, trying to sleep, and where to sleep."
Over the course of two months, the participants said, they experienced violence and sexual harassment from fellow prisoners and witnessed drug use and deals between inmates. About 80% of the jail's population were there on drug-related charges, according to Noel.
Participants also confirmed to Noel a long-held suspicion: that some inmates had purposely got arrested because drugs were cheaper in jail than they were on the street.
Another participant, Maryum Ali — the eldest daughter of boxing great Muhammad Ali — said that the experience was "the most scared I've ever been in my life," People reported.
At the end of her two months, Ali told Noel that the jail needed better drug-treatment services, which led to the establishment of a Narcotics Anonymous program for inmates, Noel said.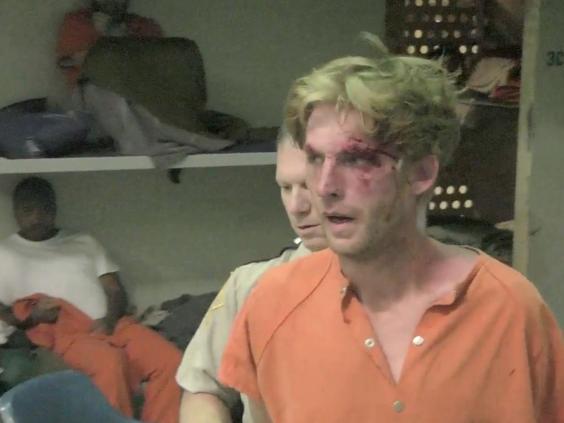 According to an A&E representative, multiple corrections officers were fired as a result of events witnessed by participants.
And Noel's experiment has already led to at least one arrest. Using information gained from the undercover program, investigators arrested a woman who tried to smuggle drugs into the jail last month, according to southern Indiana newspaper News and Tribune and confirmed by Noel.
He became sheriff in 2014 and said that he hopes he can help the jail shed its reputation of corruption. The previous Clark County sheriff, Danny Rodden, signed a plea deal in federal court in 2014, admitting that he lied to the FBI to cover up an affair with a prostitute. He's also part of an ongoing federal lawsuit over the jail's drug court-treatment program.
A&E paid the jail $60,000 to make the series. Noel told Business Insider that the money would go toward improved guard training, an updated camera system, and a body scanner for the jail.
The network has already picked up the show for a second season, A&E announced on Tuesday.
Read more: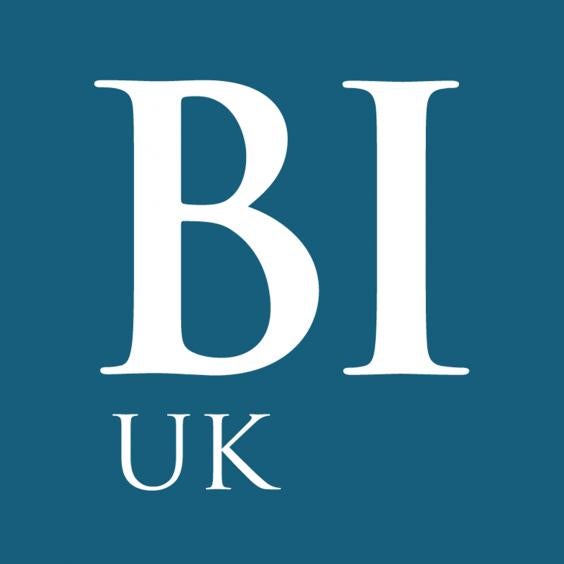 • Negative rates are here to stay
• Citigroup's average bonus was biggest in London
• This could be our first look at the iPhone 7
Read the original article on Business Insider UK. © 2015. Follow Business Insider UK on Twitter.
Reuse content