A series of excerpts from jihadhi "anthems" appealing to Muslims to rise up and found in the possessions of a terror suspect, have been read out to a New York court.
"We are the Muslim soldiers, there is no one in the universe like us, we will not be scared by death," went one.
Another said: "I will throw myself into the abyss of sacrifice. Today Jihad is due. Let it be with my blood."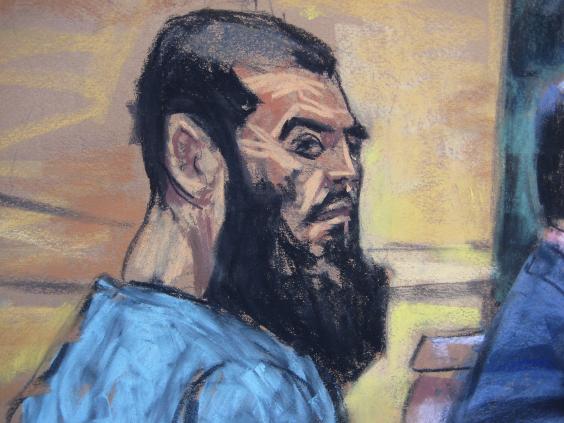 The chants were read at the trial of Abid Naseer, a Pakistani who is charged with plotting to blow up the New York subway and a Manchester shopping centre as part of an al-Qaeda plot. The court was told that the anthems, or nasheeds, were dsicovered on Mr Naseer's phone and on his pen drive. Mr Naseer, who is representing himself, has pleaded not guilty.
"Nasheeds are chants or anthems," Ibrahim Houri, an FBI translator and Arabic language specialist, told the court. Asked about the intonation of the chants, he replied: "It's done to create excitement and interest. In my interpretation, it's to recruit people."
Mr Naseer, 28, was one of 12 people arrested in Britain in the spring of 2009 amid suspicions they were members of an al-Qaeda-backed terror cell. At the time, the then Prime Minister Gordon Brown described the network as a "very big terrorist plot".
After no explosives were found, the men were released without being charged but ordered to leave the country. Mr Naseer was eventually deported to the US two years ago.
Under cross-examination from Mr Naseer, Mr Houri was asked whether or not a nasheed was always about jihad. "There are nasheeds that are not jihadi but these are jihadi," he replied.
Prosecutors have previously introduced testimony from two witnesses, Najibullah Zazi and Zarein Ahmedzay, who both pleaded guilty to taking part in a thwarted plot to detonate homemade explosives in the New York subway system. The court heard that nasheeds had also been found on their phones.
Later this week, the court is due to hear evidence from British agents from MI5 who have been given permission to appear in disguise by making use of wigs and make-up.
On Monday the court heard that the British government had intervened in the case to ensure the identity of the officers, who are still believed to be active in surveillance work, is not compromised.
US District Judge Raymond Dearie said he had spoken with a representative of the British government who had wanted to highlight what he said were "very grave considerations".
Television cameras and photographers are prohibited from attending the court. Mr Dearie told the court sketch artists that they could draw the British agents but they must show them to have "blank faces and generic hair".
The trial continues.
Reuse content