The US state of Alabama is preparing for a showdown over the issue of gay marriage after its most senior judge ordered its judiciary to refuse to issue same-sex marriage licences.
The southern state appeared poised to become the 37th in the US where gay couples can legally get married after a federal judge ruled last month that Alabama's ban on same-sex marriage was unconstitutional.
But on Sunday night, Alabama's Chief Justice, Roy Moore, sent a letter to all the probate judges in the state ordering them not to give out marriage licenses to gays.
"Effective immediately, no probate judge of the state of Alabama nor any agent or employee of any Alabama probate judge shall issue or recognise a marriage license that is inconsistent with the Alabama Constitution," wrote Mr Moore, according the Associated Press.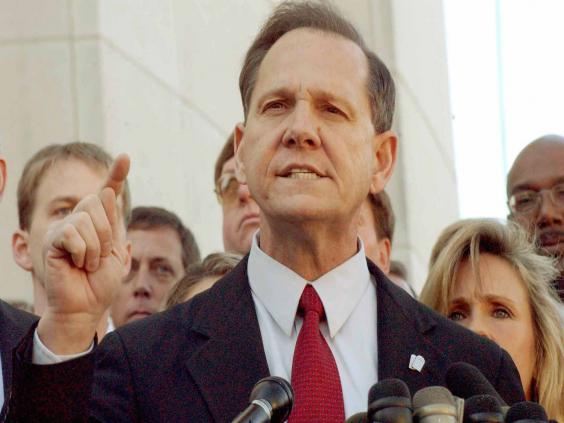 This is not the first time that Mr Moore has been at the centre of controversy. In 2003, he was forced to stand down during his first term as chief justice after he refused to remove a monument to the Ten Commandments from the Bible from his courtroom.
The 67-year-old has been one of the most outspoken opponents of gay marriage. In 2002, the wrote that homosexuality was "evil".
As Mr Moore issued his ban, gay couples prepared to make their way to the state's courthouses to obtain marriage licences. One couple, Tori Sisson and Shante Wolf, pitched a blue and white tent outside the Montgomery County Courthouse and hugged as they waited in hopes of being the first couple to get a marriage license in Alabama.
"It's about time," said Ms Wolfe, 21, said of gay marriage being allowed in Alabama.
Susan Watson, executive director the American Civil Liberties Union of Alabama, called the move by the conservative chief justice grandstanding and predicted licenses would be issued shortly.
"We will see marriage equality in Alabama tomorrow. I don't think the probate judges in Alabama are going to defy a federal court judge's order," she said. .
Last month, US District Judge Callie Granade had ruled that the state marriage ban was unconstitutional and said that probate judges have a legal duty under the US Constitution to issue the licenses. The ban, introduced in 2006, was supported by 80 per cent of voters.
The Montgomery Advertiser said that in his letter to the judges, Mr Moore had argued that federal district and appellate courts had no binding authority on state courts.
The 2006 ban was cemented into Albama state law as a result of Amendment 774, also known as Alabama Sanctity of Marriage Amendment, is an amendment to the Alabama Constitution that makes it unconstitutional for the state to recognize or perform same-sex marriages or civil unions. The referendum was approved by 81 per cent of the voters.
Early on Monday morning, the US Supreme Court refused a request by Alabama's attorney general to keep same-sex marriages in the state on hold.
Follow Andrew Buncombe on Twitter: @AndrewBuncombe
Reuse content