People have been captured on film agreeing to give Muslims badges and hand over their personal details so they can be "tracked" as possible terrorists.
Video of the social experiment in San Diego shows a man posing as a Donald Trump campaigner asking passers-by to give Muslims special badges identifying them, in return for $40.
The video, which has been watched more than 70,000 times, draws a direct link between presidential hopeful Donald Trump's anti-Muslim comments and the wider complacency around Islamophobia in US society.
Dustin Wynn, who poses as the Donald Trump campaigner in the video, points out that not one member of the Californian public he talked to confronted him about the Nazi-like discrimination.
Explaining the experiment, he says: "The twist is that they'll get paid for each Muslim they catch, just like how the Nazis were paid to kill the Jews."
On approaching citizens in San Diego, he tells them the campaign is "trying to stop terrorism in this country" and for each badge given to a Muslim the person will "get $40 in their mailing address."
One member of the public replies: "Yeah, yeah that's good. I'll do it. I'm down with that."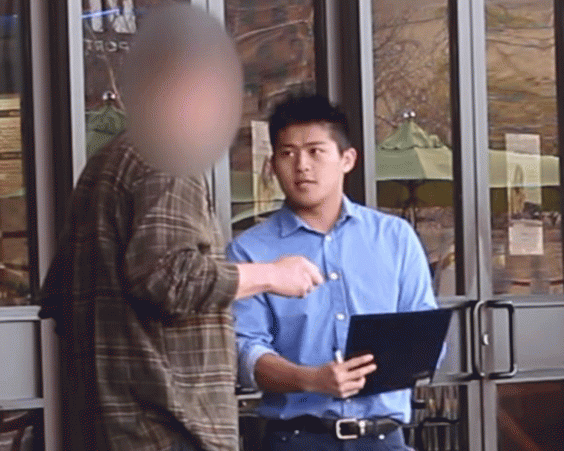 When reminded of Isis and the San Bernadino shooting in December last year, he says: "I hate those guys. I'm Christian myself. 
"I might vote for Donald Trump. [...] Thanks for what you're doing, man. You talk to Trump and say the homies are with him."
In a deliberate echo of the Star of David badges Jews were made to sew onto their clothing under Adolf Hitler and the Nazis about 70 years ago, the "badges" have the Islamic star and crescent moon displayed on them.
Other members of the public were swayed by the "job opportunity", as Mr Wynn sometimes called it, because of the payment.
"Wait, I get $40? Yeah, that's pretty easy," said one.
"So if I just go and do this I get some money?" said another.
The video shows a clip of Donald Trump on national media saying "We should have a lot of systems beyond databases" to track Muslims.
In the video, Mr Wynn points out that mostly Muslims themselves confronted him on his obvious Nazi-like method.
But a Sikh man is seen saying to him: "Why would you want to keep track of that person? You cannot categorise people by religion into terrorists.
People who will flee America if Donald Trump wins
People who will flee America if Donald Trump wins
1/8 Miley Cyrus

'God' he thinks he is the f***ing chosen one or some shit! … Honestly f*** this sh*t I am moving if this is my president! I don't say things I don't mean!'

Jemal Countess/Getty Images

2/8 Whoopi Goldberg

'I don't think that's America. I don't want it to be America. Maybe it's time for me to move you know'

3/8 Samuel L. Jackson

'If that mother**er becomes president, I'm moving my black ass to South Africa'

4/8 Raven Symone

'My confession for this election is, if any Republican gets nominated, I'm gonna move to Canada with my entire family. Is that bad? I already have my ticket. I literally bought my ticket, I swear'

5/8 Cher

'If he were to be elected, I'm moving to Jupiter'

6/8 Neve Campbell

'I'm terrified. It's really scary. My biggest fear is that Trump will triumph. I cannot believe that he is still in the game ... [I'll] move back to Canada'

7/8 Jon Stewart

'I would consider getting in a rocket and going to another planet, because clearly this planet's gone bonkers'

8/8 Randy Blythe

'He could just be a clown. If he is the president, though, I am leaving America 'till he's gone'
"The media is doing that. So I don't want to partake in categorising someone and keeping track of that person."
When told he will be paid, he says: "It doesn't matter."
One Muslim woman appeared about to cry when asked to wear a badge, while several other groups tried to explain to Mr Wynn why he was wrong.
One Muslim man made the direct comparison with Nazi Germany by explaining Jews were first made to wear badges as a preliminary step to being sent to concentration camps to be killed.
Hate crimes against American Muslims have been on the increase particularly since the San Bernardino shootings and Paris attacks, according to Al Jazeera.