Standing alongside President Barack Obama on his historic visit to Havana, the Cuban leader, President Raul Castro, has called on the United States formally to lift the blockade imposed on his country more than fifty years ago and return the territory occupied by the US Naval Base at Guantanamo Bay.
Speaking at a joint press conference after the two men held two hours of talks Mr Castro said he welcomed the steps taken by Mr Obama to thaw long-frozen relations between Cuba and the United States, but added that "much more could be done if the blockade were lifted".
Mr Castro thus for a moment made common cause with Mr Obama on the issue of the embargo – an interesting twist of history in itself - which can only be lifted by an act of Congress.  Mr Obama has repeatedly asked that that happen, but so far to no avail thanks to Republican resistance on Capitol Hill.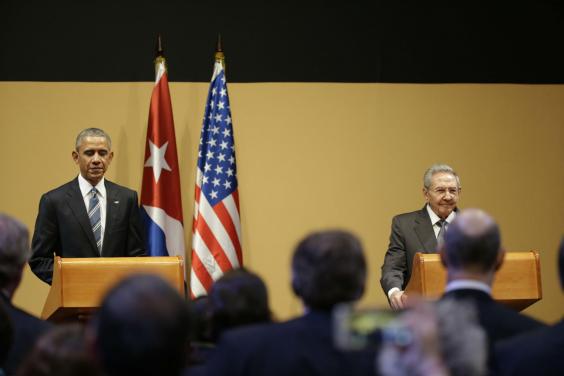 For his part, Mr Obama said that his even being there, standing side by side with the leader of Cuba would have been "unimaginable" for so many years. "This is a new day between our countries," he offered. "I am absolutely confident that if we stay on this course, we can deliver a better and brighter future for the Cuban people."
Mr Castro did what no one seemed certain would actually happen – he opened the session briefly to questions, a significant break from his own preferred habit of never taking questions from reporters, presumably entertained only because the US had pressed for it.
In a remarkable, jarring sequence, Mr Castro responded indignantly to a question about Cuban political prisoners. "Give me a list of political prisoners," he told a CNN reporter. "I will release them immediately. Give me a list…Give me a list…If we have those political prisoners they will be released before the evening ends."  Mr Castro later asked that further questions be directed to Mr Obama only.
Obama in Cuba
Obama in Cuba
1/6

U.S. President Barack Obama makes a face towards a group of children in the audience as he stand on stage with first lady Michelle Obama as he is introduced by Ambassador Jeffrey DeLaurentis Charge d'Affaires to the U.S. Embassy in Cuba

2/6

President Barack Obama shakes hands with Cuba's Foreign Minister Bruno Rodriguez upon arrival to the airport in Havana, Cuba

3/6

U.S. President Barack Obama and his wife Michelle approach Cuba's foreign minister Bruno Rodriguez as they arrive at Havana's international airport

4/6

US President Barack Obama waves after his arrival on Jose Marti Airport in Havana, Cuba

5/6

US President Barack Obama carries an umbrella as he is followed by First Lady Michelle Obama after their arrival on Jose Marti Airport in Havana, Cuba

6/6

The 'Air Force One' jet carrying US President Barack Obama touches down at the Jose Marti Airport in Havana, Cuba
The two-hour meeting between the two leaders marked the first high-level talks between their nations in over fifty years. Mr Obama's visit was the first by a US president in 88 years
Both men acknowledged their deep divisions.  For the US that above all is friction over Cuba's human rights record and treatment of political prisoners.  "There are profound differences between our countries that will not go away," Mr Castro noted. However, they announced a series of bilateral accords to deepen cooperation in areas like environmental protection and combating diseases like the Zika virus.
As Mr Obama arrived at the Palace of the Revolution for his meeting with Mr Castro, he was greeted with by a full honour guard and military band.  The pomp of the moment stood in contrast the low-key arrival of the American first family at Havana International Airport on Sunday where a welcoming delegation consisted only of mid-level party officials and notably did not include Mr Castro.
Similarly orchestrated for the TV cameras - American and Cuban - was a visit paid earlier by Mr Obama to the memorial to Jose Marti, the Cuban independence hero. He laid a wreath amidst the choreography of high-stepping ceremonial soldiers and strains from the attending Music Band of the General Staff of the Revolutionary Armed Forces.
The talks between Mr Obama and Mr Castro was their third face-to-face meeting since they announced, from their respective capitals, their intention to end the decades of enmity between the nations in late 2014 after months of secret talks. They shook hands at the April 2015 Western Hemisphere summit in Panama City and again in September last year on the fringes of the UN General Assembly in New York.
Mr Obama has been stubborn in his push for rapprochement against furious criticism from many Republicans, including candidates running to replace him, who argue he is giving away too much without scant sign of willingness from the Castro regime to enact meaningful social or political reforms. Those same critics pointed yesterday to the multiple arrests by state security of protestors belonging to the dissident Ladies in White group in Havana on Sunday as Mr Obama was en route to the island.
But polls show strong support in the US for his pivot towards the island and before carrying out his promise to pay it a visit, Mr Obama enacted a series of administrative changes to ease restrictions on Cuba, notably making it easier for US investors to do business and for Americans to travel there, opening up telecommunication links and paving the way for commercial air service to the island.
Motivating Mr Obama is a desire to leave a mark on US foreign policy before leaving office. His decision to moderate a five decade-old policy of isolating Cuba while it remains a one-party state has also helped remove a major irritant in relations between the US and the Latin America in general.
Mr Obama is however at the limit of what changes he can make at the edges of the embargo without Congress acting to rescind it, something that is not likely to happen for as long as control of the House and the US Senate remains in Republican hands.
Reuse content