Black Lives Matter protesters shut down a highway during peak morning traffic in Minneapolis, one week after police killed unarmed black man Philando Castile at a traffic stop.
A few dozen protesters parked several cars across the Interstate 35W at University Avenue around 7.50am, shouted into microphones and held signs saying "Abolish Police".
White and black people sat cross-legged on the tarmac, clapping and chanting in unison, while onlookers on the bridge overhead took videos. 
What started as a few police cars grew to around 15 troopers by mid-morning.
Transit buses also arrived to transport those who had been arrested.
The police presence far outnumbered the remaining protesters after law enforcement made more than 40 arrests, as reported by Star Tribune.
Patrol Colonel Matt Langer said the blockade was "unacceptable" given that the highways "are used by everyone and are an artery for emergency vehicles."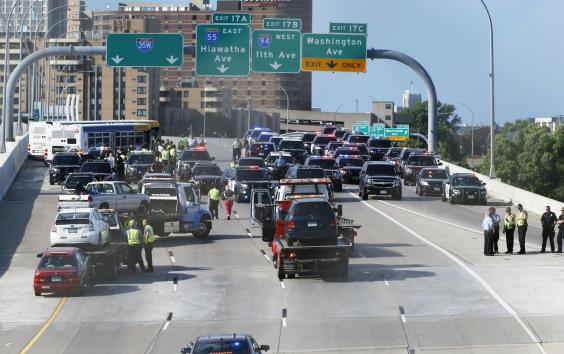 Smilar protests as those in Minneapolis, the hometown of Philando Castile, have taken place around the country from California to New York.
Over the weekend, hundreds of people gathered to protest in Minnesota, blocking off both directions of the Interstate 94, leading to dozens of arrests, including a cousin of Mr Castile. 
Protesters blasted the song "Purple Rain" in retaliation to the police reportedly shooting rubber bullets and launching smoke grenades.
Aztec dancers also hopped over the fence onto the highway to show their support for Mr Castile and the protesters.
The killings of Alton Sterling and Mr Castile, as well as the shooting of five police officers in Dallas, has threatened to divide public opinion.
Four off-duty police officers working as security officers at a women's basketball team in Minnesota walked off the job over the weekend after the Lynx players turned up wearing Black Lives Matter T-shirts. 
Minneapolis Police Federation President Bob Kroll told the Minneapolis Star-Tribune that he commended the officers, who have decided not to work at future games, and said they were only there "because the Lynx have such a pathetic draw".
The protests continue as Alton Sterling's 15-year-old son Cameron Sterling called for peace, urging people to "protest in the right way".
"I feel that people in general, no matter what their race is, should come together as one family," Cameron said at the second press conference since his father's death last week.
"There should be no more arguments, disagreements, crimes, everyone should come together as one family."