Owners of tubs of ice cream made by a US company forced to recall all its products following a health violation have posted their half-eaten wares online for hundreds of dollars.
Blue Bell Creameries was forced to withdraw its products last month after listeria, a type of bacteria which can have a 20 per cent fatality rate if ingested by people, was discovered in one of its Oklahoma factories.
Despite this, people appear keen to continue eating the ice cream deemed the best in the country by Forbes in 2001.
Users on online marketplace Craigslist appear to be selling tubs of the ice cream, occasionally half eaten, for exorbitant amounts.
READ MORE:
One user from Baton Rouge, capital city of Louisiana, yesterday posted for sale "partially eaten ½ Gal Blue Blue (Happy  Tracks)" for $500.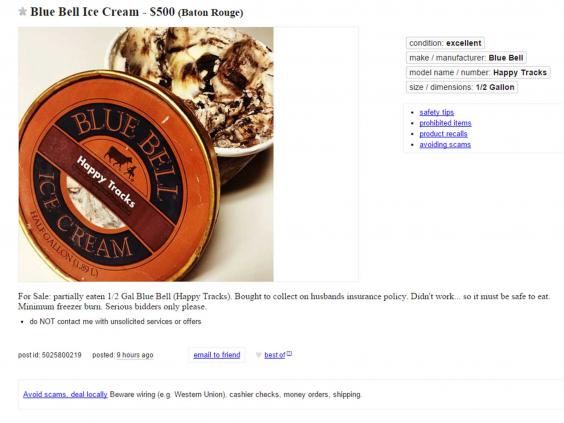 The post continues: "Bought to collect on husbands insurance policy. Didn't work …. So it must be safe to eat."
Another user, this time in Dallas, posted an unopened tub of 'Chocolate Covered Cherries' - and asked for $1000. The user adds: "purchaser assumes any and all liability related to consumption of this ice cream."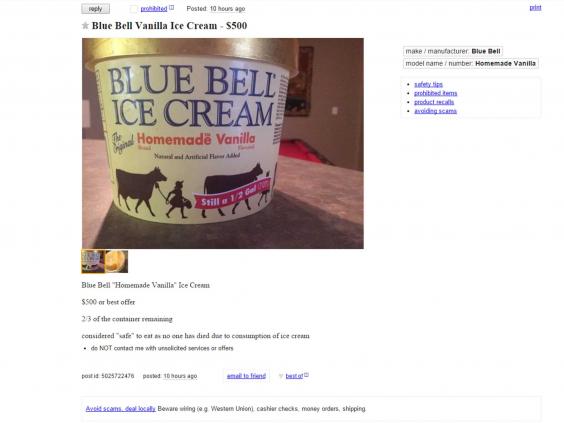 As of this morning it appears that Craigslist is deleting some of the posts, although many remain available online.
Similar postings have also appeared on eBay, CBS 11 News reported last month. Again, the postings soon disappeared as the online company has a policy against selling recalled products.
Blue Bell Creameries, founded in 1907 and which produced over 250 different frozen products, has issued a statement reassuring customers they are working with authorities to return their products to the shelves.
"We are committed to meeting the high standards and expectations of our customers and our regulatory agencies," Blue Bell CEO and President Paul Kruse said in a statement quoted by ABC News.
Reuse content