An old bottle of wine containing grey liquid that was dug up from a US Civil War shipwreck was uncorked and tasted yesterday.
It was recovered intact four years ago from the 1864 wreck of the Mary-Celestia blockade runner that sank off the coast of Bermuda. It was sampled by wine experts after being submerged for 151 years.
The sommeliers' verdict at a food festival in Charleston, South Carolina, is that the grey "wine" actually smelled and tasted like crab water, gasoline, salt water, vinegar, with hints of citrus and alcohol.
Most expensive bottles of wine in the world
Most expensive bottles of wine in the world
1/10 1. Domaine de la Romanee-Conti Romanee-Conti Grand Cru, Cote de Nuits, France, £8,310

The most expensive wine in the world is described as the perfect Burgundy. The price has been moving upwards over the past three years, so get it while you still can.

2/10 2. Henri Jayer Cros Parantoux, Vosne-Romanee Premier Cru, France, £4,894

Another Burgundy, this one is a collector's item. It's also quite popular in Asia.

3/10 3. Egon Muller-Scharzhof Scharzhofberger Riesling Trockenbeerenauslese, Germany, £4,577

The first German wine on the list, this Riesling is produced in the Rheingau vineyard. The 2010 vintage was given a perfect score – 100 out of a 100 – by a major wine critic.

4/10 4. Domaine Leflaive Montrachet Grand Cru, Cote de Beaune, France, £3,716

The highest priced white wine from Le Montrachet, this is also the fourth most highly rated white from the region.

5/10 5. Joh. Jos. Prum Wehlener Sonnenuhr Riesling Trockenbeerenauslese, Germany, £3,415

Another German wine comes in at number five, and critics have rated it as the best white in the region. It has an overall score of 98 on wine-searcher.com – not bad.

6/10 6. Domaine Leroy Musigny Grand Cru, Cote de Nuits, France, £3,379

Another red from the Cote de Nuits, were the Le Musigny vineyard plays a pivotal role in local life – so much so that the village of Chambolle changed its name to Chambolle-Musigny in 1882.

7/10 7. Domaine Georges & Christophe Roumier Musigny Grand Cru, Cote de Nuits, France, £3,202

How about that Cote de Nuits? Another entry from Le Musigny, this is the second highest priced wine from the vineyard. The 2012 vintage was given a score of 98 out of 100 by The Wine Advocate.

8/10 8. Domaine de la Romanee-Conti Montrachet Grand Cru, Cote de Beaune, France, £2,948

This wine has received more awards than any other white in the region. It's also the most sough after Le Montrachet wine, based on user searches.

9/10 9. Domaine Jean-Louis Chave Ermitage Cuvee Cathelin, Rhone, France £2,403

The Ermitage (or Hermitage) is a rich Syrah-based red wine from the Rhone Valley. Ermitage wine can be traced back to 17th century, when it was an official wine in the courts of King Louis XIII and his successor Louis XIV.

10/10 10. Henri Jayer Echezeaux Grand Cru, Cote de Nuits, France £2,196

Yet another Grand Cru from the Cote de Nuits. Interest in this wine has fallen in recent years, but it's still popular enough to justify its extraordinary price.
It could have been a Spanish fortified wine, a spirit, or medicine. But after spending a century-and-a-half at the bottom of the ocean, it's now mostly saltwater.
About 50 people who bought tickets to the Charleston Wine + Food event titled "From Deep Below: A Wine Event 150 Years in the Making" also tasted the drink.
"I've had shipwreck wines before," master sommelier Paul Roberts said. "They can be great."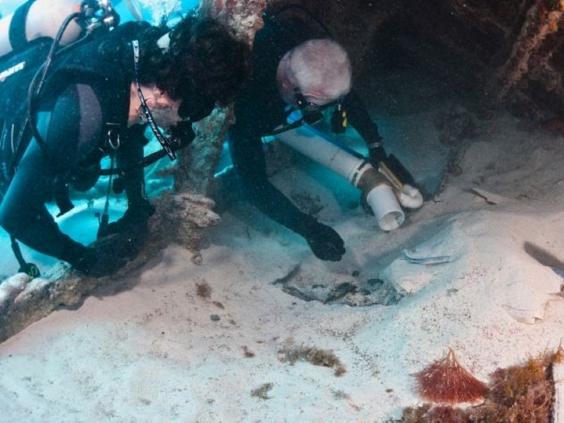 A sample smelled like camphor, stagnant water, hydrocarbons, turpentine and sulphur, wine chemist Pierre Louis Teissedre of the University of Bordeaux said after analysing samples. Analysis showed it was 37 percent alcohol.
The wine was one of five sealed bottles recovered by marine archaeologists from the iron-hulled sidewheel steamship that sank under mysterious circumstances during the US Civil War.
The boat was leaving Bermuda with supplies for the Confederate states when it struck a reef and sank in six minutes, said cultural anthropologist and Bermudan shipwreck expert Philippe Rouja.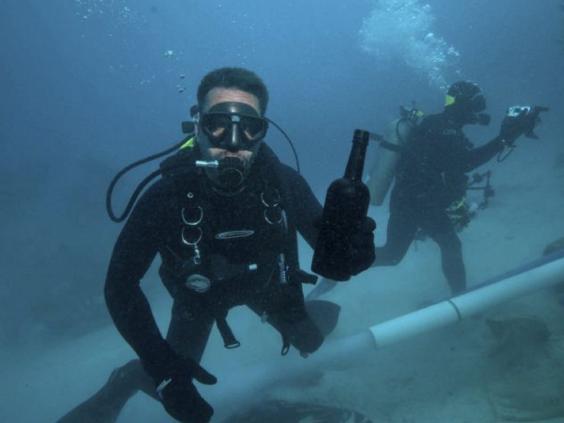 Whether the sinking was deliberate or accidental has been debated.
Philippe and his brother, Jean-Pierre Rouja, were diving on the shipwreck in 2011 after winter storms swept over the site when they found a bottle of wine inside a secret boatswain's locker in the bow.
Subsequent dives turned up the additional bottles, as well as sealed bottles of perfume, women's shoes, hairbrushes and pearl shell buttons.
This year marks the 150th anniversary of the end of the Civil War, which was fought from 1861 to 1865 and began in Charleston Harbor with the Battle of Fort Sumter.
Reuse content