A young cancer sufferer whose mother made a simple request for a box of birthday cards has been left stunned after 15,000 of them, from strangers around the world, turned up.
Danny Nickerson, from Foxboro, Massachusetts, turned six on Friday – an important and poignant milestone following a diagnosis in October that revealed he has an inoperable brain tumour.
His mother, Carley, said that he gets lonely since having to stop going to kindergarten but loves to see his name on letters and packages.
He had previously received Easter cards from a charity called Magical Fairy Missions, which gives support to children fighting brain cancer.
"I gave him the key to the PO Box. He was so excited when he opened it," Ms Nickerson told ABC News, so she put in an appeal to a local newspaper for birthday cards.
It went viral.
Thousands of people who read about the plea then sent in presents and well-wishes, with the family saying they are "blown away at the outreach from all over the world."
Last year, they were told that Danny has an aggressive form of cancer called diffuse intrinsic pontine glioma (DIPG), in which less than 10 per cent of its victims live beyond 18 months after diagnosis.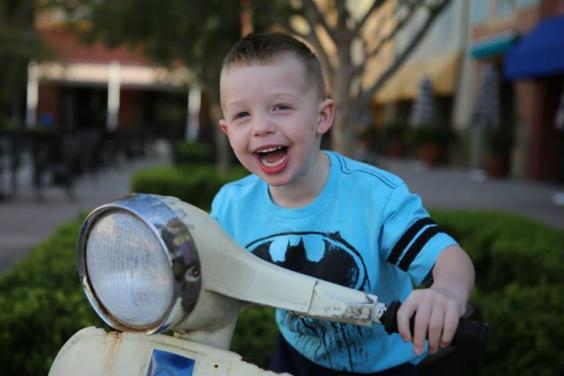 "I don't really believe in that. He is doing great," Ms Nickerson said. "Every day is a blessing for us,"
On 22 July, the family posted on its 'Danny's Warriors' Facebook page: "Over 1,000 cards came today! We are shocked and speechless. Danny had so much fun opening cards!
"We opened about 200 of them today and he loved seeing them! One had a picture of a fat cat on it and another with a cat blowing out candles and he laughed so hard at them!"
Justin Bieber gave a shout out to Danny with a happy birthday message on Instagram two days ago, while high school cheerleaders from Attleboro also made cards and organised a car was fundraiser for Danny.
Many have also donated to the GoFundMe page set-up to help pay for the daily expenses incurred by Danny's parents. It has blasted through its $15,000 aim to more than double that.
On 23 July, the family said that it had received over 2,000 cards and 200 packages, taking 12 people to pack it into five vehicles.
Then on 24 July, they counted 8,500 cards and 900 packages, including a card that opened out 8ft wide and 6ft tall with Super Mario on it.
"We are in awe of all of this, we are speechless and don't have enough words to explain how thankful we are for every one of you! And all the love that you have shown us and continue to show us!" the family said.
Danny is undergoing chemotherapy every two weeks. His mailing address is: Daniel Nickerson, PO Box 212, Foxboro, MA 02035.
Reuse content