California's Governor Jerry Brown has declared a state of emergency as raging wildfires sweep across the state destroying hundreds of homes and forcing thousands of residents to flee.
More than 1,000 firefighters have fought the Valley Fire, which had grown to 50,000 acres (78 square-miles) by Sunday, displacing 23,000 people.
One person, reported to be an elderly woman with disabilities, has died.
Emergency dispatchers received a call requesting assistance for a woman in Hot Springs Road, Cobb Mountain, but on arrival, emergency crews found the building entirely engulfed in flames, according to the LA Times. Her remains were reportedly found after the fire had subsided.
"The resident was apparently unable to self-evacuate and responders were unable to make it to her home before the fire engulfed the structure," Lt Steve Brooks of the Lake County Sheriff's office said in a statement on the paper's website.
Governor Brown's announcement will help expedite debris removal and waive fees to replace essential documents like birth certificates for those who have been forced to abandon their homes.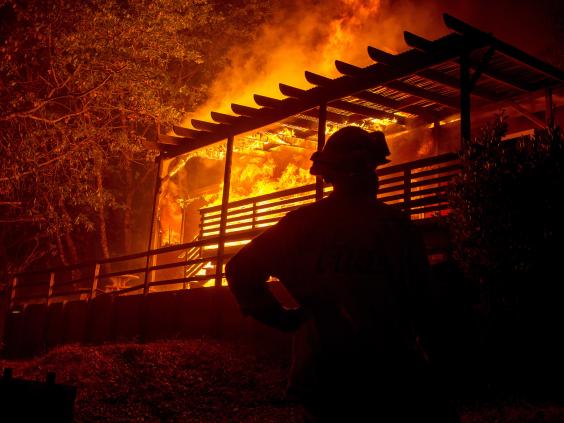 Daniel Berlant, California Fire Department's Chief of Public Information said wind gusts that reached up to 30mph sent embers raining down on homes, making it hard for firefighters to stop the Lake County blaze, The Guardian reports.
Four fire fighters were injured on Saturday. They were all members of a helicopter crew and suffered second-degree burns.
Update on the 4 burned firefighters from the #ValleyFire. All suffered 2nd degree burns and are in stable condition at UC Davis Medical

— CAL FIRE PIO Berlant (@CALFIRE_PIO) September 13, 2015
The fire is reported to have erupted on Saturday afternoon about 50 miles west of Sacramento, the state capital. It rapidly burned through brush and trees parched from several years of drought.
Thousands fled over the weekend as mandatory evacuations were ordered for the communities of Cobb, Middletown, Harbin Hot Springs and Big Canyon Road.
Structure damage on the #ValleyFire still remains at an estimated several hundred homes & hundreds of other structures destroyed.

— CAL FIRE PIO Berlant (@CALFIRE_PIO) September 14, 2015
#ValleyFire This is the view from Middletown Ca. pic.twitter.com/7OxqqXKPDQ

— Nicole Young (@NicoleYoung89) September 12, 2015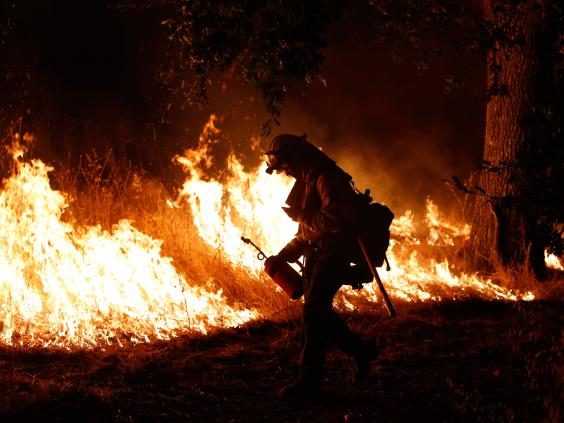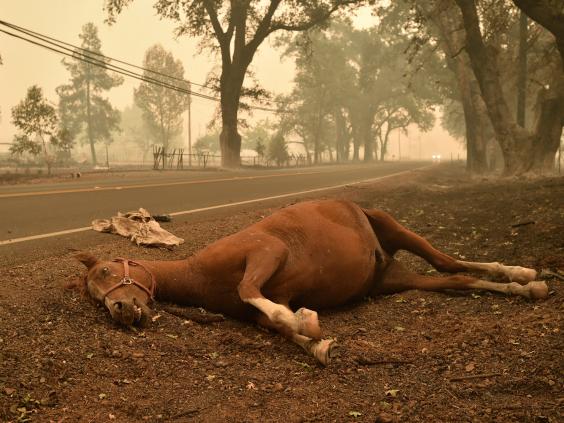 California firefighters are also battling the Butte Fire in Amador and Calaveras counties, which are about 70 miles east of Sacramento. The fire has grown to 65,000 acres (101 square-miles), Cal Fire reported.
Just In - The #ButteFire in Amador & Calaveras counties is now 65,300 acres & 25% contained. Over 4,500 firefighters battling the fire.

— CAL FIRE PIO Berlant (@CALFIRE_PIO) September 14, 2015
It threatens around 6,150 homes.
Reuse content