They did not give in without a fight.
When husband and wife Cecil Knutson and Dianna Bedwell became stuck in California's high desert, they ate pieces of orange and drank rain-water collected in cups, hoping someone would find them before they perished.
As it was, when off-road drivers found the diabetic couple on Sunday, two weeks after they had gone missing, Ms Bedwell was seriously ill but still alive, but her husband had died.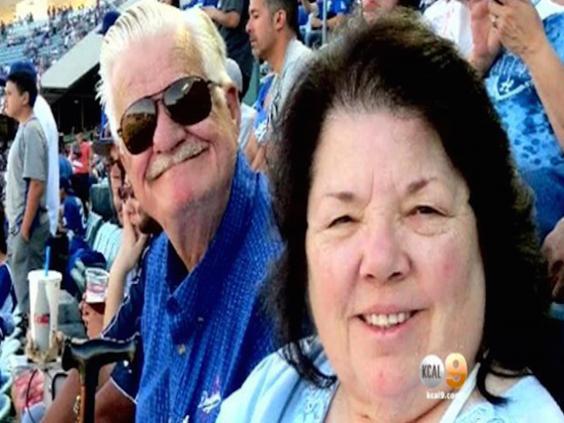 As Ms Bedwell, 68, continues to receive treatment in hospital, officials are preparing to carry out a post-mortem examination on Mr Knutson's body in an an effort to try and determine when the 79-year-old had died and why.
Police officer Lt Ken Nelson said the couple were found near a Boy Scouts camp on the Los Coyotes Indian Reservation about 65 miles northeast of San Diego on Sunday afternoon, the Associated Press said.
"The preliminary investigation indicates that the couple became lost soon after leaving the casino while attempting to find a shortcut to their ultimate destination. They remained with their vehicle until ultimately found," police said in a statement.
Ms Bedwell told authorities that the couple was trying to take a shortcut and got lost in the rugged area, where their 2014 white Hyundai Sonata was obscured by trees and surrounded by brush. Mr Nelson said the trees had made the car invisible to helicopters that were conducting aerial searches.
"They were really off the beaten path. We were really surprised that the vehicle they were driving, a sedan, was even able to get out there," he told the AP.
"It was so rural that it took two weeks for even off-roaders to find them."
In a message posted on social media, the family asked for privacy Monday in a statement posted on a Facebook page established to help with the search. "Please continue to keep the family in your prayers," it read.
The husband and wife, who were diabetic, were last seen on surveillance footage leaving the Valley View Casino in Valley Centre, about 25 miles west of the wilderness camp, on May 10.
Authorities said the two were planning on going to their son's home in the Palm Springs area for a Mother's Day dinner, but that they had not arrived there or return to their Orange County home in Fullerton.
The couple were were retired school bus drivers and were married for more than 25 years, the Orange County Register newspaper reported.
The couple's daughter, Kristen, raised funds to help in the search for the couple.
"We found my parents as you know. My father died at the scene, I am devastated. Our mom is in the hospital holding on," she wrote. "Thank you for all the prayers and love."
Reuse content