Three people stand in line at the Southern Patriot Shop, Confederate flags tucked under their arms, waiting their turn at the cash register.
Owner Robert Hayes, a 75-year-old with crow's feet and a lingering smile, has a bit of advice for his customers before they head back out into a world they say is drifting further and further from the America they believe in. "Don't display them in your house but outside of your house," he says. "We need to be making a statement to the people that know their history and know that [the flag is] not what it's being accused of."
That sentiment is growing among many in rural South Carolina and around the South after retailers including Wal-Mart, Sears, eBay and Amazon said they would no longer sell products bearing the flag.
Many former supporters say they now understand why the flag should come down from its prominent perch at South Carolina's capitol complex.
In pictures: Charleston vigil
In pictures: Charleston vigil
1/6 Charleston vigil

Sunlight shines through a window and onto some of the thousands of people gathered for a city-sponsored prayer vigil for the nine victims of the Emanuel AME Church shooting

GETTY

2/6 Charleston vigil

People attend a vigil at TD Arena for victims of the Charleston church shooting

GETTY

3/6 Charleston vigil

A view of Emanuel AME Church in Charleston, South Carolina

GETTY

4/6 Charleston vigil

People attend a prayer vigil at the TD Aren

GETTY

5/6 Charleston vigil

Family members of the nine victims of the Emanuel AME Church shooting sit on the first five rows during a prayer vigil at the College of Charleston TD Arena

GETTY

6/6 Charleston vigil

NBA Houston Rockets center Dwight Howard (C) joins thousands of people for a prayer vigil for the nine victims

GETTY
But others are stunned at the turn of opinion against the flag after photographs surfaced of the alleged Charleston church shooter Dylann Roof posing with the flag. Over the weekend, the flag came down briefly from the front of the State House in Columbia after Bree Newsome, 30, a teacher and activist from North Carolina, scaled the 30ft pole and detached it. She was arrested and authorities later reraised the flag.
"I think there's a place for it, and that's a museum," said one Charleston resident, Diane Gillie. On Saturday morning, about 50 people expressing support for the flag took their concerns to the state capitol, chanting "Heritage, not hate!" and waving Confederate flags. "It doesn't stand for racism," said Shannon Blume, 36. "It stands for states' rights and no big government."
Southern politicians have lined up to say they disagree, including both of South Carolina's national Senators and the Republican state Governor, Nikki Haley.
In this part of rural South Carolina, seemingly far from the prying eyes of a shocked world, those seeking out new Confederate items say they will not be silent as the state and federal government continue to "wage a war", in their words, on Southern heritage and history. Shop owner Mr Hayes, a member of the League of the South, a pride organisation considered by some to be a hate group, says he will probably benefit from the sudden dearth of flags. His shop sells Confederate-themed knick-knacks including phone covers, notebooks, lighters, T-shirts, belts, fridge magnets and postcards, plus dozens of historical flags.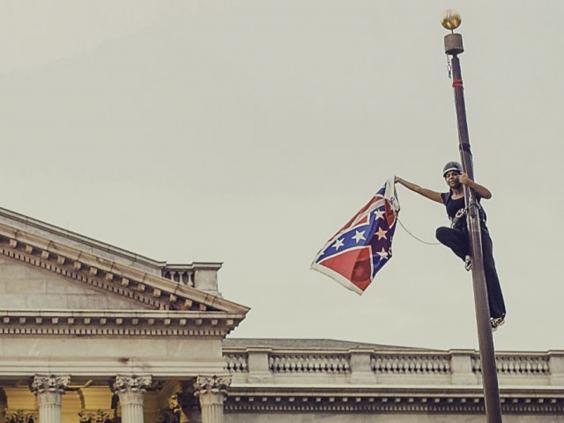 Shoppers and Mr Hayes say they were horrified and saddened by the shootings. But Mr Hayes said that targeting the flag was the same as going after the quick rice and instant noodles that Dylann Roof reportedly ate. "The blacks that say it's racist – they are the racists," said Joyce Davis Wareshoals, 66, from Abbeville. "That's their heritage as much as it is our heritage."
Mr Hayes pulled out a well-worn manila folder. Inside were pictures of the Ku Klux Klan marching with US flags over their shoulders. "The US flag, the US flag, the US flag!" he said. He had sold more than 100 flags – a store record – in the week since the shootings at a church in Charleston. "And we're a little, small, out-of-the-way town."
© The Washington Post
Reuse content