The father of Charleston shooting suspect Dylann Roof has told police that he has received an endless string of threatening phone calls following his son's arrest.
52-year-old Franklin Bennett Roof called the police to his home in Columbia, South Carolina, on Friday, according to records obtained by the New York Daily News.
The records say that Roof claims a number of individuals claiming to be from the Black Panther Party have called, and left messages saying they would 'come to see him real soon'.
The current Black Panther Party was founded in 1989, an extremist black radical political group. It is directly inspired by the original Black Panther Party, a more influential and socialist group that was dissolved in 1982.
The records also show that Roof stated someone from black religious group the Nation of Islam called and said they wanted to "interview" him, and asked if his whole family was at the house.
In pictures: Charleston vigil
In pictures: Charleston vigil
1/6 Charleston vigil

Sunlight shines through a window and onto some of the thousands of people gathered for a city-sponsored prayer vigil for the nine victims of the Emanuel AME Church shooting

GETTY

2/6 Charleston vigil

People attend a vigil at TD Arena for victims of the Charleston church shooting

GETTY

3/6 Charleston vigil

A view of Emanuel AME Church in Charleston, South Carolina

GETTY

4/6 Charleston vigil

People attend a prayer vigil at the TD Aren

GETTY

5/6 Charleston vigil

Family members of the nine victims of the Emanuel AME Church shooting sit on the first five rows during a prayer vigil at the College of Charleston TD Arena

GETTY

6/6 Charleston vigil

NBA Houston Rockets center Dwight Howard (C) joins thousands of people for a prayer vigil for the nine victims

GETTY
Roof reportedly saw this message as a thinly-veiled threat against him.
The police documents state that Roof now keeps his mobile phone switched off, as it is inundated with intimidating calls and threats whenever it is turned on.
Roof's complaint to police came on the same day that the family of the suspected shooter released their first statement since their son was arrested for the murders of nine people at an historically black church in Charleston, South Carolina.
The statement said: "Words cannot express our shock, grief and disbelief as to what happened that night."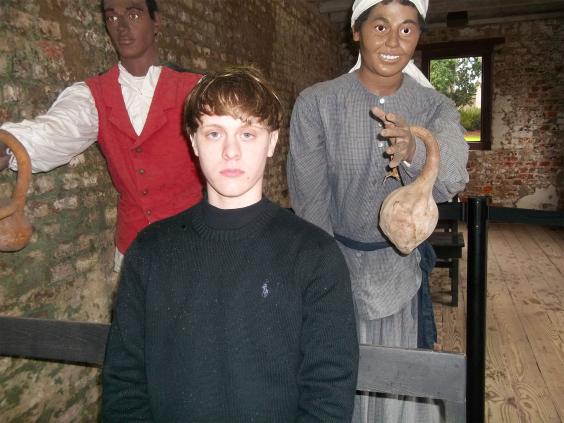 "Our thoughts and prayers are with the families and friends of those killed this week."
"We have all been touched by the moving words from the victims' families offering God's forgiveness and love in the face of such horrible suffering."
A website called 'The Last Rhodesian' surfaced yesterday, and federal agents are looking into whether the site, which contains a hateful 'manifesto' and pictures of Dylann Roof, was created by him.
On Friday, roof was charged with nine counts of murder and one count of possession of a firearm during the commission of a violent crime. South Carolina Governor Nikki Haley has called for him to face the death penalty.
Reuse content