A Christian blogger has defended a post explaining why she will not wear leggings in public, saying they cause men to look at her "lustfully" and think sexual thoughts.
Writing in a post which has since gone viral, Veronica Partridge said she would no longer wear form-fitting leggings because they may "entice" other men aside from her husband.
The married mother-of-one regularly blogs about her family life in Central Oregan, but this particular post was shared over 78,000 times on Facebook.
Ms Patridge told the Christian Post some of the negative attention she received is because her and her husband are "under attack from Satan". 
We're getting a lot of negativity," she told CP. "But we're staying strong and praying with one another and reading our bible. I think it's brought us closer together."
Ms Partridge stressed that this was a personal decision and not her trying to advocate what women should and should not wear.
Explaining her decision not to wear the attire, she described a conversation with friends about leggings and their belief that women wearing them creates "a stronger attraction" for a man to look at a woman's body. The conversation concluded that this could cause them to think "lustful thoughts".
She wrote: "I went home later that day and shared the convictions I was having with my husband. Was it possible my wearing leggings could cause a man, other than my husband, to think lustfully about my body? I asked my husband his thoughts on the matter when he got home.
"I appreciated his honesty when he told me: "Yeah, when I walk into a place and there are women wearing yoga pants everywhere, it's hard to not look. I try not to, but it's not easy.
"If it is difficult for my husband who loves, honours, and respects me to keep his eyes focused ahead, then how much more difficult could it be for a man that may not have the same self-control? Sure, if a man wants to look, they are going to look, but why entice them?"
She said this conversation led her to vow never to wear leggings in public without a long shirt to cover her.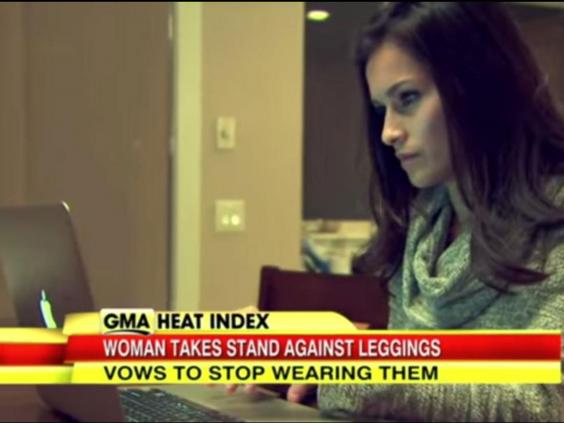 This decision was also made to set an example of how to dress to her daughter, Ms Partridge added. "I want her to know, her value is not in the way her body looks or how she dresses, but in the character and personality God has given her."
Speaking on Good Morning America after the post went viral, her husband Dale Partridge admitted it was not a woman's responsibility to stop a man thinking of them sexually – but said he "appreciates" their offer to cover themselves up to "help" deter men.
Her post proved highly divisive. One male Facebook user praised her "admirable decision", writing: "I think that it takes an incredibly strong woman to speak out against something that has so blindly become an acceptable norm in society."
However, another male user slammed her view as "ridiculous", while one female user wrote: "I refuse to change what I wear because honestly I could wear a burlap sack and still be checked out. I'm so sick of articles like this passed around. Stop passing the buck to the victims. This is akin to victim shaming."
Reuse content