The FBI has said it will not investigate the death of a 19-year-old student fatally shot by Texas police.
As dozens of people gathered at a vigil to remember Christian Taylor, the federal agency said on Monday evening it had full confidence in the local police authorities to carry out a probe of the shooting of the teenager.
"If in the course of the investigation, information comes to light of a potential federal civil rights violation, the FBI is prepared to investigate," said spokeswoman Allison Mahan.
The FBI won't investigate #ChristianTaylor, has "full confidence" in PD to investigate itself: http://t.co/nrmW6Yft4i pic.twitter.com/cDjYnSHFlj

— Keegan Stephan (@KeeganNYC) August 11, 2015
Mr Taylor,who played American football at college, was unarmed when Arlington trainee officer Brad Miller shot and killed him during a burglary call at a car dealership early last Friday morning.
Surveillance camera footage released on Saturday showed Mr Taylor walking around the car park and breaking into a Ford Mustang.
Arlington police had reached out to the FBI in an effort to promote transparency in the investigation, they said. The police department declined to comment.
Mr Taylor's cousin, 16-year-old Jaylon McCray, joined about 60 people with Dallas-based Mothers Against Police Brutality at Arlington police headquarters for Monday night's vigil, the first of several planned this week, the Associated Press said.
Collette Flanagan, co-founder of the group, said that despite breaking into the car dealership, Mr Taylor should not have been killed.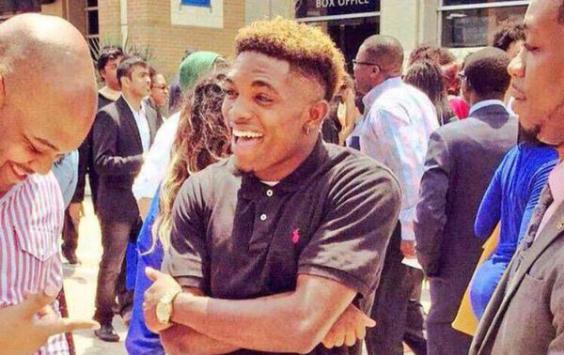 "Nineteen-year-olds make mistakes, but they should be able to correct them," she said. "He was a child. Vandalism is not a good thing, but it's not a death sentence."
Mr Taylor's brother, Joshua, said he thought police could have handled things differently
"It's pretty much their story against somebody who's not here anymore," he said.
"It's kind of hard to, I guess, justify or clarify, but at the end of the day I know my brother. I know he wouldn't attack any officer or anybody in authority at all, or attack anybody for that matter."
Arlington police said officers responding to a burglary call and found Mr Taylor roaming inside the dealership showroom.
Police say the officers told Taylor to surrender and lie down on the ground, but he refused and tried to run away. The officers pursued him.
Police have said the incident ended with officer Mr Brad Miller shooting his service weapon four times, hitting Mr Taylor at least twice. Mr Miller has been placed on administrative leave.