The Republican Party is trying to refuse a racially-charged controversy after a senior congressman admitted addressing a meeting of white supremacists more than a decade ago
Steve Scalise, the House Majority Whip and the Republicans' third-ranking member of the House of Representatives, admitted he had spoken at the meeting of a group founded by former Klu Klux Klan leader David Duke.
In a statement issued on Monday, Mr Scalise's aide Moira Bagley Smith confirmed the congressman had addressed a meeting of a group called the convention of the European-American Unity and Rights Organisation (EURO) as it gathered at a hotel near New Orleans in 2002. She claimed however, that Mr Scalise had "never been affiliated with the abhorrent group in question".
She added: "The hate-fueled ignorance and intolerance that group projects is in stark contradiction to what Mr Scalise believes and practices as a father, a husband and a devoted Catholic."
In her statement, Ms Smith said Mr Scalise, who represents the 1st Congressional District of Louisiana, spoke only to rally support for conservative fiscal policies in the state. She said his presence was not an endorsement of the views of those he spoke to.
But Democrats leapt on the news, first revealed by a Louisiana blogger, Lamar White, and demanded to know why the leadership of the Republican party had remained silent on the issue.
"Steve Scalise chose to cheerlead for a group of KKK members and neo-Nazis at a white supremacist rally and now his fellow House Republican Leaders can't even speak up and say he was wrong," Josh Schwerin, a spokesman for the Democratic Congressional Campaign Committee, told the Associated Press.
Reports in the US media said some senior Republicans were privately asking similar questions and wondering how the congressman could not have been aware of  who he was addressing. At the time of the conference, held in the town of Metairie, Mr Scalise was serving in the Louisiana state assembly,
Late on Monday evening, Mr Scalise, 49, defended his speech in an interview with the New Orleans Times-Picayune. He seemed to suggest that a shortage of staff had been a factor.
"When someone called and asked me to speak, I would go," he said. "If I knew today what they were about, I wouldn't go. For anyone to suggest that I was involved with a group like that is insulting and ludicrous."
On Tuesday, with the controversy seeming to grow rather than die down, he issued a statement which said he had spoken to many organisations at the time as part of his effort to cut wasteful state spending.
"One of the many groups that I spoke to regarding this critical legislation was a group whose views I wholeheartedly condemn," he said. "It was a mistake I regret, and I emphatically oppose the divisive racial and religious views that groups like these hold."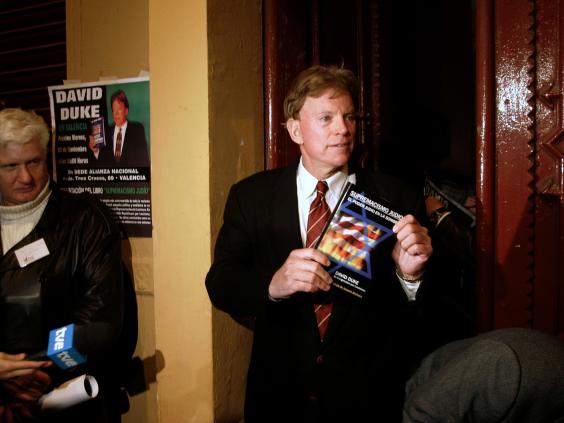 The controversy comes as the House prepares to reconvene after the Christmas holiday. Mr Scalise is poised to help shape House Republicans' agenda in his first full term as whip, a position he was elected to following a series of events that followed then-Mjority Leader Eric Cantor's surprise defeat in a Republican primary.
The Southern Poverty Law Centre, an NGO which tracks supremacist groups, has described EURO as a hate group. In a posting on the centre's website, senior fellow Mark Potok said reports from the time said a visiting baseball team had changed hotels after learning the conference was being held there.
"Scalise's claim of ignorance is almost impossible to believe," he added. "He was a state representative and an aspiring national politician at the time, and EURO already was well known as a hate group led by America's most famous white supremacist."
Mr Duke, 64, is also from Louisiana and once served in the state legislature, like Mr Scalise. He once held the position of former Grand Wizard of the Knights of the Ku Klux Klan and addressed the convention in 2002 by phone from Russia where he was then living.
On Tuesday, Kenny Knight, a long-time political adviser to Mr Duke, who twice contested presidential primaries, said he had personally invited Mr Scalise to speak at the meeting.
"He was my neighbour," Mr Knight told the Washington Post. "I asked him to be the first speaker before the meeting kicked off."
Reuse content