An American couple have died within 28 hours of each other after being married for 73 years.
When Helen Auer, 94, died in her chair last week, her husband gave her a final kiss goodbye and whispered to her: "Call me home", the Cincinnati Enquirer reported.
He died the next day aged 100, leaving their nine surviving children, 16 grandchildren, 29 great-grandchildren and 1 great-great-grandchild.
The couple, from Cincinnati, were married in 1941 and their funeral is being held at the same church today.
Their love story started in the midst of the Second World War, when Joe left with the US Army while Helen was pregnant with their second child, Judy.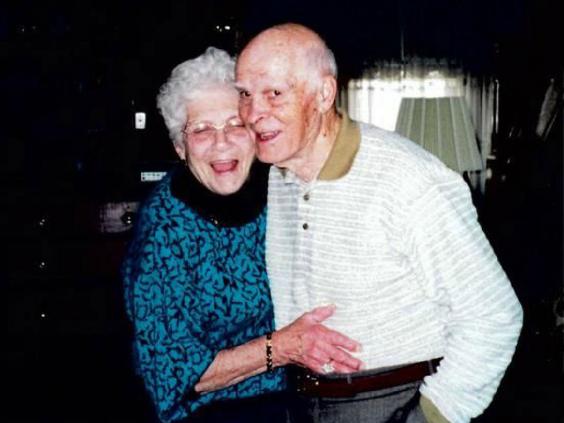 For the three years he was away from home, he carried a photo his wife managed to send of her with their two children at all times.
He managed to keep it safe even through the Normandy landings at Utah Beach on D-Day and it remained, battered and smudged, in his wallet until the day he died.
After his return to the US, he worked as an engraver and Helen worked in the cafeteria of a local school.
Mary Jo Reiners, one of their daughters who retired early to help care for them, told the Cincinnati Enquirer her parents "lived a blessed life".
"[My mother] loved her family and her friends. She loved being busy with her family," she said.
"Dad thought of his children as a gift from God, that was a responsibility for him."
Their son, Jerry Auer, described them as humble people who "wanted northing and got everything in return".
"If somebody were thinking of getting married, they could do a lot worse than to look at my parents," he added.
In August, another American couple died within hours of each other after the same day after being married for almost 63 years.
Doctors have identified a condition dubbed "broken heart syndrome" where the stress of grief can temporarily cause symptoms similar to a heart attack.