It has been 40 years since Jim Flynn last saw his wedding ring.
He and his wife of 56 years, Jane, had a pair of rings specially designed when they got marred in 1960. The rings were engraved, and bore the date they tied the knot.
The ring was lost in 1976 when the pair were spending the summer on on Lake George in the Adirondacks. It was where they had spent their honeymoon and a place they eventually bought a property on the lake's western shore.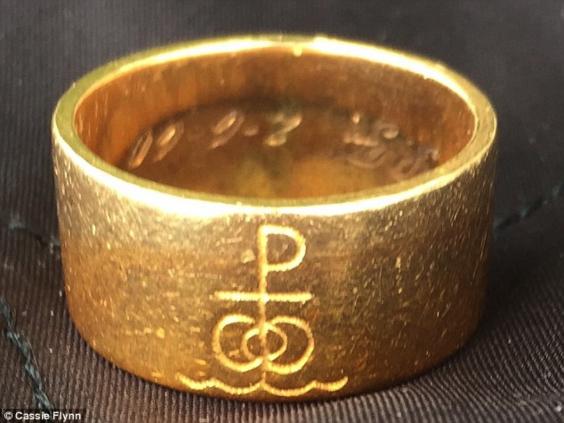 Fast forward forty years to August 2015 when Peggy Rodman, whose family has a property next to that of the Flynns, spotted something on the floor of the lake.
"I'm always thinking I'm going to find something really neat and I always find golf balls, or nothing really exciting," Ms Rodman told the Post Star newspaper. "I've found sunglasses, a swim mask, nothing exciting."
Yet on that August day, Ms Rodman spotted something gleaming and glimmering on the lake bottom. It looked like an overturned bottle cap; it was something far more precious.
"I grabbed it. It wasn't deep. I could still stand there," she said.
It turned out to be a wide ring, bearing the date "2-6-60" engraved inside. Ms Rodman asked around and turned for help to a year-round resident from the lake, who learned it belonged to Mr Flynn, who now lives in Tulsa, Oklahoma.
Speaking from Oklahoma, Ms Flynn told The Independent both she and her husband, who still works as a doctor, were thrilled by the ring's discovery and the chance to be reunited with the symbol of their enduring marriage.
"It was really special. It was something that meant a great deal to us," she said.
Reuse content