Five days after they escaped from a maximum security prison in upstate New York, officials have revealed they still have little idea where they may be.
As the break-out of Richard Matt, 48, and David Sweat, 34, set a record for the longest jail break in New York history, the authorities said they were extending the search area to the state of Vermont.
More than 450 state, federal and local law enforcement agents are searching the area north of New York's rugged Adirondack Park and into Vermont, New York State Police Superintendent Joseph D'Amico told reporters, according to Reuters.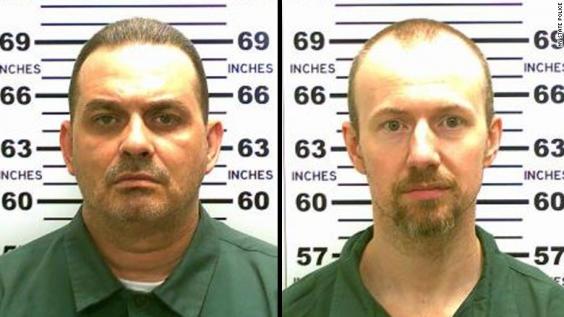 Prior to escaping, the men discussed heading for Vermont, an overwhelmingly rural state with dense forests and seasonal cabins, accessible by a ferry across Lake Champlain, about 40 miles south of the prison, police said.
Matt, 48, and Sweat, 34, escaped from Clinton Correctional Facility in Dannemora, New York, five days ago, cutting through steel walls, squeezing through a steam pipe and popping out of a manhole. Their escape was likened by many to scenes from the film The Shawshank Redemption.
The longest previous escape from a New York prison lasted just three days, according to data from the New York Department of Corrections and Community Supervision.
In other New York state prison escapes, freedom lasted less than six hours for 60 per cent of the 30 inmates who succeeded in fleeing in the last decade, the news agency said.
A flurry of media reports have said they are questioning a female employee of the jail who may have helped the men, who reportedly used power tools to cut through steel. The woman's family has denied the allegations.
Reuse content