Death Valley, otherwise known as the hottest place on Earth, is awash in yellow and pink wildflowers this month. Park rangers suspect that, given the torrential autumn rainfall that Death Valley experienced, the park may be due for a rare "super bloom," after years of drought and barren bloom seasons.
What makes this bloom so special is its location. Death Valley holds the record for the hottest temperature ever recorded on Earth: 134 degrees on July 10, 1913. It can get so searingly hot in part because it's the lowest elevation in North America. At 282 feet below sea level, Death Valley is the eighth-lowest location in the world.
It's also the driest location in North America. But in October, Death Valley received an astonishing amount of rain — approximately 1 ½ inches, which doesn't seem like much until you consider that the park's average rainfall for an entire year is just two inches. It received all of that two inches as of mid-February, with another four months left in the water year.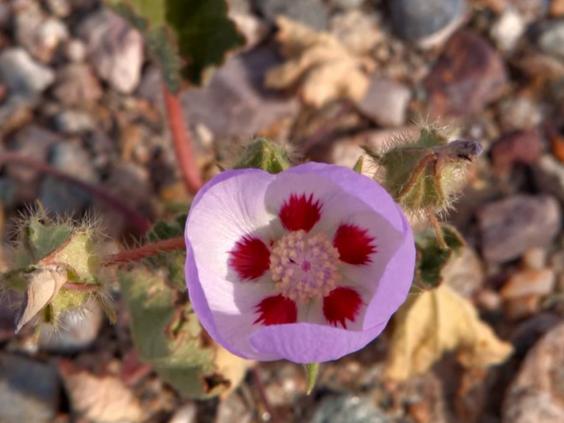 A series of torrential October downpours caused significant flooding and damage in the national park. Scotty's Castle, also known as Death Valley Ranch, was overwhelmed by the flash flooding and has been shut down ever since. Now four months later, the seeds that took root during all that rain are finally blossoming, providing a little cheer to what has been a dispiriting event.
"It's very rare to have a good bloom in Death Valley," said Park Ranger Alan Van Valkenburg in a video on the possible super bloom. "To have a big bloom like this — which we hope will become a super bloom, which is beyond all your expectations, those are quite rare, maybe once a decade or so."
October's stormy weather — which can be linked to El Niño's wet weather influence over southern California — may have been just right to produce a super bloom in Death Valley this year. "When you get the perfect conditions, the perfect storm so to speak, those seeds could all sprout at once," Van Valkenburg said.
Lonely Planet's best countries to visit in 2016
Lonely Planet's best countries to visit in 2016
1/10 Botswana

Botswana celebrates fifty years of independence next year and is known for its array of wildlife. No longer the reserve of the rich, Botswana offers budget options such as community projects like Tsabong Camel Park and Moremi Gorge.

2/10 Japan

The Japanese Yen is weak at the moment, making trips to this island nation more affordable. Japan's cities might feel like something from the future but its countryside offers otherworldly landscapes, combining mountainous peaks with shimmering beaches.

Lottie Davies © Lonely Planet Images

3/10 USA

The National Park Service, which looks after America's 59 national parks, is turning 100 next year. The government body maintains parks like Yellowstone, Yosemite, and the Grand Canyon.

Mark Read © Lonely Planet Images

4/10 Palau

Made up of more than 200 unspoilt limestone and volcanic islands covered in mangrove forests and surrounded by clear blue water, countries don't get much more idyllic than Palau. In 2014 its president, President Remengesau, was named a "Champion of the Earth" by the United Nations for his environmental work.

Ippei Naoi © Getty Images

5/10 Latvia

Celebrating 25 years of independence, little Latvia is set to take centre stage next year. Head to the countryside to explore crumbling medieval castles tucked away in the forests.

Filip Fuxa © Shutterstock

6/10 Australia

Always a popular destination but with imminent, and transformative, changes coming to beloved wilderness areas such as the Great Barrier Reef and the forests of Tasmania, now is the time to go.

Catherine Sutherland © Lonely Planet Images

7/10 Poland

The historic city of Wroclaw is next year's European Capital of Culture and wildlife tourism is on the rise in Poland's forests. New BA flights from London to Kraków have put the country on people's radar.

Guy Vanderelst © Getty Images/ Flickr

8/10 Uruguay

Dubbed the Switzerland of America, Uruguay offers great architecture and a growing foodie culture. For more bohemian vibes head to one of the fishing villages on the coast, where you'll find empty beaches and great waves.

Elojotorpe © Getty Images

9/10 Greenland

Almost 80% ice-covered, Greenland has the world's lowest population density and famously poor cellular coverage, making it an ideal destination for anyone wanted to escape the hubbub of modern life. If you're lucky you might catch the Northern Lights too.

Lottie Davies © Lonely Planet Images

10/10 Fiji

A remote island perfect for a tropical getaway. The long-awaited expansion of the Nadi International Airport next year will make the island more accessible.

© Jongcheol Park/Eyeem/Getty Images
The Desert Gold species is what makes up most of the yellow blanket of flower seen in the photos, with the orange centers. The Notchleaf Phacelia and Sand Verbena are a nice hue of purple, and Gravel Ghost add pops of white. But perhaps the most interesting-looking flower is the pink Desert Five-Spot, which is easy to pick out thanks to its five, bright red spots on the inner petals.
"I've lived in Death Valley for 25 years and I've seen lots of blooms in Death Valley, and I kept thinking I was seeing incredible blooms," Van Valkenburg said. "I was always very excited, until I saw one of these super blooms, and then I suddenly realized — there are so many seeds out there just waiting to sprout, just waiting to grow. I had no idea that there was that much out there."
Death Valley National Park posts daily updates on wildflowers, flood damage cleanup and park history on their Facebook page.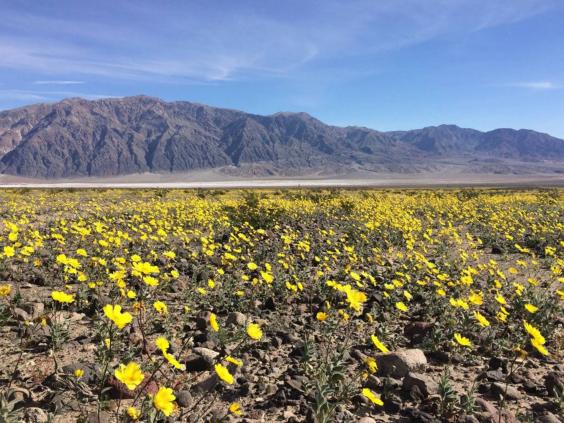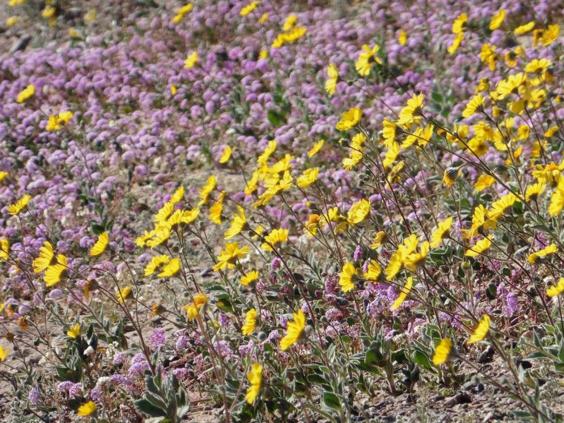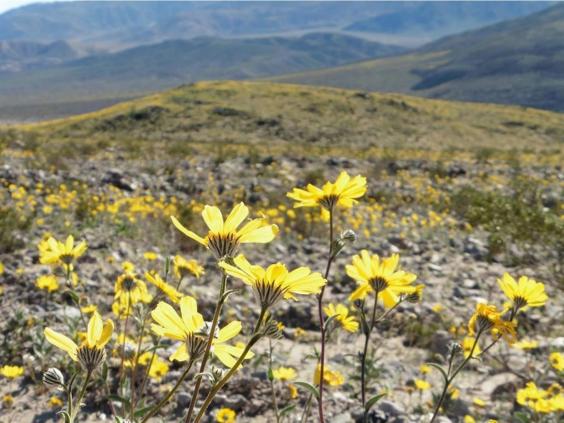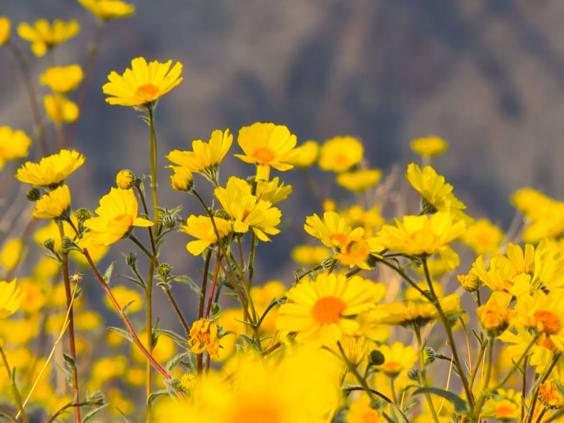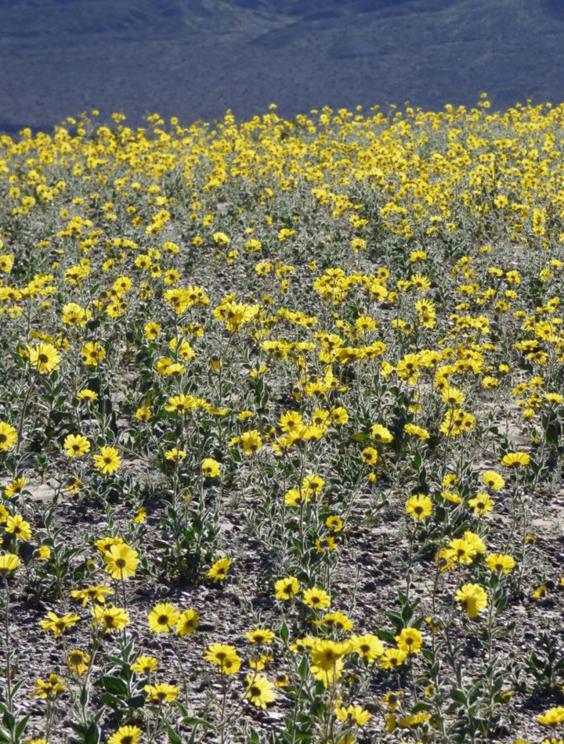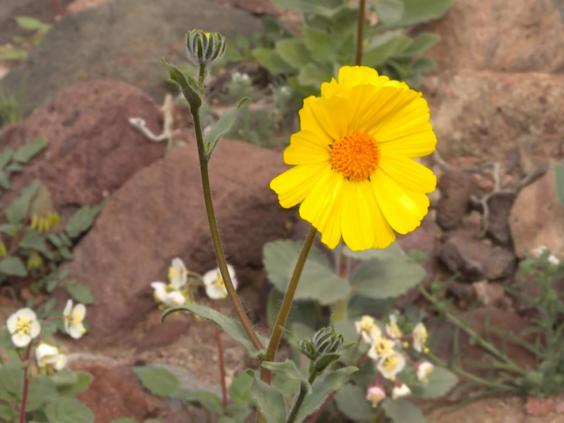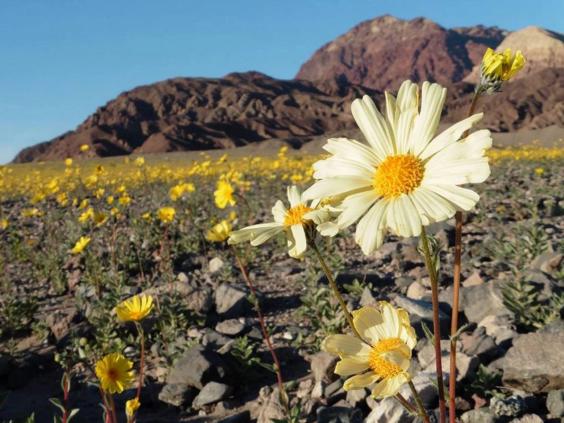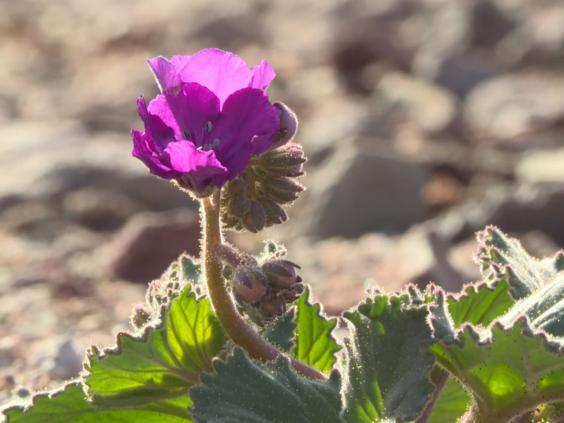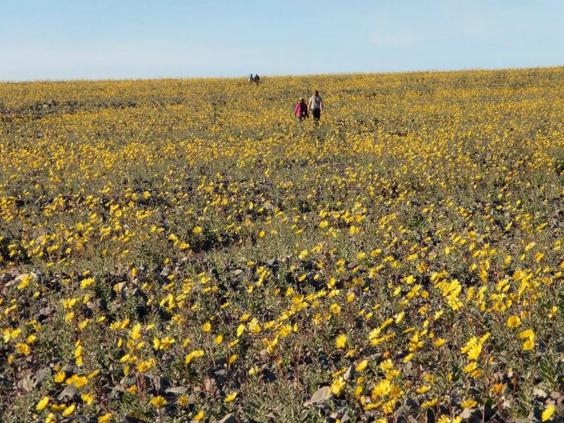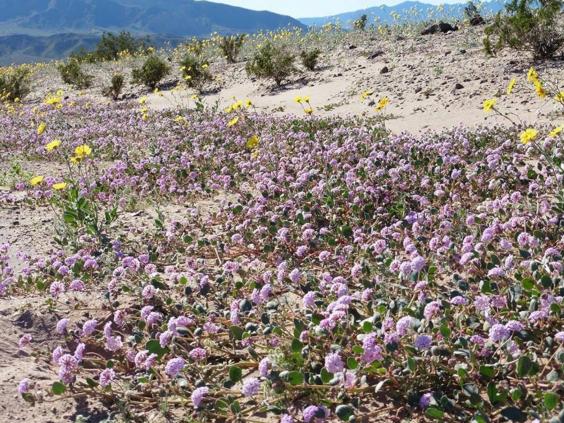 © Washington Post