Update 17 October 2016, 2:55 pm ET—A North Dakota judge rejected riot charges against award-winning journalist Amy Goodman after she filmed an attack on Native American anti-pipeline protesters.
Ms Goodman, the host of Democracy Now!, surrendered to authorities on Monday after North Dakota state prosecutor Ladd Erickson last Friday filed new charges against her. 
"This is a vindication of freedom of speech, of the First Amendment, of the public's right to know," she told reporters, calling the media the "underground railroad of information".
Ms Goodman was charged after she filmed Native American protesters being attacked on September 3 as they protested against the building of the controversial North Dakota Access Pipeline near the Standing Rock Sioux reservation, close to the town of Cannon Ball.
Her report showed security guards hired by the pipeline company unleashing dogs and using pepper spray. It also featured people with bite injuries and a dog with blood dripping from its mouth and nose. The report went viral.
"People have gone through the fence, men, women, and children," Ms Goodman said in her report. "The bulldozers are still going, and they're yelling at the men in hard hats. One man in a hard hat threw one of the protesters down."
Prosecutors had initially sought to charge Ms Goodman with trespass, and then announced the more serious charge of taking part in a riot.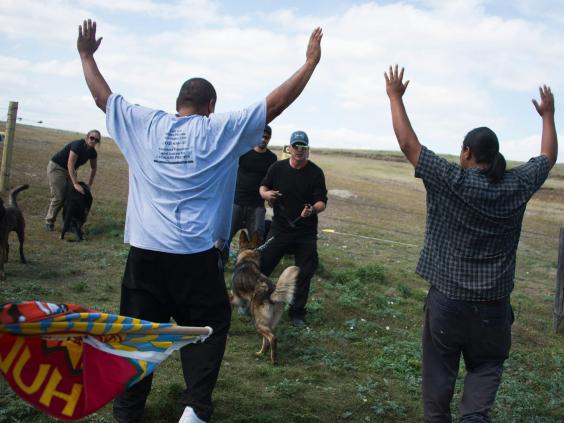 "I came back to North Dakota to fight a trespass charge. They saw that they could never make that charge stick, so now they want to charge me with rioting," said Ms Goodman. 
"I wasn't trespassing, I wasn't engaging in a riot, I was doing my job as a journalist by covering a violent attack on Native American protesters."
Mr Erickson has disputed that Ms Goodman was there as a journalist.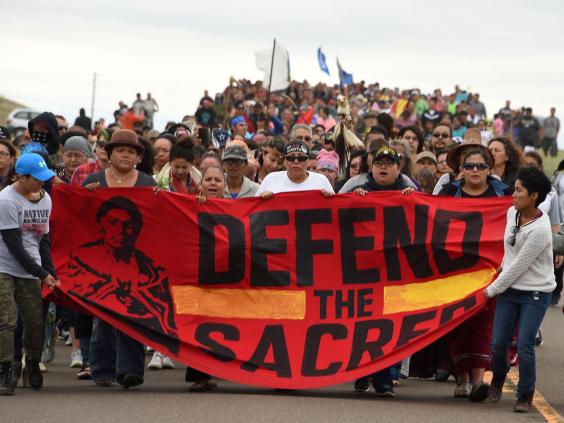 "She's a protester, basically. Everything she reported on was from the position of justifying the protest actions," he told the Grand Forks Herald.
"Is everybody that's putting out a YouTube video from down there a journalist down there, too?"
Ms Goodman's lawyer, Tom Dickson, said he planed to use the First Amendment to defend her.
"There's many justifications and legal justifications for why you're on somebody's property," he said. "She wasn't picnicking or on a summer lark. She was reporting the news to the American people."
Meanwhile, a documentarian arrested while filming at a separate protest, has been charged with three charges that carry a total penalty of 45 years.
Actress Shailene Woodley was arrested last week while peacefully protesting at the site of the protest. The 24-year-old actress and activist live-streamed the protest on Facebook.
Deia Schlosberg, the producer of the upcoming documentary How to Let Go of the World and Love All Things Climate Can't Change, was detained while filming a protest against TransCanada's Keystone Pipeline in Walhalla, North Dakota. 
Activists at the event, associated with the group Climate Direct Action, shut down the pipeline, which carries oil from Canadian tar sands to the US for about seven hours.
Reuse content