An mother has described her horror after discovering photos of her terminally ill son had been made into an internet meme. 
Jenny Smith, whose three-year-old son Grayson Kole was born with a number of life-threatening illnesses including occipital encephalocele, craniosynostosis, and micrognathia, created a Facebook page to document his progress after he defied doctors' predictions by surviving past a few weeks. 
Shortly after the page's inception, Ms Smith, from Alabama, began to notice memes featuring her son being widely circulated online, accompanied by the tagline: "That face you make when your parents are actually cousins."
"I just can't believe that there are people out there who would use a child, especially anyone who has been ruled terminally disabled, like that," Ms Smith told WREG.
"Some people think it's funny, but I don't find humour in hurting someone else for a laugh. Honestly, I'm just so ashamed that people actually find it to be entertaining. It's disgusting."
She said she initially wanted to delete Grayson's Facebook page and "hide under a rock". However, she told how her son, who has had to undergo more than 24 surgeries to improve his quality of life, has a resilient spirit and "would fight back" against bullies. 
"We have to stick together and fight back," she said. "We're not the first family that's been through this and we're not going to be the last."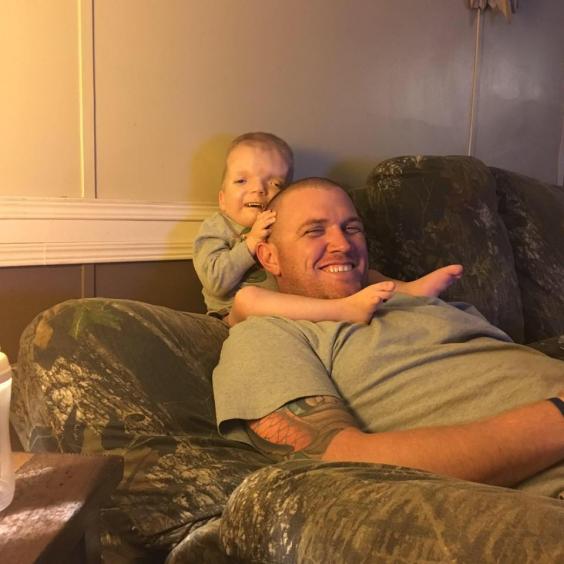 Writing on Facebook after the memes first surfaced, the mother-of-four said: "Grayson is his own little star that shines so bright and you have just made our day by giving him the blessing for this opportunity to share with more people about his special life and help spread awareness for him and other special children and families like him and us!"
Ms Smith contacted every page she could find that had published the meme and urged them to remove it, with many complying. 
Grayson's Story Facebook page had more than 15,500 followers at the time of writing, and gives regular updates on the now three-and-a-half-year-old's progress. 
In the about section, Ms Smith described how she and her husband Kendyl realised something was wrong immediately after Grayson was born in 2013. 
"As I got a glimpse of his hand as the doctor handed him to the nurse to put him in the warmer, I said 'my gosh his thumb is broken'. I kept asking 'what is wrong with my baby. Is he ok?' Why is he not crying?" Ms Smith wrote on Facebook. 
"I knew something was terribly wrong. his face was severely swollen. His eyes bulgy, and he didn't look quite normal to me. I asked my doctor what is wrong with him. She responded I do not know right now."
Just hours after being born, Grayson was rushed to a children's hospital in Atlanta, two hours' drive away, where doctors told his parents they did not expect him to survive. 
Grayson was diagnosed with an occipital encephalocele, craniosynostosis, micrognathia, thumb hypoplasia, cleft palate, hypospadias, congenital anomalies of the lower limbs, ASD of the heart, apnea, along with hearing and sight problems.  
Reuse content