A federal judge has ordered a status conference hearing after a woman filed a lawsuit claiming Donald Trump raped her when she was 13-years-old in 1994.
In the lawsuit a witness, identified by the pseudonym Tiffany Doe, alleges she saw Mr Trump and billionaire-paedophile Jeffrey Epstein repeatedly rape the plaintiff, identified as Jane Doe.
The complaint claims Epstein hired an unidentified woman to pick up teenage girls to bring to his parties.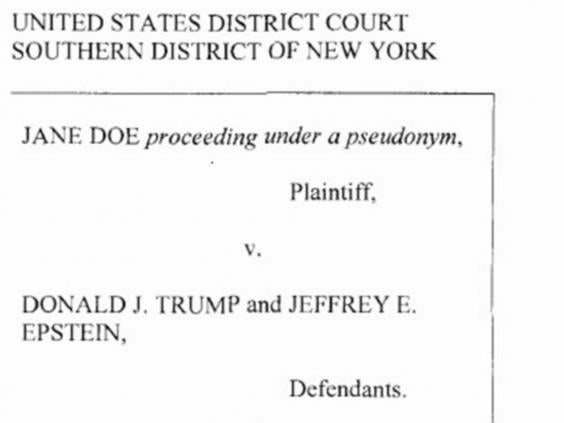 The plaintiff's third attempt in filing the lawsuit features a new witness named Joan Doe.
Mr Trump has repeatedly denied the allegations. 
Donald Trump's most controversial quotes
Donald Trump's most controversial quotes
1/14 On Isis:

"Some of the candidates, they went in and didn't know the air conditioner didn't work and sweated like dogs, and they didn't know the room was too big because they didn't have anybody there. How are they going to beat ISIS?"

Getty

2/14 On immigration:

"I will build a great wall — and nobody builds walls better than me, believe me —and I'll build them very inexpensively. I will build a great, great wall on our southern border, and I will make Mexico pay for that wall. Mark my words."

Reuters

3/14 On Free Trade:

"Free trade is terrible. Free trade can be wonderful if you have smart people. But we have stupid people."

PAUL J. RICHARDS | AFP | Getty Images

4/14 On Mexicans:

"When Mexico sends its people, they're not sending their best. They're sending people that have lots of problems. They're bringing drugs. They're bringing crime. They're rapists."

Getty

5/14 On China:

"I just sold an apartment for $15 million to somebody from China. Am I supposed to dislike them?... I love China. The biggest bank in the world is from China. You know where their United States headquarters is located? In this building, in Trump Tower."

Getty Images

6/14 On work:

"If you're interested in 'balancing' work and pleasure, stop trying to balance them. Instead make your work more pleasurable."

AP

7/14 On success:

"What separates the winners from the losers is how a person reacts to each new twist of fate."

8/14 On life:

"Everything in life is luck."

AFP

9/14 On ambition:

"You have to think anyway, so why not think big?"

Getty Images

10/14 On his opponents:

"Bush is totally in favour of Common Core. I don't see how he can possibly get the nomination. He's weak on immigration. He's in favour of Common Core. How the hell can you vote for this guy? You just can't do it."

Reuters

11/14 On Obamacare:

"You have to be hit by a tractor, literally, a tractor, to use it, because the deductibles are so high. It's virtually useless. And remember the $5 billion web site?... I have so many web sites, I have them all over the place. I hire people, they do a web site. It costs me $3."

Getty Images

12/14 On Barack Obama:

"Obama is going to be out playing golf. He might be on one of my courses. I would invite him. I have the best courses in the world. I have one right next to the White House."

PA

13/14 On himself:

"Love him or hate him, Trump is a man who is certain about what he wants and sets out to get it, no holds barred. Women find his power almost as much of a turn-on as his money."

Getty Images

14/14 On America:

"The American Dream is dead. But if I get elected president I will bring it back bigger and better and stronger than ever before and we will make America great again."

GETTY
"As I have said before, the allegations are categorically untrue and an obvious publicity stunt aimed at smearing my client," Alan Garten, Mr Trump's attorney, told LawNewz.com. 
"In the event we are actually served this time, we intend to move for sanctions for this frivolous filing."
Federal Judge Ronnie Abrams has ordered that the status conference hearing for 16 December in a New York court.
She has asked for both sides to provide information to assist the Court in advancing the case to settlement or trial.
Mr Trump's ex-wife Ivana previously accused him of "raping" her during their divorce in 1991 - though she later said it was not in "a literal or criminal sense".
She accused him of rape after he allegedly ripped her clothes off to have sex with her in a "violent assault".
Mr Trump denied the allegation and said it was "obviously false".
Reuse content