Donald Trump has ordered dozens of black students to be removed from a campaign rally as a furore continues to rage over his failure to condemn the Ku Klux Klan on CNN. 
The Republican Presidential candidate was speaking at Radford University in Virginia on Monday when the group started chanting: "No more hate! No more hate! Let's be equal, let's be great!"
"Get them out of here please, get them out…get them out," Mr Trump ordered, before asking: "Are you from Mexico?"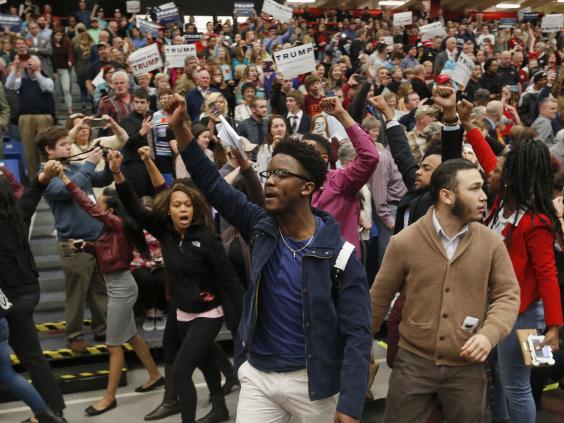 Footage showed the students leaving the packed auditorium in a long column while chanting and waving Black Lives Matters posters.
A Time magazine photographer attempting to get a photo as they passed was caught on camera being thrown to the ground by a Secret Service agent, causing some demonstrators to break off in concern.
Mr Trump paused his speech as the disruption continued, saying: "Get them out of here please…trouble, nothing but trouble."
As the rally settled back down, he told supporters: "Folks, you're going to hear it once – all lives matter.
Donald Trump's most controversial quotes
Donald Trump's most controversial quotes
1/14 On Isis:

"Some of the candidates, they went in and didn't know the air conditioner didn't work and sweated like dogs, and they didn't know the room was too big because they didn't have anybody there. How are they going to beat ISIS?"

Getty

2/14 On immigration:

"I will build a great wall — and nobody builds walls better than me, believe me —and I'll build them very inexpensively. I will build a great, great wall on our southern border, and I will make Mexico pay for that wall. Mark my words."

Reuters

3/14 On Free Trade:

"Free trade is terrible. Free trade can be wonderful if you have smart people. But we have stupid people."

PAUL J. RICHARDS | AFP | Getty Images

4/14 On Mexicans:

"When Mexico sends its people, they're not sending their best. They're sending people that have lots of problems. They're bringing drugs. They're bringing crime. They're rapists."

Getty

5/14 On China:

"I just sold an apartment for $15 million to somebody from China. Am I supposed to dislike them?... I love China. The biggest bank in the world is from China. You know where their United States headquarters is located? In this building, in Trump Tower."

Getty Images

6/14 On work:

"If you're interested in 'balancing' work and pleasure, stop trying to balance them. Instead make your work more pleasurable."

AP

7/14 On success:

"What separates the winners from the losers is how a person reacts to each new twist of fate."

8/14 On life:

"Everything in life is luck."

AFP

9/14 On ambition:

"You have to think anyway, so why not think big?"

Getty Images

10/14 On his opponents:

"Bush is totally in favour of Common Core. I don't see how he can possibly get the nomination. He's weak on immigration. He's in favour of Common Core. How the hell can you vote for this guy? You just can't do it."

Reuters

11/14 On Obamacare:

"You have to be hit by a tractor, literally, a tractor, to use it, because the deductibles are so high. It's virtually useless. And remember the $5 billion web site?... I have so many web sites, I have them all over the place. I hire people, they do a web site. It costs me $3."

Getty Images

12/14 On Barack Obama:

"Obama is going to be out playing golf. He might be on one of my courses. I would invite him. I have the best courses in the world. I have one right next to the White House."

PA

13/14 On himself:

"Love him or hate him, Trump is a man who is certain about what he wants and sets out to get it, no holds barred. Women find his power almost as much of a turn-on as his money."

Getty Images

14/14 On America:

"The American Dream is dead. But if I get elected president I will bring it back bigger and better and stronger than ever before and we will make America great again."

GETTY
"You have some people who are just looking for trouble and if you're looking for trouble, I don't want to talk. We have to act tough, and we have to act swiftly."
Just hours later, at another rally at Valdosta State University in Georgia, another group of Black Lives Matter protesters were removed after being spotted standing on bleachers in a silent protest before Mr Trump's speech began.
They claimed Secret Service agents told them Mr Trump had demanded they be removed before he started speaking but a spokesperson for his campaign later said it was not the candidate's request.
"I think we got kicked out because we're a group of black people and I guess with what's going on in America, they're afraid we're doing to say something or do something, but we just really wanted to watch the rally," one of the protesters told USA Today while being escorted away.
Another young woman said the group wanted to "make a statement with our attire", evoking the Black Panthers.
"We weren't starting any trouble, we weren't saying anything, we came in together as a group to see what the Presidential candidate had to offer to our campus, to our community and our country," she added.
The sight of the visibly upset students being led outside by police caused discomfort university that was a whites-only campus until 1963, USA Today noted.
The rallies came a day before one of the most important days in the US Presidential race, Super Tuesday, when when 11 states hold contests for the Republican and Democrat selections. 
Additional reporting by AP
Reuse content